People would say "The world is cruel." We all come to that point in life where we ask ourselves. What am I doing? Why do I have to suffer from the cruelty of life, people and the world? This is a time where we find no value of in our mere existence, and we try to find answers that seem elusive. On times like this, it is always good to always look on the positive side circumstances and get more strength from our faith because life is a series of tests that will lead and mold you into the best person you will be. Believe that eventually, you will get the success you deserve but you have to be strong enough handle all failures in life – Failure is the secret to success.
Here we arranged inspirational quotes about strength that will definitely help you get up on your feet.
Strength Quotes for Women
1. Never apologize for being sensitive or emotional. Let this be a sign that you've got a big heart and aren't afraid to let others see it. Showing your emotions is a sign of strength.
2. Go ahead, tell me that I;m not good enough. Tell me I can't do it. Because I will show you over and over again that I can.
3. Never be ashamed of a scar. It simply means you were stronger than whatever tried to hurt you.
4. You have to believe in yourself when no one else does – that makes you a winner right there.
5. The kind of beauty I want most is the hard-to-get kind that comes from within strength, courage and dignity.
6. She is clothed with strength and dignity and laughs without fear of the future.
7. She was stronger alone…
8. It is a shame for a woman to grow old without ever seeing the strength and beauty of which her body is capable.
9. She builds others up because she knows what it's like to be torn down.
10. Strong women wear their pain like they do stilettos. No matter how much it hurts, all you see is the beauty of it.
11. This is the year I will be stronger, braver, kinder, unstoppable and this year, I will be fierce.
12. You've always had the power my dear, you just had to learn it for yourself.
13. Stay strong, make them wonder how you're still smiling.
14. May my heart be brave, my mind fierce and my spirit free.
15. A strong woman is one who is able to smile this morning like she wasn't crying last night.
Strength Quotes for Men
16. A true hero isn't measured by the size of his strength, but by the strength of his heart.
17. Throw me to the wolves and I will return leading the pack.
18. Life has a way of testing a persons will, either by having nothing happen at all or everything happen at once.
19. I breathe in my courage and exhale my fear.
20. You were given this life because you are strong enough to live it.
21. I find strength in pain.
22. Forget all the reasons why it won't work and believe the one reason why it will.
23. Sometimes the bad things that happen in our lives put us directly on the path to the best things that will ever happen to us.
24. You never know how strong you are until being strong is the only choice you have.
25. The world breaks everyone, then some become strong at the broken places.
26. You were never created to live depressed, defeated, guilty, condemned, ashamed or unworthy. You were created to be victorious.
27. Never ashamed of a scars.
Motivational Strength Quotes
28. Anyone can give up, it's the easiest thing in the world to do. But to hold it together when everyone else would understand if you fell apart, that's true strength.
29. At the end of the day, all you need is hope and strength. Hope that ir will get better and strength to hols on until it does.
30. Hon't pray for an easy life. Pray for the strength to endure difficult times.
31. You never realize how strong you are until being strong is the only choice you have.
32. Still, I rise.
33. Hey little fighter, soon things will be brighter.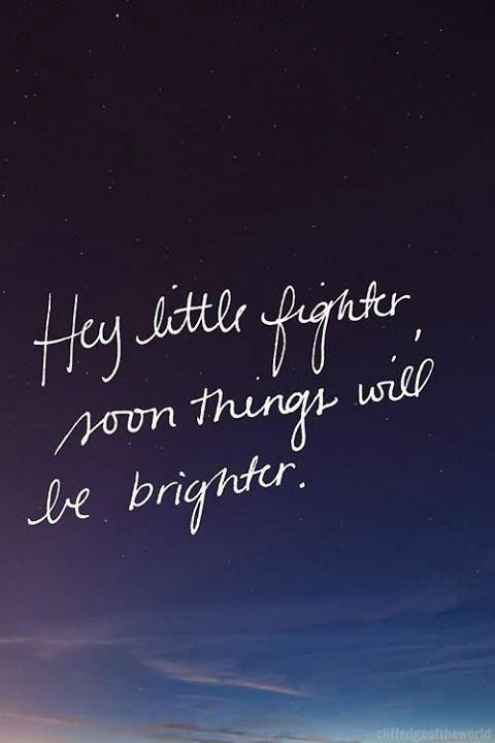 34. Take heart, defend your beliefs, be strong, live the gospel faithfully, forge unshakable faith, remain steadfast. It is worth it.
35. You must do the thing you think you cannot do.
36.  You are strong to live this life.
37. I am not what happened to me. I am what I choose to become.
38. Worrying does not empty tomorrow of its troubles. It empties today of its strength.
39. Go as long as you can and then take another step.
40. Being deeply loved gives you strength; loving deeply gives you courage.
41. Hope is the only thing stronger than fear.
42. Storm makes trees deeper roots.
43. When you face difficult times, know the challenges are not sent to destroy you. They are sent to promote, increase and strengthen you.
44. A strong person is not the one who doesn't cry. A strong person is the one who cries and shed tears for a moment, then gets up and fights again.
Inspirational Bible Quotes about Strength
45. Give God your weakness and he'll give you his strength.
46. The Lord is my strength and my shield. In him, my heart trusts.
47. I can do all things through Christ who strengthens me.
48. Christ strengthens me.
49. In Christ alone, my hope is found.
50. After your season of suffering, God in all his grace will restore, confirm, strengthen and establish you.
51. But the Lord stood with me and gave me strength.
52. When you go through deep waters, I will be with you.
Lessons About Finding Strength During Hard Times
No matter how much you try or how wealthy you might be, hard times will hit you one way or another in your lifetime. Instead of giving up and losing hope, it's better to find your inner strength and overcome the situation instead of wallowing in sorrow. With that said, here are a few lessons to help you find that inner strength and grow on it:
Focus on what you have
It might be easier said than done, but when you've lost something or someone, you need to focus on what you have and make the best of it instead of falling into the trap of self-pity. One neat trick is to find at least one positive thought and focus your energy on it. You may at first feel that it's too little, but once you keep focusing on that said thought, you'll find it much easier to cope.
Struggling is part of life
Like it or not, we all have our struggles. It's part of life and there's really not much you can do about it except overcome the hardships. Keep in mind that strong men rise from fire. You can't mold a sword without it. The same concept applies to strength.
It's OK to fail
One of the most common reasons people don't have the strength to take risks is due to their fear of failure. Don't let that stop you. We all try and fail at least a couple of times before succeeding. If you search for famous people's success stories, you'll often find that they had plenty of other ventures before hitting it big. Failure is part of life, and it's there to teach us to not give up.
Don't make the problem bigger than it is
It's not uncommon to focus so much on a single problem that we fail to see the bigger picture. Don't fall into that trap. Think about all of the positive things in your life and you'll probably find out that your worries are much smaller than you thought.
Final Thoughts
Do you anyone who seems to be loosing strength to face the daily challenges of life? Give them pieces of advise and maybe share these thoughtful and motivational quotes about strength. Simple gestures like these are the sweetest and most remembered core memories. If you were inspired by these quotations, check out, inspirational teamwork quotes and inspiring letting go quotes.  For more inspirations, you can also read Beautiful Words of Encouragement Quotes with Images, Inspirational Strong Women Quotes, and Deep Meaningful Quotes about Life with Images.