Who is never excited when Saturday approaches? No work, no school, no stress, just a whole day for you to relax and do nothing completely. It is such a great day that, for sure, it deserves its own round of Saturday quotes. After a long and tiring week, sometimes we deserve a break. Let your mind relax and be encouraged by these quotes.
Saturday is the best day to do everything you want and is the perfect day to make the world your oyster. It is the start of the fun-filled weekend that you may be looking forward to. It doesn't matter if it is a Saturday or a Sunday, regardless of your plans, whether you want to stay home and watch Netflix the whole day or you want to go outside for a date with friends and family, Saturdays never fail to bring happiness.
Here we have collected happy and funny Saturday quotes that you can share with your friends and family to start the weekend with positive vibes.
Happy Saturday Quotes
1. "Woohoo! It's Saturday, the biggest laundry day of the week."
2. "I think having more Saturdays sounds great, and having every day be Saturday sound even better."
3. "I wish that every day was Saturday and every month was October." – Charmaine J. Forde
4. "Imagine living a life where every day are your Saturdays and Sundays. Make every day your weekend. Make every day a play-day." – James A. Murphy
5. "Dear Saturday. I love you big time."
6. "Different cocktails for different Saturday nights." – Drew Barrymore
7. "Saturdays, big shirts, messy hair, music, & coffee."
8. "It's not Saturday, it's Satur-yay!"
9. "It's Saturday. Seriously I don't want drama today, okay?"
10. "Oh, my sweet Saturday, I have been waiting for you for six long days." – Charmaine J. Forde
11. "It's Saturday night…time to be a hero and rescue some wine trapped in a bottle."
12. "It's Saturday. I plan on doing nothing and plenty of it."
13. "It's Saturday. Enjoy the day with the ones you love. Chill and relax!"
14. "On the Sixth Day, God created man, the sort of result you often get when you go in to work on a Saturday." – Robert Brault
15. "No work is pending, all the duties done, join the Saturday party, let's have some fun. Good morning. Happy Saturday."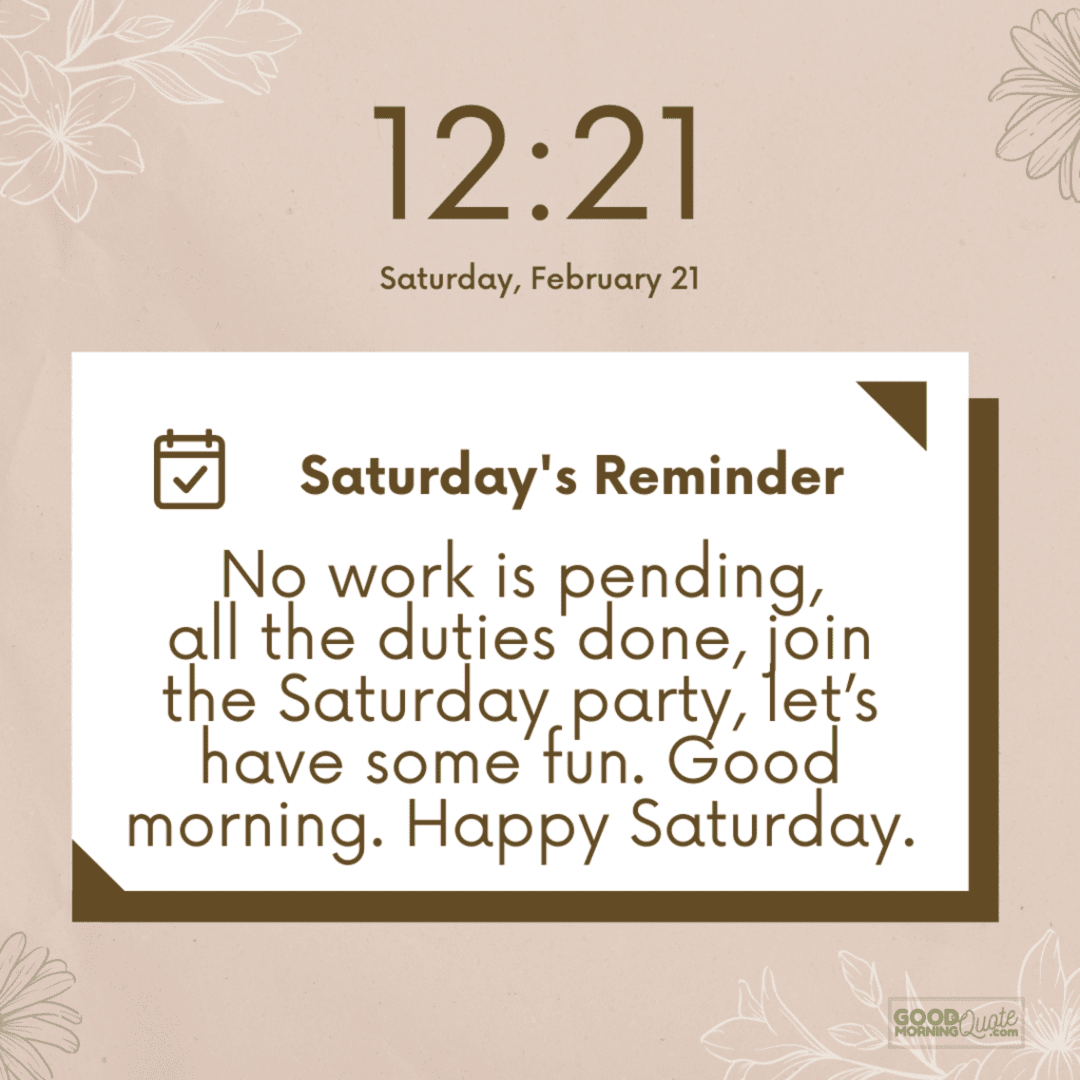 16. "No weekend, all weakened."
17. "Love me like Saturday night, like three glasses of champagne, like the room is spinning, like you're drunk on my love." – C.J. Carlyon
18. "On a lazy Saturday morning when you're lying in bed, drifting in and out of sleep, there is a space between fantasy and reality become one." —Lynn Johnston
19. "Saturday is here; give it a warm welcome by allowing yourself a lovely day of rest."
20. "Saturday is what gives us a weekend of enjoyment." – Anthony T. Hincks
21. "The only happy end that I know is the weekend."
22. "The word 'Saturday' has the word 'sat' in it. Make sure you take time this day to sit and relax."
23. "Saturday night is when you want to do what you want to do and not what you have to do." —Susan Orlean
24. "Today is Saturday, which means that today I will be multi-slacking instead of multi-tasking."
25. "Today is Saturday, which means that the only decision that you should be making is whether to have a bottle or a glass of wine."
26. "Sunday would be lost without Saturday, and I would be lost without you." – Anthony T. Hincks
27. "Weekends don't count unless you spend them doing something completely pointless."
28. "Saturday's to-do list: Nothing."
29. "Your body tells you what it needs, and if you sleep past your alarm on a Saturday morning, it's probably because you need the sleep." – Sophia Bush
30. "Saturdays are for adventures, Sundays are for cuddling."
31. "Your Monday is not going to be like Saturday; the emotions are going to be different." —Jean Grae
32. "We're human. Enjoy yourself. You work hard every day; you deserve to turn up on the weekends with your friends." —Logic
33. "I'm mostly pretty quiet on the weekends. I either read or visit friends or go hiking or something like that." —Troian Bellisario
34. "My favorite way to spend Saturday is in and out of bed, watching sports on TV and eating." —Alan King
35. "Anybody have plans to stare at their phone somewhere exciting this weekend?" —Nitya Prakash
36. "Always take some of the play, fun, freedom and wonder of the weekend into your week and your work." —Rasheed Ogunlaru
37. "Make the most of this day! Laugh, love, read, live, love, learn, play, dream, just be happy Saturday!"
38. "Saturday shines when we let our positive attitude shine through."
39. "It's Saturday! May it bring you lots of love and lots of cheer."
40. "It's weekend. Remember to count your rainbows instead of your thunder storms."
41. "Living in a Saturdaze."
42. "All I want is a relaxing weekend full of cuddles, self-indulgence, and glee."
43. "Hands up if you're ready to do something you'll regret this weekend. Go forth! You have my blessing." —Florence Welch
44. "I want to be known for the work I've done, as opposed to where I go on Saturday nights." —Amanda Bynes
45. "When you rise in the Saturday morning, give thanks for the light, for your life, for your strength."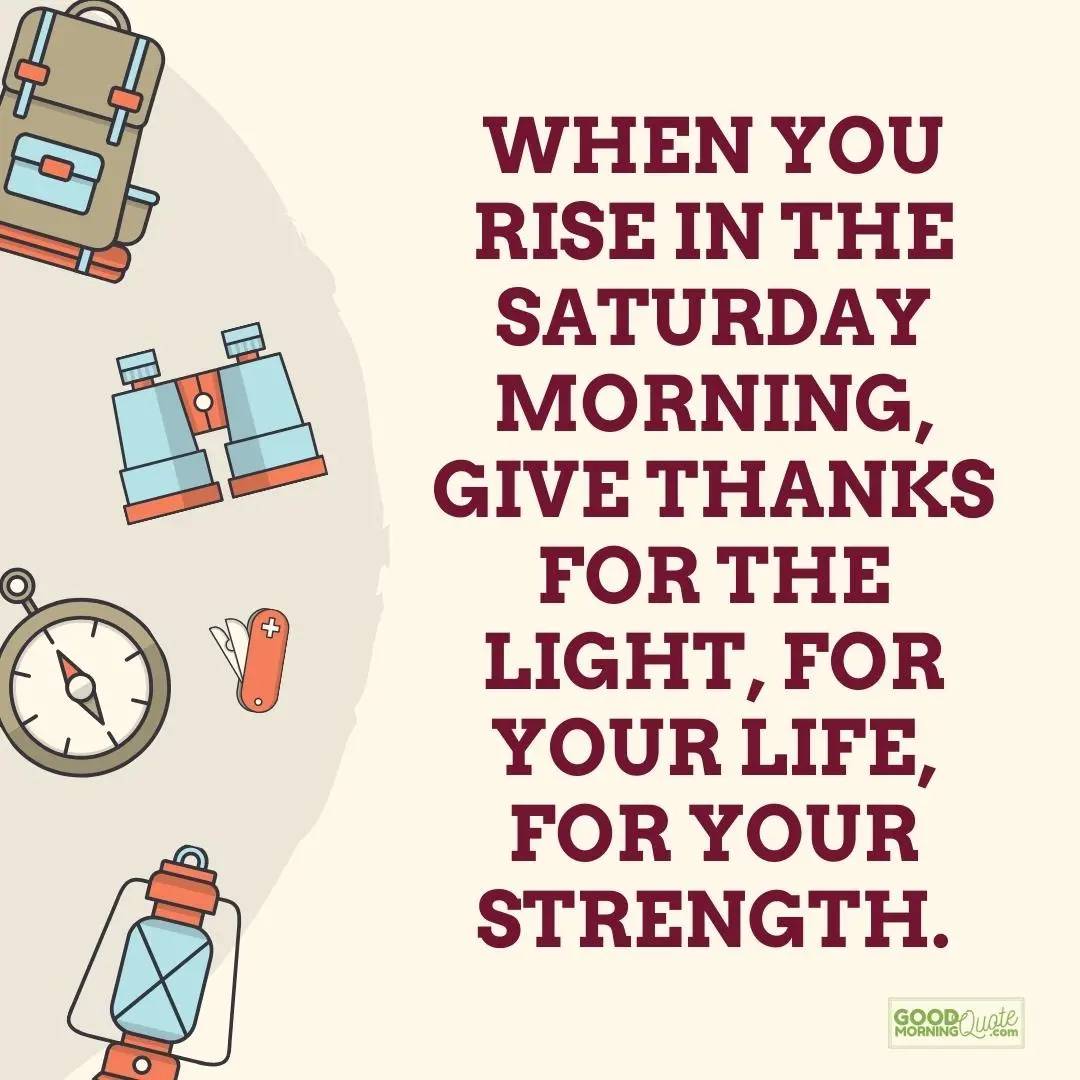 46. "I'm going to use what little energy I have today to breathe and maybe blink. Saturday is about it."
47. "May the clouds in your life be only a background for a lovely sunset." —Irish Proverb
48. "Saturday is a day for the spa. Relax, indulge, enjoy, and love yourself, too." —Ana Monnar
49. "I still do love monsters. And when I was a kid, they were really important to me. I couldn't wait for Saturday night." —Emil Ferris
50. "Saturday mornings, I've learned, are a great opportunity for kids to sneak into your bed, fall back asleep, and kick you in the face." —Dan Pearce
51. "Welcome this morning with a smile! Happy Saturday! If you don't have a smile, I'll give you one of mine."
52. "There is nothing I love more than being in a throw-down on a Saturday night." —Donald Cerrone
53. "Saturday is a good day to have a good day."
54. "Better days are coming. They're called Saturday and Sunday."
55. "This Saturday, don't miss the sun today worrying about the rain coming tomorrow."
56. "Good morning! Have a great Saturday. May it bring smiles and happiness to you and those you care about. Enjoy your weekend."
57. "On a lazy Saturday morning when you're lying in bed, drifting in and out of sleep, there is a space where fantasy and reality become one."
58. "Middle age is when you're sitting at home on a Saturday night and the telephone rings and you hope it isn't for you."
59. "The trick is to enjoy your life with what you have today. Don't waste away your days, waiting for better ones ahead. Happy Saturday!"
60. "Happy Saturday! Live each moment completely and the future will take care of itself."
61. "I can never remember a time when I thought that I'd rather wish it wasn't Saturday."
62. "Saturday is the mightiest day of the week. It's unshakably, overwhelmingly superior. Not only is it a day off of school, the following day is also a day off, like some kind of Super Saiyan bargain sale." —Wataru Watari
63. "Can we start the weekend over again I wasn't ready."
64. "Nothing will be wrong, everything will be right. Saturday has come, we will party all night."
65. "Is it just me, or is the bed a little comfier and warm on Saturday?"
66. "You survived the week, now enjoy the shizzz out of your Saturday."
67. "Be the morning in everyone's eyes and make their day turn into a thing of beauty." ―Anthony T. Hincks
68. "Success is to wake up each morning and consciously decide that today will be the best day of your life." —Ken Poirot
69. "Good morning is not just a word, it's an action and a belief to live the entire day well. Morning is the time when you set the tone for the rest of the day. Set it right!" —Fain Blake
70. "Don't count the days. Make the days count." —Muhammad Ali
71. "We need the spirit of Sunday carried over to Monday and continued until Saturday." —Edward McKendree Bounds
72. "They always say time changes things, but you actually have to change them yourself." – Andy Warhol
73. "Give the world the best you have, and the best will come back to you." —Madeline Bridges
74. "Good Morning! Happy Saturday! One small positive thought in the morning can change your whole day."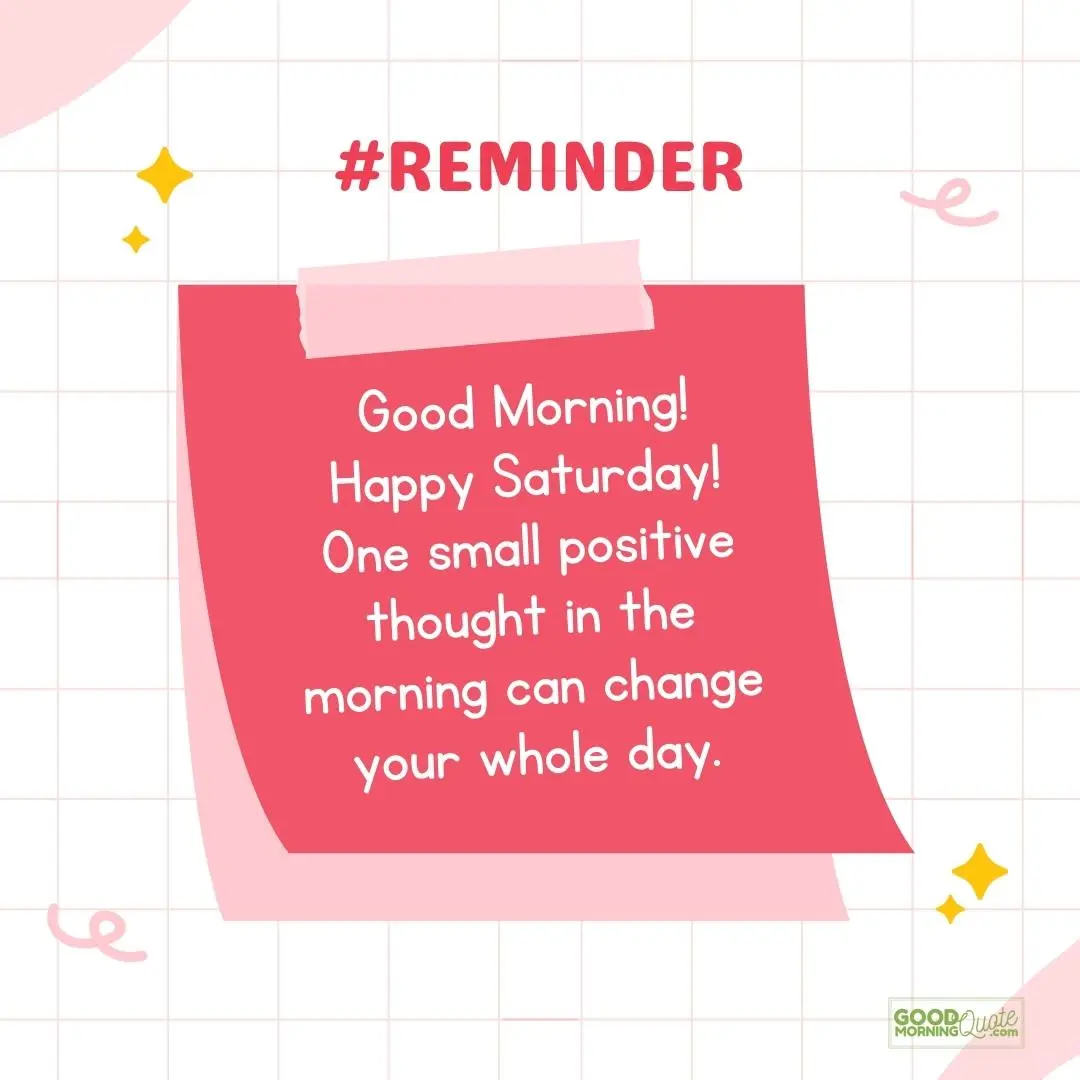 75. "Saturday and Sunday were sworn enemies until one day when they both decided to sit down and talk. Have a Happy Weekend." —Anthony T. Hincks
76. "Happy Saturday. A brand new day. A clean slate. The possibilities are endless."
77. "Forget all the bad memories of a week that's already gone. Prepare yourself for yet another beautiful week that starts with a delightful Saturday experience. Happy Saturday!"
78. "To find happiness, focus not on what we want, rather on what we have. Happy Saturday!"
79. "A Saturday is what you make it! So why not make it great one."
80. "Quit overthinking and just do more of what makes you happy and alive on this fantastic Saturday."
81. "Every day brings you a chance to draw in a breath, kick off your shoes and dance." —Oprah Winfrey
82. "Saturday and Sunday give us something to hope for on Monday."
83. "On this beautiful Saturday choose peace, choose love, and choose acceptance."
84. "It's Saturday, so think positive and positive things will start happening."
85. "Anxiety gets an immediate 30% off on Saturdays."
86. "Start your Saturday with a positive attitude. Believe – today is going to be a good day!"
87. "Sunday is for family, and Saturday is the day for yourself. You can do whatever you want without being judged."
88. "Saturday is the day to do nothing and still feel good about it."
89. "If you are thankful and grateful this Saturday morning as you woke up, happiness will come out within you."
90. "Saturday is the only day I am ok with people making plans without me."
91. "Since you get to rest and sleep until what faces you next week, it is the best day of the week. Have fun and make a count of the moment."
92. "Now is the full package of opportunity you need to grab all the rest you need. Blank out every single thing connected to work. Have a fun-filled and relaxing Saturday."
93. "A sunbeam to warm you, a moonbeam to charm you, a sheltering angel so nothing can harm you. Have a great Saturday!"
94. "Guess who deserves a sweet, restful, and long weekend? It's you! Go ease out the stress. Have lots of fun. Happy Saturday."
95. "I wish you all the positive stuff this Saturday as you have been working too hard all week long. Blessed Saturday!"
96. "Get a lovely Saturday full of relaxation from the stresses of the week. A day between Saturday and Sunday, maybe, would be better."
97. "You can never get back your wasted time. So don't be too lazy to enjoy yourself, celebrate and make lots of fun memories."
98. "Give a smile to someone who doesn't have any. Express your love and live a lifetime. Another Saturday will never come, much like today."
99. "Whatever you experience this weekend, don't hesitate to choose joy. May your weekend be memorable."
100. "Every day shines brilliantly as our optimistic thoughts build up. It's covered up today. Nothing will hurt you. Get an enchanting weekend."
101. "May all the parties on this weekend that we're going to go to waste bring good memories. Happy Saturday!"
102. "Nothing lasts forever. Enjoy every bit of the weekend while it lasts."
103. "Life is a wretched gray Saturday, but has to be lived through." —Anthony Burgess
104. "What can be better than to get out a book on Saturday afternoon and thrust all mundane considerations away till next week." —C.S. Lewis
105. "Weekends are there as special times to be glad and excited. May your Saturday be a blast."
106. Saturday Quotes – "If you don't wake up, eat, and then go back to sleep, you're really wrong to start on Saturday."
107. Saturday Quotes – "Be okay with all the stress and it's already the weekend. It's time to have fun and to relax."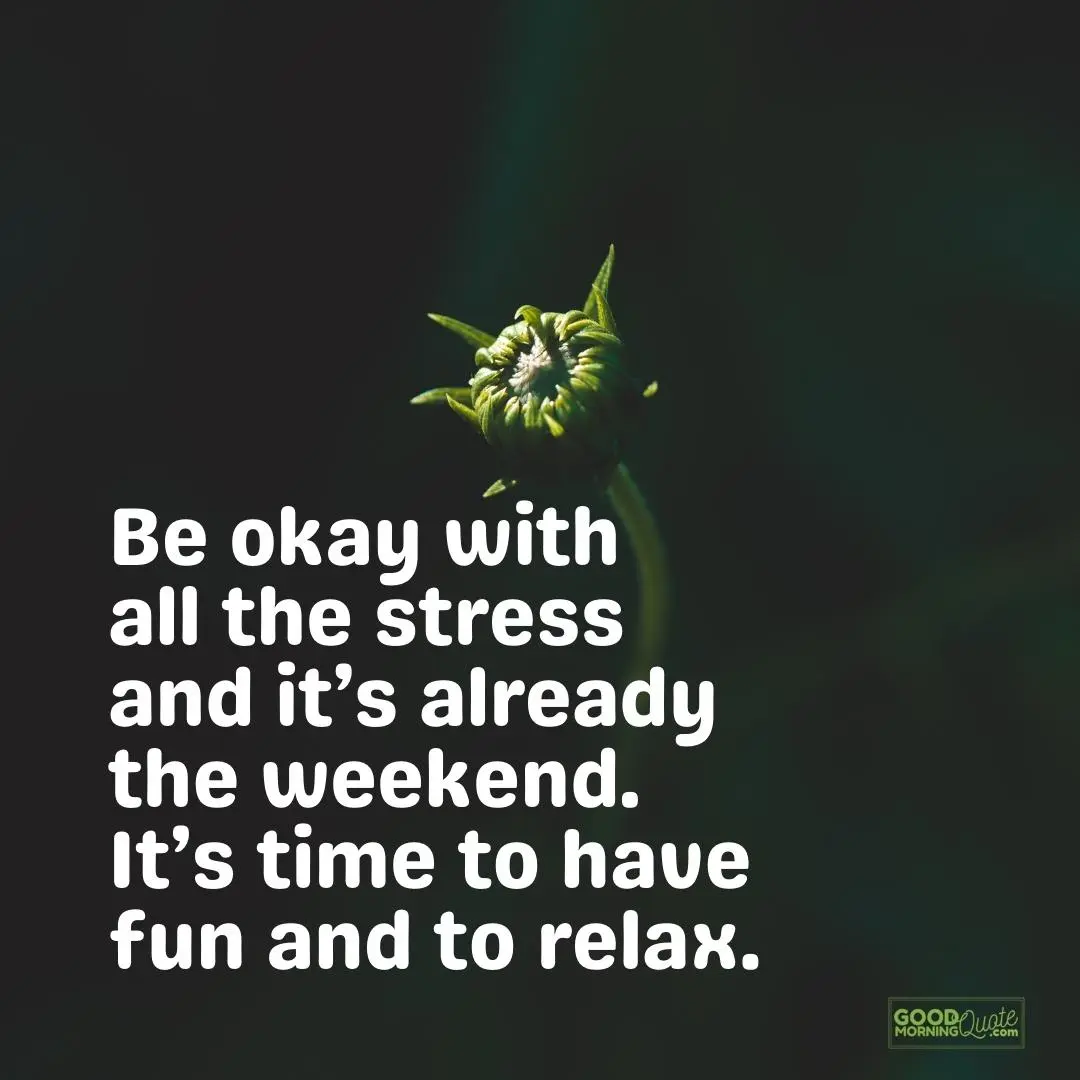 108. Saturday Quotes – "And if life gets rough, just note that Saturday comes as a blessing along with Sunday after the tiring week, so that you can have the time of your life."
109. Saturday Quotes – "Find your spirit, and no challenge will keep you from achieving your goals."
110. Saturday Quotes – "In the midst of change we often discover wings we never knew we had."
111. Saturday Quotes – "To be beautiful means to be yourself. You don't need to be accepted by others. You need to accept yourself." ―Thich Nhat Hanh
112. Saturday Quotes – "Weekends are a bit like rainbows; they look good from a distance but disappear when you get up close to them." —John Shirley
113. Saturday Quotes – "Saturdays. Where lazy is acceptable and won't get you fired. And naps are a requirement so that you are not tired."
114. Saturday Quotes – "Weekend means relief from day-to-day boring life from everyday routine. Be like an eagle, since it is Saturday, and stretch the wings of your dreams in the sky."
115. "Never get so busy making a living you forget to make a life."
116. "The key to success is consistency. And right now, the only way for you to actually take action is to believe in yourself."
117. "Busy is a choice, stress is a choice, joy is a choice, choose well."
118. "The difference between those who succeed and fail: not taking advantage of opportunities."
119. "Saturday – a day to sleep in past my normal waking hour. A day to relish, enjoy and celebrate the goodness that I have been blessed with."
120. "A positive attitude causes a chain reaction of positive thoughts, events and outcomes."
121. "Enjoy every bit of today, pretend you are four, giggle, smile, be a little bit silly."
122. "Happiness does not depend on what you have or who you are; it solely relies on what you think.
123. "You can't pour from an empty cup. Take care of yourself first."
124. "The less you worry about what others think, the more freedom you will have. Stop worrying. Start living."
125. "Don't think too much. Just do what make you happy."
126. "Let your love and joy radiate out to the world every single day."
127. "My work is like my vacation, so in a way, every day is like Saturday." —Ludacris
128. "Another beautiful Saturday morning is here, and all the world looks bright and fresh."
129. – "This weekend, muster the courage to do one thing that really scares you."
130. "A blessed Saturday is wished for you. May success follow you in all you do."
131. "You bring to us much laughter and joy. May this Saturday be returned to you ten-fold."
132. "Open your nose and perceive the smell of possibilities this Saturday morning. Have a blessed Saturday."
133. "May this Saturday be free of worry, and may you be blessed with happiness this wonderful morning."
134. "Yesterday I was clever, so I wanted to change the world. This Saturday, I am wise, so I am changing myself." —Rumi
135. "I know the price of success: dedication, hard work, and an unremitting devotion to the things you want to see happen on Saturday." —Frank Lloyd Wright
136. "Live and work but do not forget to play, to have fun in life and really enjoy it this Saturday." —Eileen Caddy
137. "This Saturday, enjoy the journey, enjoy every moment, and quit worrying about winning and losing." —Matt Biondi
138. "This weekend, I found that my family is a part of my life and everything is all a mixture of enjoyment." —Davy Jones
139. "Happy Saturday to my fellow lazy pals. We have today to ourselves. Enjoy."
140. "Because there will be no Saturday morning exactly like this one, make sure that today counts and its memories kept safe for years to come."
141. "Nothing is more fulfilling than a Saturday morning started with an open heart. A grateful heart unlocks the blessings of the day."
142. "Start today by opening the two beautiful gifts from nature; your eyes. Let them see the blessings and fortunes of Saturday."
143. "Create an idea that will make you so excited that you will be jumping out of bed for the rest of the week."
144. "Spread sunshine to others on this day and you will be blessed in every way."
145. "My best days never change. They remain Fridays, Saturdays, and Sundays."
146. "It's Saturday, a day to reflect on things you want rather than what you don't have. Be happy today."
147. "Blessings, you have many this morning. Take the time to count them and your Saturday will be filled with more."
148. "Saturday is all about good vibes."
149. "May today bring you the joys of yesterday's hopes."
150. "I hope you wake up feeling exceptional. You are important, needed, and unique."
151. "On Saturday morning, I like to get up early and go out – TV is banned!" —Debra Stephenson
152. "One of the symptoms of an approaching nervous breakdown is the belief that one's work is terribly important." —Bertrand Russell
153. "It is so important to take time for yourself and find clarity. The most important relationship is the one you have with yourself." — Diane Von Furstenberg
154. "Talk to yourself like you would to someone you love." —Brené Brown
155. "Accept yourself, love yourself, and keep moving forward. If you want to fly, you have to give up what weighs you down." —Roy T. Bennett
156. "Don't let what you cannot do interfere with what you can do." —John R. Wooden
157. "It is the kind of Saturday night that torches your life for a few hours, makes it seem like something is happening." —Annie Proulx
158. "Breathe. Let go. And remind yourself that this very moment is the only one you know you have for sure." —Oprah
159. "There are days I drop words of comfort on myself like falling leaves and remember that it is enough to be taken care of by myself." —Brian Andreas
160. "Remember always that you not only have the right to be an individual, you have an obligation to be one." —Eleanor Roosevelt
161. "You know what I want to do? Wake up one weekend and not have to go anywhere and do nothing." —Derek Jeter
162. "You've got to get up every morning with determination if you're going to go to bed with satisfaction." —George Lorimer
163. "Don't judge each day by the harvest you reap but by the seeds that you plant." —Robert Louis Stevenson
164. "Morning not only forgives, it forgets." —Marty Rubin
165. "It is a common experience that a problem difficult at night is resolved in the morning after the committee of sleep has worked on it." —John Steinbeck
166. "How much good inside a day? Depends how good you live 'em." —Shel Silverstein
167. "The pleasure which we most rarely experience gives us greatest delight." —Epictetus
168. "To fall in love with yourself is the first secret to happiness." Robert Morley
169. "We tend to forget that happiness doesn't come as a result of getting something we don't have, but rather of recognizing and appreciating what we do have." —Frederick Keonig
170. "The first recipe for happiness is: avoid too lengthy meditation on the past." —Andre Maurois
171. "Happiness is when what you think, what you say, and what you do are in harmony." —Mahatma Gandhi
172. "Plenty of people miss their share of happiness, not because they never found it, but because they didn't stop to enjoy it." —William Feather
173. "Don't take life too seriously. You'll never get out of it alive." —Elbert Hubbard
174. "At least days that aren't Saturdays are only a few days away from the next Saturday."
175. "Saturdays are a chance to wake up extra early and enjoy the freedom to do whatever I want." —Michael Crews
176. "It's not who you want to spend Friday night with. It's who you want to spend all day Saturday with." —Woody Harrelson
177. "Have no fear of perfection. You'll never reach it." —Salvador Dali
178. "If you think you are too small to make a difference, try sleeping with a mosquito." —Dalai Lama
179. "Just believe in yourself. Even if you don't, pretend that you do and, at some point, you will." —Venus Williams
180. "What gets celebrated gets replicated." —Bradley Cooper
181. Happy Saturday!
182. Hello weekend!
183. Do one thing every day that makes you happy.
184. Hip Hip Hurray! It's Saturday. Good Weekend!
185. Dear Saturday, you are my favorite.
186. Sundays are awesome.
187. Hello Saturday!
188. Have a joyful Saturday.
189. Have a Happy Saturday.
190. Smile on Saturday.
191. Dear Saturday, I love you.
192. Happy Saturday!
193. Don't miss the sun today worrying about the rain coming tomorrow.
194. Saturday is good vibes.
195. Spend a day doing nothing: Let your mind wander; Let nature entertain you; Let stress go.
196. Let's crawl under a big blanket and watch movies.
197. Happiness is not having to set the alarm for the next day.
Funny Saturday Quotes
198. Better days are coming. They're called Saturday and Sunday.
199. I really need a day between Saturday and Sunday.
200. I'm multi-slacking today.
201. Saturday, please stay.
202. Time to drink champagne and dance on the table.
203. On Saturdays, we wear pajamas.
204. The trouble is, you think you have time.
205. I'm going to use what little energy I have today to breathe and maybe blink. That's about it.
206. I'm off to club bed featuring DJ Pillow and MC Blanky.
207. It's a good day to have a good day.
208. Saturday is for shopping.
209. Alcohol does not make you fat. It makes you lean against tables, chairs, floors, walls, and ugly people.
Saturday Quotes would surely make your special someone smile. Read more inspirational and happy quotes with Short Funny Quotes or Cute Cheer Up Quotes.
FAQ
What are Saturday quotes?
"Love me like Saturday night, like three glasses of champagne, like the room is spinning, like you're drunk on my love." – C.J. Carlyon
"On a lazy Saturday morning when you're lying in bed, drifting in and out of sleep, there is a space between fantasy and reality become one." —Lynn Johnston
 "Saturday is what gives us a weekend of enjoyment." – Anthony T. Hincks
As the last quote says the best, Saturday is that day that gives us the time of the day to just breathe after a hard work week.
What is so special about Saturday?
It may be that it is the first day of the weekend when you are free to do whatever you want and let the work week just roll by. The beginning of the weekend is the moment for you to shine. You will see how true that is with a Saturday quote that is bound to put a smile on anyone`s face:
"It's Saturday night…time to be a hero and rescue some wine trapped in a bottle."
What are some of the best Saturday quotes for Instagram?
If you want to post the best Saturday quote with an image on Instagram, you are in the right place! Check our page and look for the one picture with a quote that feels the most like you. I will give you some examples after which you can guide yourself:
"Saturday is here; give it a warm welcome by allowing yourself a lovely day of rest."
"The only happy end that I know is the weekend."
Final Thoughts
Make sure to make your weekend count. A day of rest and refreshment. Allow yourself to be conditioned physically and mentally. Feed your thoughts with positive thinking. With that, you will be able to think freely and have peace. Although you may have encountered some challenges, it's a great time to reload your energy to face more challenging days ahead. We hope that you have found strength from the words that you read. Share these with your friends so will also be able to spread that positivity. Do not keep it for yourself. Contaminate others with this so that you will also be a blessing.

Martha lives in the Bay Area and is a dedicated reader of romance novels. She runs a yoga studio and taught yoga for many years. She always says that yoga fuels her writing. She's also a vegetarian and advocate for living a healthy life. Martha has been writing for us for a while now, giving readers a glimpse into her lifestyle and work.