Teamwork quotes can motivate the members of the team. The success and failure of any company will greatly depend on the team. For a company to be successful, it must have a great team. Regardless of how intelligent and passionate you are with your work, you can only be successful if you can motivate a team.
A great leader can inspire his/her team members to cooperate to achieve their common goals.
The best way to inspire your team members is to talk to them and you can also inspire them by sharing these teamwork quotes.
Inspiring Teamwork Quotes
1. "Sticks in a bundle are unbreakable." —Kenyan Proverb
2. "If everyone is moving forward together, then success takes care of itself." —Henry Ford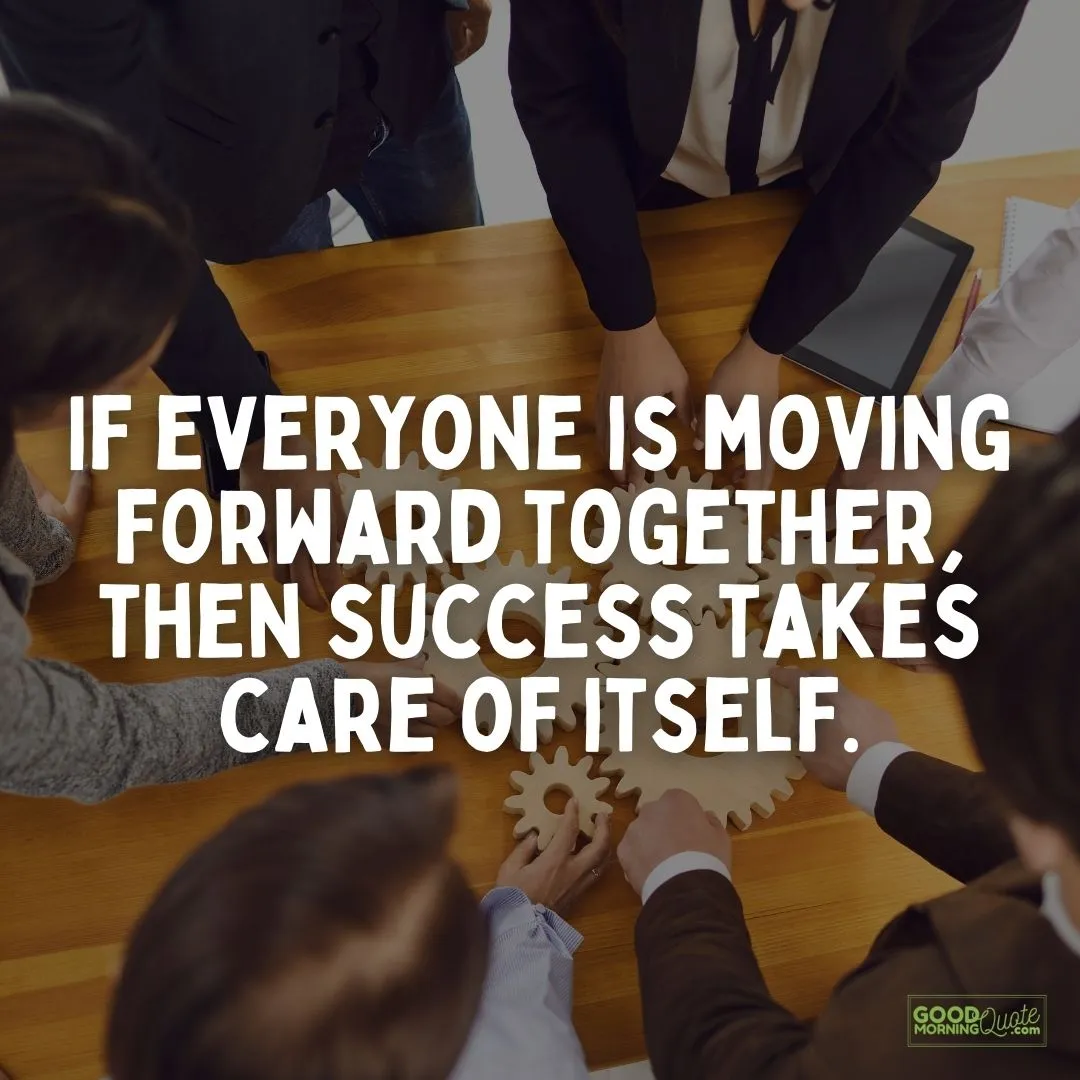 3. "No one can whistle a symphony. It takes a whole orchestra to play it." —H.E. Luccock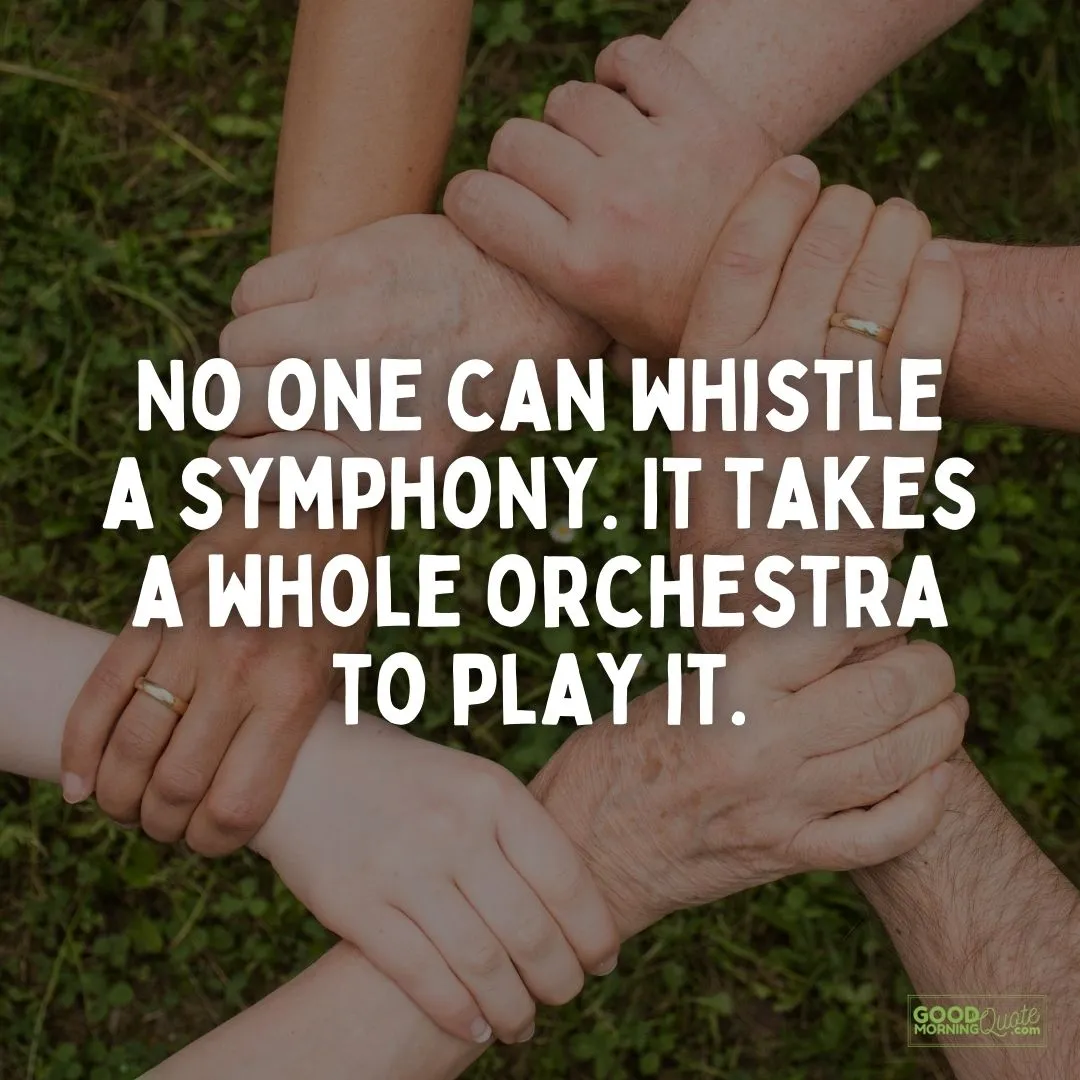 4. "Many candles can be kindled from one candle without diminishing it." —Midrash
5. "When 'I' is replaced by 'we' even 'illness' becomes 'wellness'." —Scharf
6. "The best teamwork comes from men who are working independently toward one goal in unison." —James Cash Penney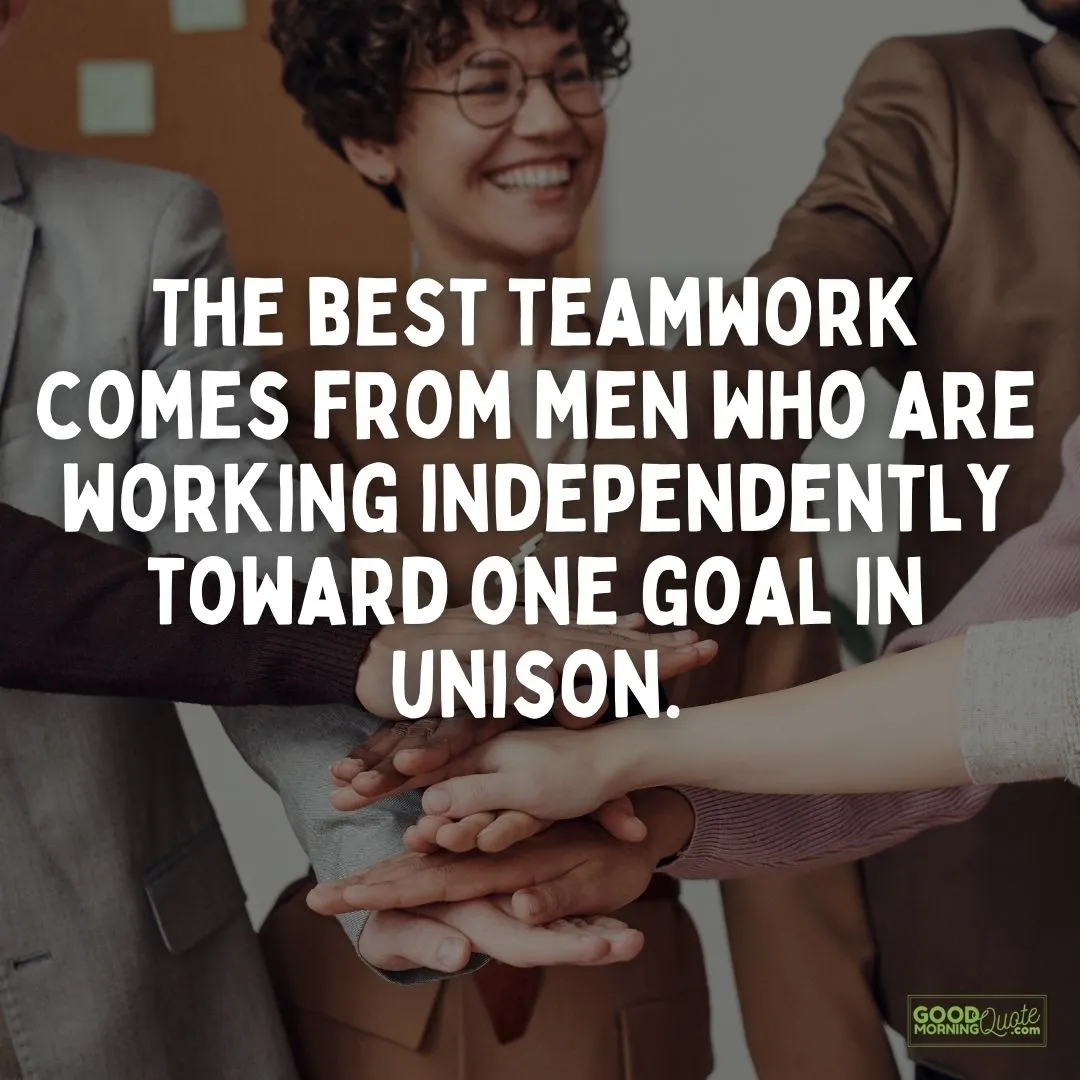 7. "Teamwork begins by building trust. And the only way to do that is to overcome our need for invulnerability." —Patrick Lencioni
8. "There is no such thing as a self-made man. You will reach your goals only with the help of others." —George Shinn
9. "No matter what accomplishments you make, somebody helped you." —Althea Gibson
10. "Only by binding together as a single force will we remain strong and unconquerable." —Chris Bradford
11. "Hard work beats talent if talent doesn't work hard." —Tim Notke
12. "No matter how brilliant your mind or strategy, if you're playing a solo game, you'll always lose out to a team." —Reid Hoffman
13. "If you want to lift yourself up, lift up someone else." —Booker T. Washington
14. "Collaboration has no hierarchy. The Sun collaborates with soil to bring flowers on the earth." —Amit Ray
15. "It's not the quality of the man, it's the quality of the team." —Garth Stein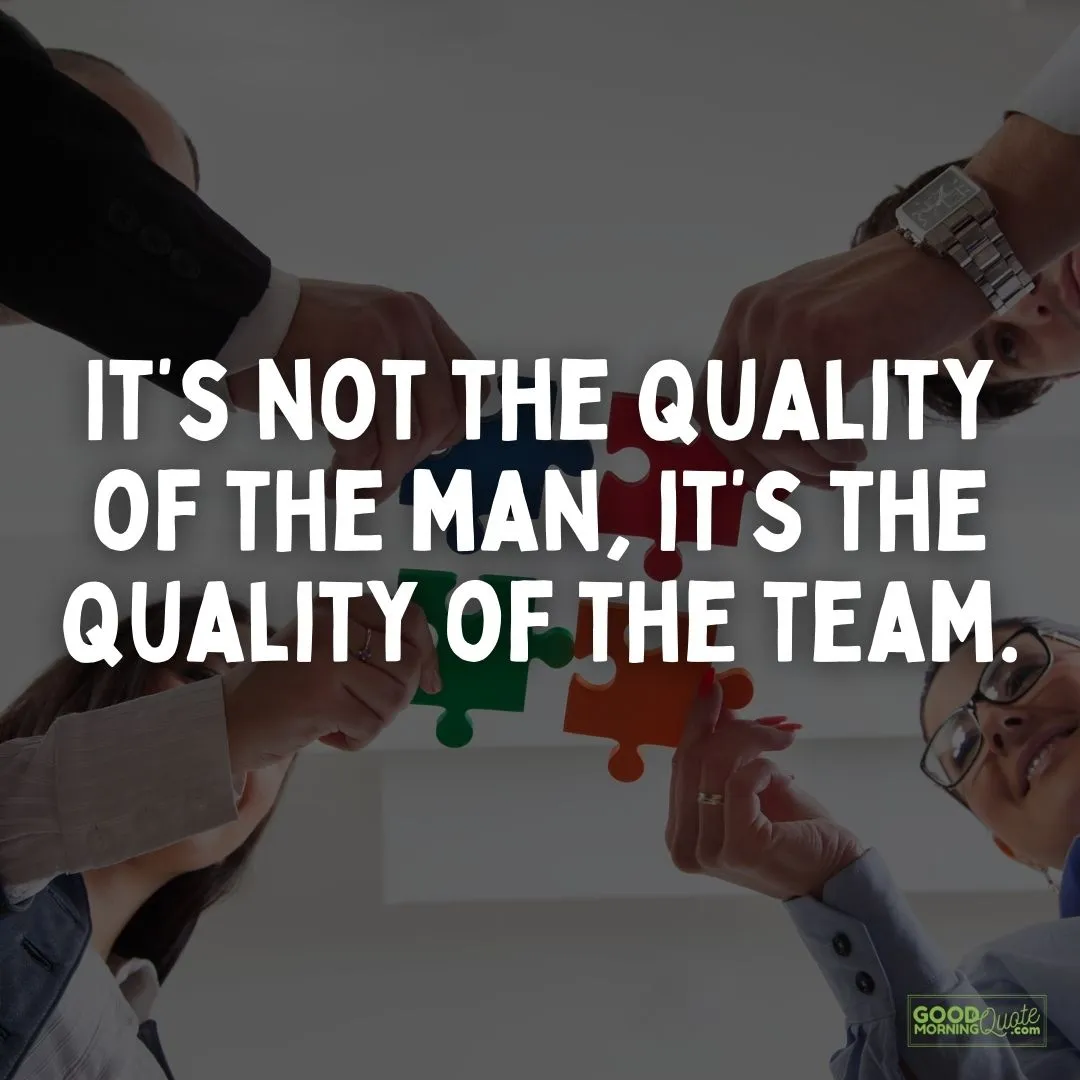 16. "Cooperation is the thorough conviction that nobody can get there unless everybody gets there." —Virginia Burden
17. "If you take out the team in teamwork, it's just work. Now who wants that?" —Matthew Woodring Stover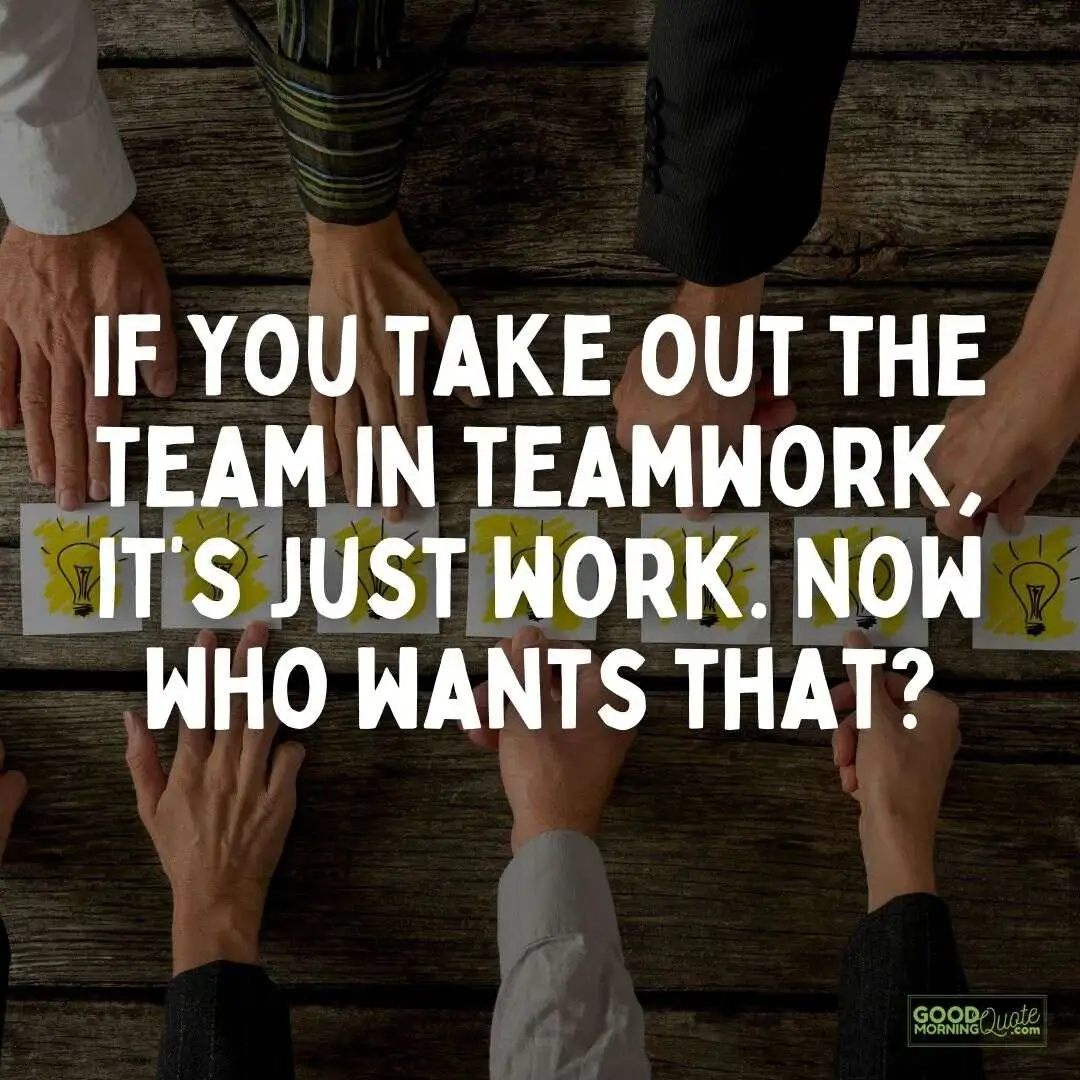 18. "A single arrow is easily broken, but not ten in a bundle." —Japanese Proverb
19. "The secret is to gang up on the problem, rather than each other." —Thomas Stallkamp
20. "A single leaf working alone provides no shade." —Chuck Page
21. "I can do things you cannot. You can do things I cannot. Together we can do great things." —Mother Teresa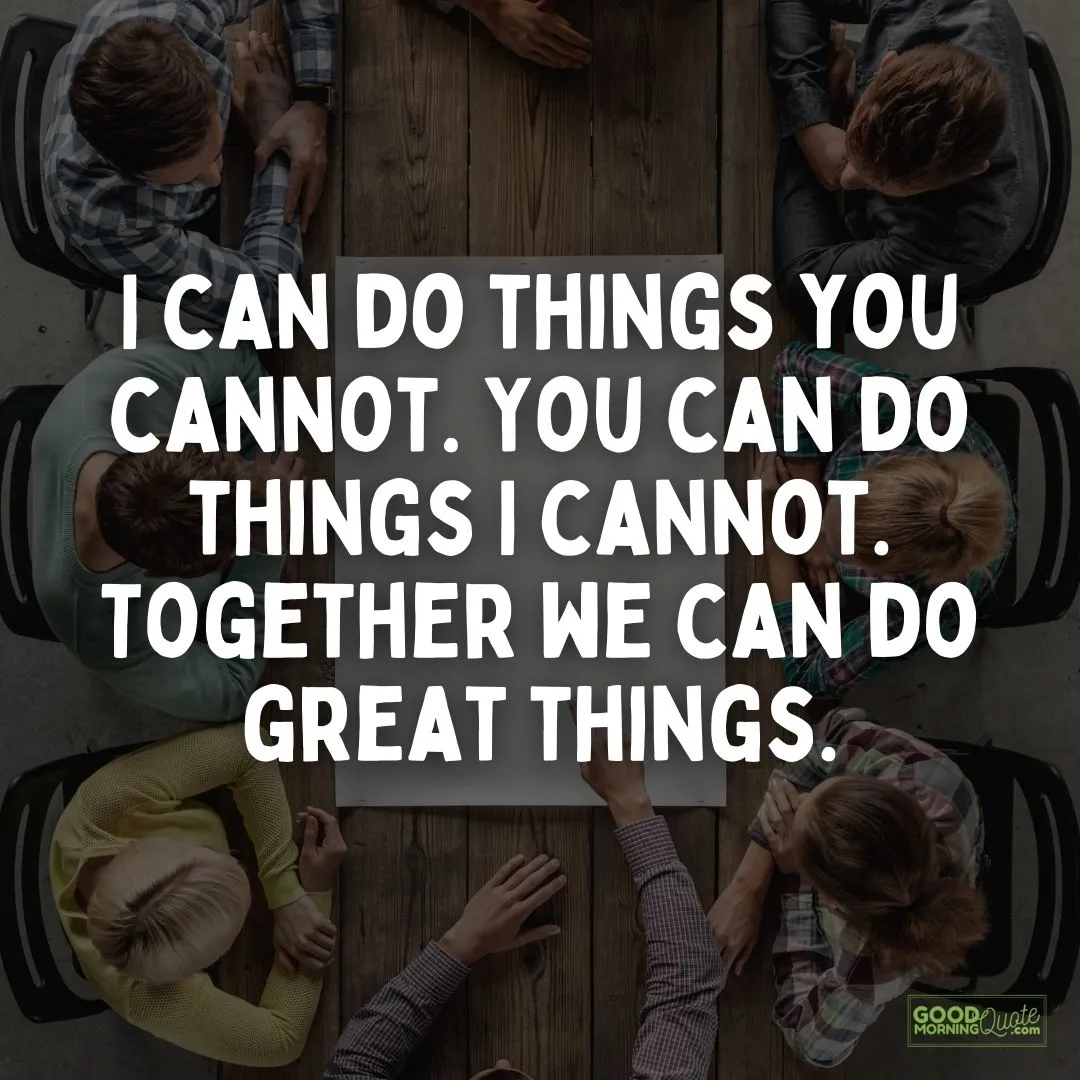 22. "A successful team is a group of many hands and one mind." —Bill Bethel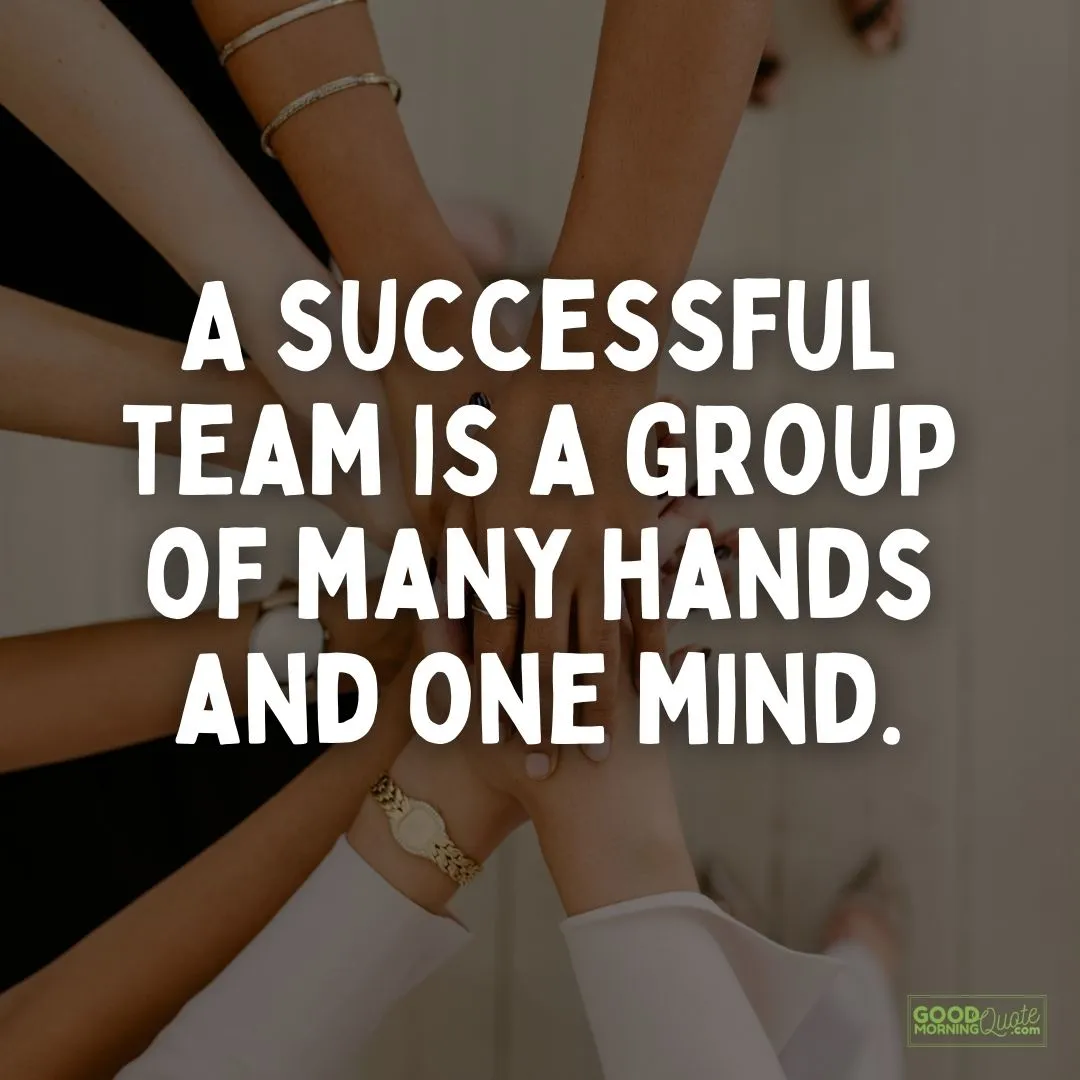 23. "Growth is never by mere chance; it is the result of forces working together." —James Cash Penney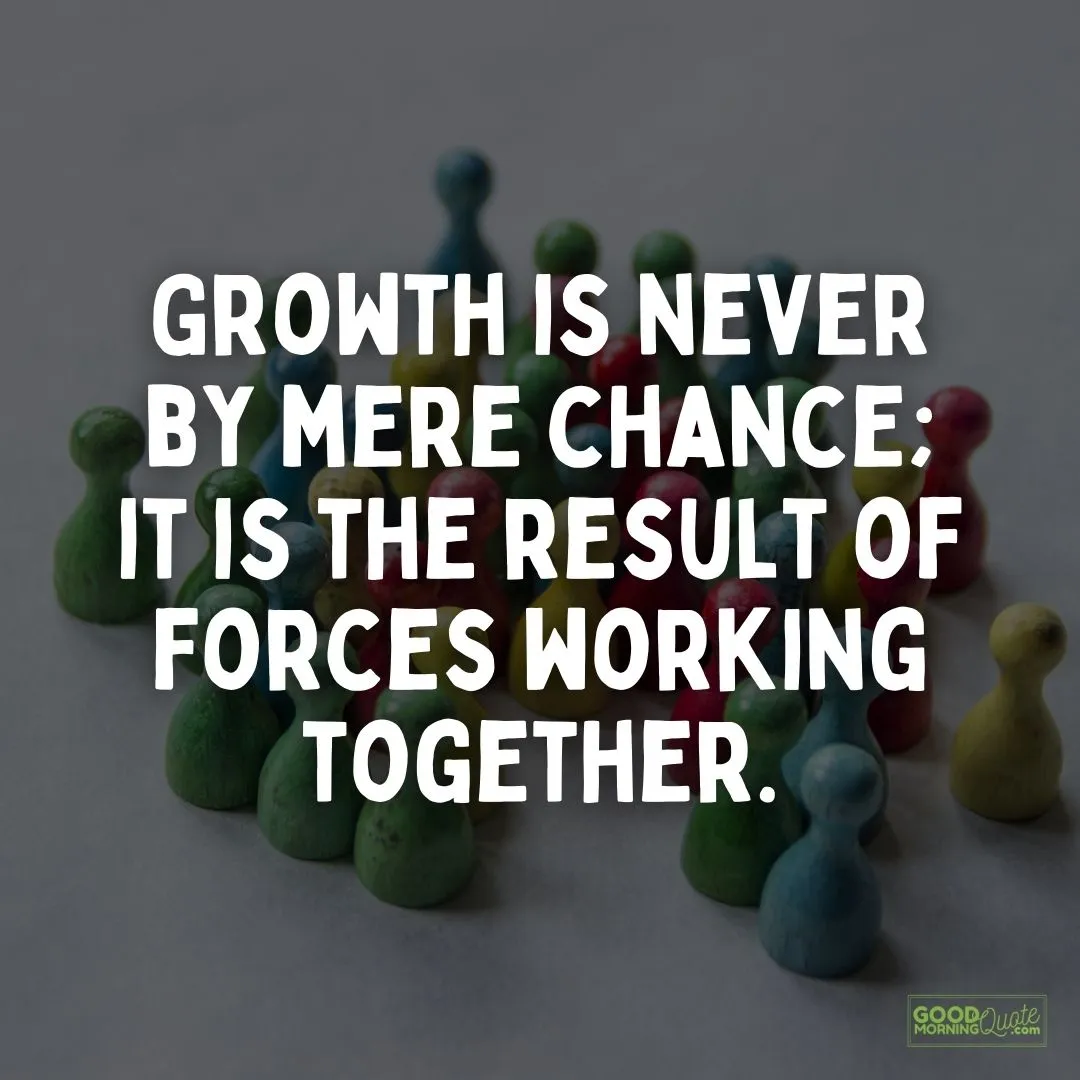 24. "Be fast, be first, but never be alone. Nothing can replace the value of teamwork." —Farshad Asl
25. "It takes two flints to make a fire."
26. "When he took time to help the man up the mountain, lo, he scaled it himself." —Tibetan Proverb
27. "Me against the world is frightening. Us against the world is comforting." —Kate McLaughlin
28. "When you need to innovate, you need to collaborate."
29. "Tough times don't last. Tough teams do." —Robert Schuller
30. "To build a strong team, you must see someone else's strength as a complement to your weakness and not a threat to your position or authority." —Christine Caine
31. Mountaintops inspire leaders but valleys mature them.
Great leaders can lead a team successfully.
32. You Add Value To People When You Value Them
Teamwork quotes can also inspire business owners about how they serve their clients.
33. Individually we are one drop but together, we are an ocean.
By working together anything can be achieved.
34. Play for the name on the front of the jersey and they will remember the name on the back.
One of the greatest inspiring teamwork quotes for athletes.
35. Coming together is a beginning, staying together is progress and working together is success.
A great teamwork quote from Henry Ford that you can display in your office.
36. I'm not telling you it's going to be easy. I'm telling you it's going to be worth it.
You will be rewarded for your hard work.
37. If your actions inspire others to dream more, learn more, do more and become more, you are a leader.
Does this sound like your kind of personality?
38. Being positive in a negative situation is not being naive, it's leadership.
A true leader will not easily get discouraged.
39. Great leaders don't tell you what to do, they show you how it's done.
Teamwork quotes are for great leaders.
40. Leadership is not a position or title, it is action and example.
The leader must be the best example to his members.
41. Only the guy who isn't rowing has time to rock the boat.
The best team is the one that has team effort.
42. Alone we can do so little, together we can do so much.
With the help of other people, you can be successful.
43. Teamwork makes the dream work.
The only way that you can accomplish a task is to work as a team.
44. It's not about the pieces but how they work together .
Teamwork quotes can empower us to obtain success.
45. Don't aspire to be the best on the team. Aspire to be the best for the team.
This teamwork quote is not only for sports but also for life itself.
46. None of us is as smart as all of us.
The best teamwork motivation in the office and also at home.
47. Teamwork Quotes – A single twig breaks, but the bundle of twigs is strong.
We can only achieve what we want if we have the support of our friends, families, and co-workers.
48. Teamwork Quotes – Talent wins games but teamwork and intelligence win championships.
In any kind of sports, there should be teamwork.
49. Teamwork Quotes – It is literally true that you can succeed best and quickest by helping others to succeed.
Teamwork quotes are great inspirations in the workplace.
50. Teamwork Quotes – You and I are a team. There is nothing more important than our friendship.
True friends will always stay by our side no matter what.
51. Teamwork Quotes – Great things are done by a series of small things that are brought together.
Teamwork is one of the things that can result in greatness.
52. Teamwork Quotes – Teamwork is the secret that makes common people achieve uncommon result.
It is an encouraging quote that can help you achieve your goals.
53. Teamwork Quotes – We are team. One person struggles, we all struggle.
That's what a team is for!
54. Teamwork Quotes – If you want to go fast, go alone. If you want to go far, go together.
It's always nice to have somebody with you as you make your journey.
55. Teamwork Quotes – Offer them respect, earn their trust and build a relationship.
A team can succeed if there is trust, respect, and love.
56. Teamwork Quotes – Teamwork occurs when diverse abilities and insights join together to work toward a common goal.
When the team works together, the goal can be achieved quickly.
57. Teamwork Quotes – Work together not against.
Teamwork quotes can inspire everyone.
58. Teamwork Quotes – True teams are made when you put aside individual wants for collective good.
An inspiration for all teams.
59. Teamwork Quotes – You can do what I cannot do. I can do what you cannot do.
Knowing our strengths and weaknesses can help us in managing them.
60. Teamwork Quotes – In union there is strength.
Working together can generate great strength.
61. Teamwork Quotes – Teamwork divides the task and multiplies the success.
By helping each other, the task can be done successfully.
62. Teamwork Quotes – Teamwork, because we sometimes may need a hand.
Teamwork quotes help us realize that we sometimes need other people in our lives.
63. Teamwork Quotes – Together we can achieve more!
Teamwork is very important in the office as well as at home.
64. Teamwork Quotes – Individual commitment to a group effort – that is what makes a team work,
Teamwork is working together to achieve a common goal.
65. Teamwork Quotes – There is no "I" in team, but there is no team without individuals.
A team can only win if everyone in the team can collaborate.
66. Teamwork Quotes – Together, everyone achieves more.
Isn't it great to be a part of a team?
67. Teamwork Quotes – The achievements of an organization are the results of the combined effort of every individual.
The success of a company lies in the effort of its workers.
68. Teamwork Quotes – Great things are brought about and burdens are lightened through the efforts of many hands.
You are not alone, there are a lot of people who are willing to help you.
69. Teamwork Quotes – A manager says "go," a leader says "let's go."
A great leader is someone who knows how to take care of their members.
70. Teamwork Quotes – Many of us are more capable than some of us…
Teamwork quotes can inspire your team to win.
71. Teamwork Quotes – Teamwork: simply stated, it is less me and more we.
By combining the efforts of everyone, the task can be accomplished easily.
72. Teamwork Quotes – The greatest marriages are built on teamwork.
The secret to a happy marriage is teamwork.
73. Teamwork Quotes – A basketball team is like the five fingers on your hand.
A team will not be complete if one is missing.
74. Teamwork Quotes – We all can work, but together we win.
Nothing is impossible if there is teamwork.
75. Teamwork Quotes – If you're going somewhere as a team you need different personalities.
Inspirational teamwork quotes can help you work as a team.
76. Teamwork Quotes – The nice thing about teamwork is that you always have others on your side.
Isn't it nice to have someone by our side?
77. Teamwork Quotes – Make sure everybody in your boat is rowing and not drilling holes when you're not looking.
Teamwork means that everyone in the team is willing to work together.
Frequently Asked Questions
What is a good quote for teamwork?
The best quote for teamwork is the quote that can not only motivate your team to do their best work but also encourage them to reinforce their friendship and teambuilding skills. One of the most important things about leading a team is ensuring all team members work well together. You can help them develop their synergy and become the best team possible by utilizing motivating quotes and sayings. 
How do you inspire your team's quotes?
The best way to inspire your team is by understanding each member and what it takes to make them work well. Then, look at the bigger picture, how their personalities interact, and what you can do to help them work better together. Finally, if you want a little help, there's nothing that works quite as well as a great team quote. 
What are some team sayings?
There are a lot of team sayings out there, but there are only a few that are effective and moving. The best of the best were created by the greatest team leaders in history, such as Henry Ford. So if you're having trouble motivating your team, consider wise words such as: "If everyone is moving forward together, then success takes care of itself" by Henry Ford.
How do you inspire a team with words?
Inspiring your team can only be done effectively with your words and encouragement. Every other method of inspiring your team would be temporary and fleeting, but words instill a powerful sense of purpose and meaning, which they can direct into their work. If you're having issues connecting with your team and motivating them, consider using one of our inspirational teamwork quotes and sayings. 
What do you say to motivate your team quotes?
There aren't many things you can say to motivate your team that hasn't been said. They have likely heard all the run-of-the-mill and generic advice managers and other team leaders have been saying for years, so to truly touch them, you need a particularly powerful quote. Consider one of our most popular quotes: "No one can whistle a symphony. It takes a whole orchestra to play it" by H.E. Luccock.
How do you motivate team members?
The best way to motivate your team members is to get to know and understand them. Once you have a relationship with them, you will be able to judge the best way to motivate them to give their all to their work, as everyone is unique.
Conclusion for Teamwork Quotes
Being a team leader can be a challenging task that few in the business world are truly capable of tackling. Of course, anyone would be discouraged with such a monumental task, but those that rise to the occasion usually have the charisma and commitment to see it through to the end. If you're struggling to get started in your new role as team leader, consider motivating your team with one of our many inspirational teamwork quotes and sayings.
By working together, the team can do much better.  I hope these teamwork quotes have inspired the members of your team.  Teamwork can be applied in the workplace as well as at home.  However, teamwork is more obvious in any sport, such as basketball, volleyball, baseball, football, and soccer.
You can watch our motivational speeches if you need more inspiration.  However, if you want to relax after a busy day, you can read our funny quotes.