Thank you quotes may just be simple words however it can create a great impact. Most of us are using these words frequently in whatever situation. Sometimes we are having difficulty in expressing the right words to say thank you in various situations. Here are some thank you quotes that can help you in expressing your gratitude in the proper way.
Being thankful can make us happy and at the same time we can learn to appreciate the things that we have. Sometimes we feel that we don't have much, however we must also realize that there are some people out there who would like to trade places with us. These thank you quotes will be a reminder for us that we have a lot of things that we have to thank for.
Meaningful Thank You Quotes
1. For your patience and caring, kind words and sharing, "Thank You".
Thank you quotes can help us appreciate all the wonderful things that are happening in our lives.
2. Thank you for staying by my side even though I tried to push you away.
Life is beautiful especially when there are a lot of people who care for us.
3. Thank you for all the special things you do.
I want to thank you for all the wonderful things that you did for me.
4. Thank You For Everything!
Friends are always there for us that is why we should say thank you to them for everything that they have done for us.
5. God doesn't give us what we can handle, God helps us handle what we are given.
Be thankful to God always.
6. A truly great mentor, hard to find… difficult to part with… impossible to forget… we will miss you.
The best thank you quotes for someone who is about to retire.
7. I thank you for your part in my journey.
Without God, I can't be where I am right now.
8. Thank you for being the reason I smile.
When I am with you, I can smile anytime.
9. Talk about your blessings more than you talk about your burdens.
Thank you quotes can always inspire us.
10. As you breathe right now, another person takes their last.
Learn to be content with what you have.
11. If I could sit across the porch from God, I'd thank Him for lending me to you.
Great thank you quotes for husbands as well as wives.
12. I want to thank you for never being there anymore.
Sometimes losing someone can make us stronger.
13. There is no better way to thank God for your sight than by giving a helping hand to someone in the dark.
Helping others can make us feel better.
14. Thank you for the world so sweet, thank you for the food we eat…
Thank you quotes can help us to be grateful to God for everything that He has provided us.
15. Sometimes the smallest things take up the most room in your heart.
Sometimes we focus more on our shortcomings rather than our blessings.
16. Best friend, thank you for standing by my side when times get hard.
Cherish your best friends and never let them go.
17. I may not have everything I want in life but I'm blessed enough to have all that I need!
This is one of the best thank you quotes about life.
18. Just like how a sprinkle of chocolate makes a coffee worth devouring…
There is nothing more precious in this world than having friends who love you so much.
19. Some old-fashioned things like fresh air and sunshine are hard to beat.
We should thank God for the simple things around us such as fresh air and sunshine.
20. Being told you're appreciated is one of the simplest and most uplifting things you can hear.
It's a great feeling when someone appreciates what you did.
21. No matter how sure you are that a friend will be there for you…
Thank you quotes are for true friends who have stood with us through the years.
22. Never let the things you want make you forget the things you have.
Be content with the things that you have.
23. The greatest test of faith is when you don't get what you want but still, you are able to say: "Thank you Lord".
God loves us so much.
24. If we don't feel grateful with what we already have, what makes us think we will be happy with more.
Be thankful for what you have right now.
Beautiful Thank You Quotes
25. Dear God, thank you for this beautiful life.
We should be thankful to God for giving us a beautiful life.
26. It is not happy people who are thankful, it is thankful people who are happy.
Gratitude can make us feel that we already have enough.
27. Thank you for staying even if you had every reason to leave.
Great thank you quotes can make us realize who truly love us.
28. Always give without remembering and always receive without forgetting.
By giving more to others, you will discover that you have more for yourself.
29. I'm thankful for my struggle because without it I wouldn't have stumbled across my strength.
Thank you quotes can inspire people who are struggling.
30. You can't force people to stay in your life.
Be thankful for your friends who never left your side.
31. I'm thankful for all those difficult people in my life, they have shown me exactly who I do not want to be.
You can learn a lot from those people around you.
32. A strong marriage requires loving your spouse even in those moments when they aren't being lovable.
One of the best thank you quotes for your spouse.
33. When you're thankful for what you have, you are always rewarded with more.
Always stay positive.
34. The ones who love you will never leave you.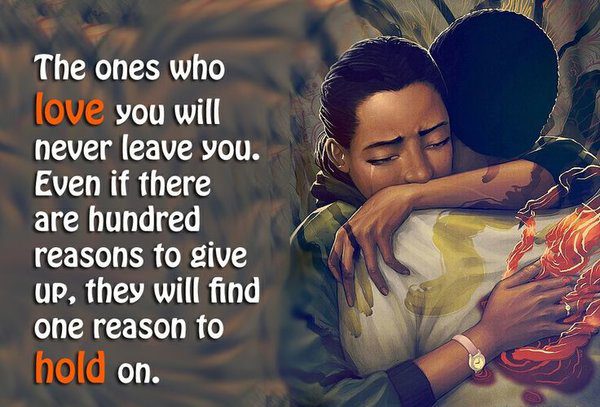 Say "Thank you" to the person who has been with you throughout your life.
35. Respect people who find time for you in their busy schedule…
Be grateful for your friends who are always there when you need them.
36. God is the best listener, you don't need to shout nor cry out loud.
Thank you God for always being there especially when I need you the most.
37. Dear Past, thank you for all the life lessons you have taught me.
It's time to forget the past and look forward to your bright future.
38. When you pray, God listens, when you listen, God talks, when you believe, God works.
Thank God for always listening to our prayers.
39. We must never forget the importance of gratitude.
Thank the Lord everyday.
40. No matter how good or bad you think life is, wake up each day and be thankful for life.
Stop complaining about those little things in life but instead be grateful to God.
41. Be thankful for the bad things in life, for they open your eyes to the good things.
We should be thankful to all the things in our lives not only the good ones but also for the bad ones.
42. I can survive anything as long as I have you.
Thank you for always being there for me.
43. Start each day with a thankful heart.
Beautiful thank you quotes for everyone.
44. What if you woke up today with only the things that you thanked God yesterday?
Always count your blessings and thank God for them.
45. A friend is God's way of proving He doesn't want us to walk alone.
Thank God for giving you good friends.
46. Lord, thank you for this great day!
Always remember to thank the Lord everyday.
47. For all your caring, all your caregiving, thank you, thank you.
Say "Thank you" to the people who have cared for you.
48. Thank you for being there when no one else was, even though you fucking left too.
Even if he left you, be thankful that you have spent some time with him.
49. The Lord turns my darkness into light.
Thank you Lord, for giving light into my life.
50. I thank my God every time I remember you.
Do not just pray for yourself but pray for other people too.
51. If the only prayer you ever say in your entire life is "Thank you", it will be enough.
Saying "Thank you" to the Lord is the greatest prayer of all.
52. Do something today that your future self will thank you for.
Be sure to make the right decisions in order to avoid any regrets in the future.
The Importance of an Honest "Thank You!"
Gratitude is a selfless act, thus making you good like a good person whenever you're honestly thanking someone. It's also a great way to brighten someone's day, as showing them that they are appreciated can greatly uplift their spirits and thus bring them on a path of happiness, especially after a rough day.
The fact that gratitude slowly becomes contagious is yet another reason why you should consider practicing it more often. For instance, a person you thank today for something as menial as helping you out with groceries will make them feel so appreciated that they might just help you out again for no other reason than to feel the same type of happiness that they felt the first time you have thanked them.
Psychological, Philosophical, and Religious Views on Gratitude
There have been multiple studies regarding gratitude showing that being more grateful can lead to increased levels of well-being. Even modern psychology ties religion to gratitude, as it has come to the conclusion that being thankful for a higher being has a positive impact on one's morale.
Philosophically speaking, intellectuals have discussed the importance of gratitude for over 2,000 years now. Notable philosophers like Cicero, Adam Smith, or Seneca have practiced and preached the importance of giving thanks and actually meaning it.
In the last few years, several papers describe gratitude from a hybrid psychological-philosophical perspective, as well as from an outright philosophical perspective.
As for the religious perspective, Theravāda Buddhism, Christianity, Islam, and Judaism all encourage their followers. to give gratitude whenever possible, especially toward their deity or deities. Whatever religion you're studying, you'll soon find out that gratitude is present in so many of the sacred texts and teachings that it can become overwhelming. However, it's a necessary act for enlightenment and for your personal wellbeing in the long run.
The Bottom Line
I hope that after reading these thank you quotes you will start saying thank you to the Lord for giving you a wonderful life. Also, do not forget to say thank you to all the wonderful people who have helped you in your struggles such as your friends and loved ones. Or the wonderful people you celebrate your happy birthdays with.
Thank you quotes, inspiring life quotes, and sweet love quotes can inspire us to live a happy life.  Not all people are lucky enough to have all the things that they want.  However, if you will just be content with what you have then you will discover that you have more than enough than you can ever ask for.