Depression quotes can give you some insights on having a life full of depression.  This can also provide some inspiration to those people who are depressed.  It can make them feel that finally there is someone who understands how it feels like to be depressed.  These 82 depression quotes talks about the various aspects of being lonely, sad, grief and other associated feelings.
When your heart is in grief, it seems that there is nothing in this world that seems bright.  It is very difficult to eliminate that sadness, as you can read in these sad quotes.  It appears that the more you tried to stay away from it, the more it gets closer to you.  The best thing to do is to face our loneliness.  Here are some depression quotes about life.  You can use them as a cure for your grief.  Remove that depression from your heart and try to believe that life is great and there are still a lot of chances in making the most of it.
The Saddest Depression Quotes
1. "Hold on to this hope: You can get better from depression."
2. "Depression doesn't take away your talents—it just makes them harder to find." —Lady Gaga
3. "A big part of depression is feeling really lonely, even if you're in a room full of a million people." —Lilly Singh
4. "Every man has his secret sorrows which the world knows not; and often times we call a man cold when he is only sad." ― Henry Wadsworth Longfellow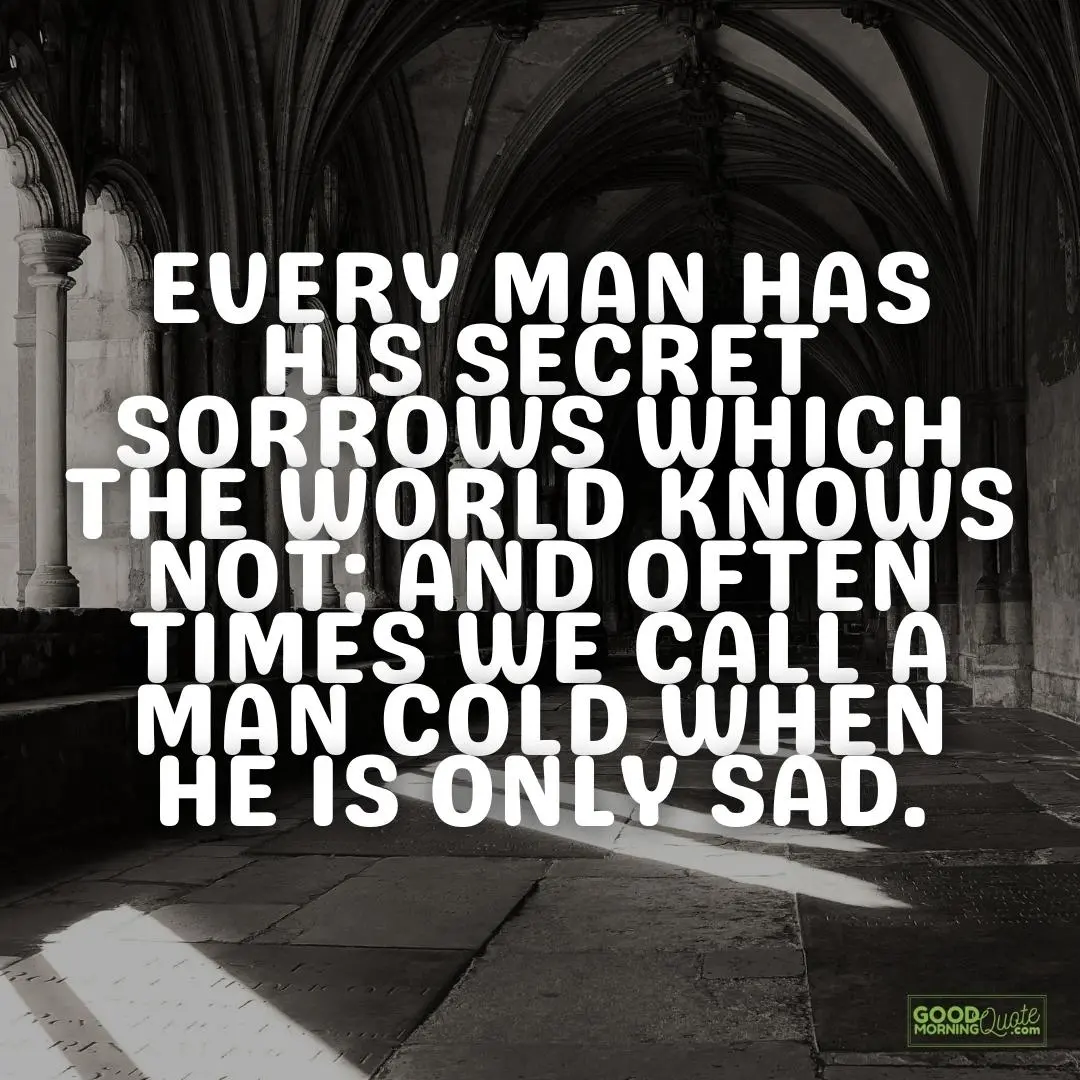 5. "So often times it happens that we live our lives in chains and we never even know we have the key." —The Eagles
6. "That is all I want in life: for this pain to seem purposeful." ―Elizabeth Wurtzel
7. "One swallow does not make a summer, neither does one fine day; similarly one day or brief time of happiness does not make a person entirely happy." ―Aristotle
8. "Depression, suffering and anger are all part of being human." –Janet Fitch
9. "Maybe we all have darkness inside of us and some of us are better at dealing with it than others." —Jasmine Warga
10. "Do you not see how necessary a world of pains and troubles is to school an intelligence and make it a soul?" ―John Keats
11. "Almost everyone is overconfident—except the people who are depressed, and they tend to be realists." ―Joseph T. Hallinan
12. "Depression isn't a war you win. It's a battle you fight every day." —Shaun David Hutchinson
13. "I will love the light for it shows me the way, yet I will endure the darkness for it shows me the stars."
14. "There is hope, even when your brain tells you there isn't." —John Green
15. "Losing your life is not the worst thing that can happen. The worst thing is to lose your reason for living." —Jo Nesbo
16. "Depression is being colorblind and constantly told how colorful the world is." —Atticus poetry
17. "I'll never forget how the depression and loneliness felt good and bad at the same time. Still does." ―Henry Rollins
18. "I was so scared to give up depression, fearing that somehow the worst part of me was actually all of me." —Elizabeth Wurtzel
19. "I need one of those long hugs where you kinda forget whatever else is happening around you for minute." —Marilyn Monroe
20. "I believe that words are strong, that they can overwhelm what we fear when fear seems more awful than life is good." ―Andrew Solomon
21. "You're like a grey sky. You're beautiful, even though you don't want to be." ―Jasmine Warga
22. "All it takes is a beautiful fake smile to hide an injured soul and they will never notice how broken you really are." —Robin Williams
23. "There are wounds that never show on the body that are deeper and more hurtful than anything that bleeds." ―Laurell K. Hamilton
24. "The strongest people are those who win battles we know nothing about."
25. "We try to hide our feelings, but we forget that our eyes speak."
26. "Anger, resentment and jealousy doesn't change the heart of others– it only changes yours." ―Shannon L. Alder
27. "Do not let what you cannot do interfere with what you can do." —John Wooden
28. "Any fool can be happy. It takes a man with real heart to make beauty out of the stuff that makes us weep." —Clive Barker
29. "What the caterpillar calls the end of the world, the master calls a butterfly." —Richard Bach
30. "If you are chronically down, it is a lifelong fight to keep from sinking." ―Elizabeth Wurtzel
31. "Love me for who I am… not for what you want me to be."
It is great to accept a person no matter who he/she is.
32. I love myself unconditionally.
Depression quotes can make us feel sad most of the times. The best thing that you can do is to think positively.
33. Don't have fear of aloneness or loneliness, you must realize you are surrounded by angels.
If you are in your most difficult times, do not fear because you are not alone.
34. I am alone, why does no one notice that I am alone?
Sometimes being alone is the best way to avoid being hurt.
35. Everyone is gifted, but some people never open their package…
Some people have hidden talents, however they have not noticed it yet.
36. Its hard to wait around for something, you know may never happen.
It's hard to accept that the person you are waiting for will never return back to you.
37. You deserve to be with somebody who makes you happy.
Depression quotes can make us realize that there are still other people who loves us and we must not lose hope.
38. I'm not crying because of you; you're not worth it.
Some persons are not worth crying for.
39. I could disappear forever and it wouldn't make any difference.
Disappearing may not always be the best solution to every problem.
40. We are all so much together, but we are all dying of loneliness.
Desperate quotes can sometimes make us feel lonely.
41. It is better to be alone than being with someone who makes you feel alone.
It would be better to stay away from people who do not really love us.
42. The hardest part is waking up in the morning…
There are just some things that are so hard to forget.
43. It's sad how quickly people can forget about you.
Some people can only remember to call you when they need something from you.
44. A million words would not bring you back, I know because I've tried.
No matter how much you have cried, you'll just have to accept the fact that he will never come back again.
45. Trying to hide your feelings and pretending like nothing is wrong.
Do not hide your feelings because there are other people who want to help you.
46. Behind my pretty smile is a story you'll never understand!
Some people are pretending that they are happy but inside they are suffering.
47. I sit and listen to everyone's love stories and I'm thinking to myself; where's mine?
There are still some people who have not found the one they are looking for.
48. Those we love don't go away, they walk beside us every day.
Even if your loved ones have already departed, they are always in your heart.
49. Someday everything will make perfect sense.
Desperate quotes will help us understand why these things are happening to us.
50. If it stopped… would you miss me?
Sometimes we wonder, would we be missed when we're gone?
51. If you ever get lonely just go to the record store and visit your friends.
Listening to music can ease the pain.
52. The poorest man in this world is not the one without money.
Friends are precious, you must cherish them.
53. The things you take for granted someone else is praying for.
We should be thankful for everything that we have right now.
54. I'm not crazy, my reality is just different than yours.
We should always understand other people's feelings.
55. If you could read my mind… you would be in tears.
Each of us have felt lonely at some point in our lives.
56. The worst loneliness is not to be comfortable with yourself.
Desperate quotes can help us realize to love ourselves first before we can start loving somebody else.
Desperate Quotes About Life
57. Sometimes your heart needs more time to accept what your mind already knows.
There are some things which are hard to accept.
58. Alone had always felt like an actual place to me.
Find some time to be alone in order to know yourself.
59. I'm so ashamed of myself all the time, I just feel like I'm worthless and replaceable.
Don't feel sorry for yourself because there are still a lot of people who loves you.
60. I wish I could show you, when you are lonely or in the darkness, the astonishing light of your own being,
Always remember that there is always light after the darkness.
61. Rise above the storm and you will find the sunshine.
When you feel depressed, it seems like it is a never ending storm. The most important thing is you must learn how to rise above it.
62. God blesses those who patiently endure testing and temptation.
There will always be some trials in our lives but God will never leave us.
63. Life is like riding a bicycle, to keep your balance, you must keep moving.
Life has ups and downs, always be ready to accept it.
64. Lost time is never found.
Always spend quality time with the ones you love in order to avoid any regrets in the future.
65. I refuse to sink.
Don't lose hope, give yourself another chance.
66. You never know the last time you'll see a place or a person.
Sometimes when you are down, you just want to be left alone.
67. I want to thrive not just survive.
You can be what you want to be as long as you have the courage to do it.
68. I gave up, it's not because I don't love you, but because I am tired of getting hurt.
Finally, I have realized that you do not really care for me.
69. I will never leave you nor forsake you.
God loves us, no matter what.
70. That's how depression hits.
Don't be afraid to face reality.
71. You can close your eyes to the things you don't want to see…
You can't hide your feelings.
72. It is such a secret place, the land of tears.
When you feel depressed, it's alright to cry.
73. Loneliness adds beauty to life.
When you feel lonely, remember that it's part of life.
74. All great and precious things are lonely.
Depression quotes are great and precious.
75. The pain is not on the day of missing our dear ones.
There's always pain when you lost someone that is dear to you.
76. A panic attack goes from 0 to 100 in an instant.
Stay calm….
77. Never once did we ever walk alone.
Always remember that you are not alone.
78. Loneliness will only make you drift apart from the rest of the world.
Don't be afraid to face reality.
79. How people treat other people is a direct reflection of how they feel about themselves.
Treat other people nicely, so that you will also be treated that way.
80. The worst feeling isn't being lonely but being forgotten by someone you can't forget.
Forget those persons who don't really love you.
81. You are living, you occupy space, you have a mass, you matter.
If you want to excel in something then you must spend more time in practicing.
82. What is depression like?
This is a great perspective about depression.
Conclusion
Depression quotes can make you feel down.  It's like there is no hope anymore.  These are just some of the depression quotes which can make you realize that it's not bad at all to feel depressed. You are not alone, always pray to God and he will guide you.
Depression is natural, anybody can experience it even the famous celebrities, The most important thing is you should not easily get carried away by it. You must learn how to rise above it and move on with your life. Be inspired by your sad experience such as betrayal. Always remember that there's always hope.
As human as we are, we often get entangled with our emotions. And that is how life is. But we have to know how to deal with our emotions. Remember, emotion is "Energy-in-motion". No matter what we do, our emotions always get involved. It is something inside us that we have to learn how to control. We have so much energy stored inside us. Whether that's positive or negative, we need to know how to handle it. It will always be in motion. There are times when we are at the peak of our happiness and then go down to the deepest of our sadness. Sometimes, it's as calm as the seas but easily gets destructive when a storm comes. So, if you are in a depressive state, you need to have an outlet for that "energy-in-motion". You need to talk to people. Find a support system where you can pour out. You have to let it out otherwise it's going to consume you.
May this list of depression quotes be an inspiration to you. If you want further assistance, check this article on Dealing with Depression.

Martha lives in the Bay Area and is a dedicated reader of romance novels. She runs a yoga studio and taught yoga for many years. She always says that yoga fuels her writing. She's also a vegetarian and advocate for living a healthy life. Martha has been writing for us for a while now, giving readers a glimpse into her lifestyle and work.