Are you looking for beautiful and inspiring rose quotes? 
Well, you've come to the right place! We have created a list of fifteen beautiful and inspiring rose quotes which should motivate and inspire you today. These rose quotes have been collected from various sources and then curated into this wonderful list of you to enjoy. We hope that you enjoy these quotes and we would love to hear your thoughts on them in the comments section below this article. If you know someone who may enjoy these quotes, then please do be sure to give the article a share with them!
A Bit About Rose Quotes
What is a rose and why are rose quotes so great and inspiring? Here we will learn just that.
What is a rose?
A rose is a fragrant beautiful flower that is often found in bouquets at your local florist. Roses are often given as a symbol of love, particularly red roses. The stem on a rose is lined with thorns which can be quite painful if touched in a certain way.
Why are rose quotes so great?
Rose quotes are great because they are incredibly inspiring, motivating, and also beautiful. They're great for when you're looking for a way to brighten your day with a wonderful list of quotes.
Beautiful and Inspiring Rose Quotes
Following is our wonderful list of fifteen rose quotes which we have created for you to enjoy. We hope that this list of rose quotes brightens your day today and has a positive impact on your mood. We would love to hear your thoughts on the quotes in this list in our comments section below this article.
1. A thorn defends the rose, harming only those who would steal the blossom. 
Chinese Proverb
A thorn acts as the part of the rose which attacks anyone who is rough with it. If you've ever picked up a rose quickly or without thinking, then chances are you've failed the pain of a thorn prick. It can every painful, especially when you're not expecting it. Many people forget about a rose's thorns until it's too late and they've already been injured.
2. No rose without a thorn. 
French Proverb
This is absolutely true – the beauty of a rose would not exist if it wasn't for the thorns. This is true as a metaphor for life. No matter how beautiful or amazing something may seem, everyone and everything has it's dark side. It's just that some are better at hiding it.
3. Take time to smell the roses. 
Proverb
We all need to make more time to appreciate the true beauty in the world, and that can include smelling roses. There is so much natural beauty around, but because of our busy lifestyles, many of us miss it. We should all take a little time each day to appreciate the beauty around us.
4. Roses fall, but the thorns remain. 
Dutch Proverb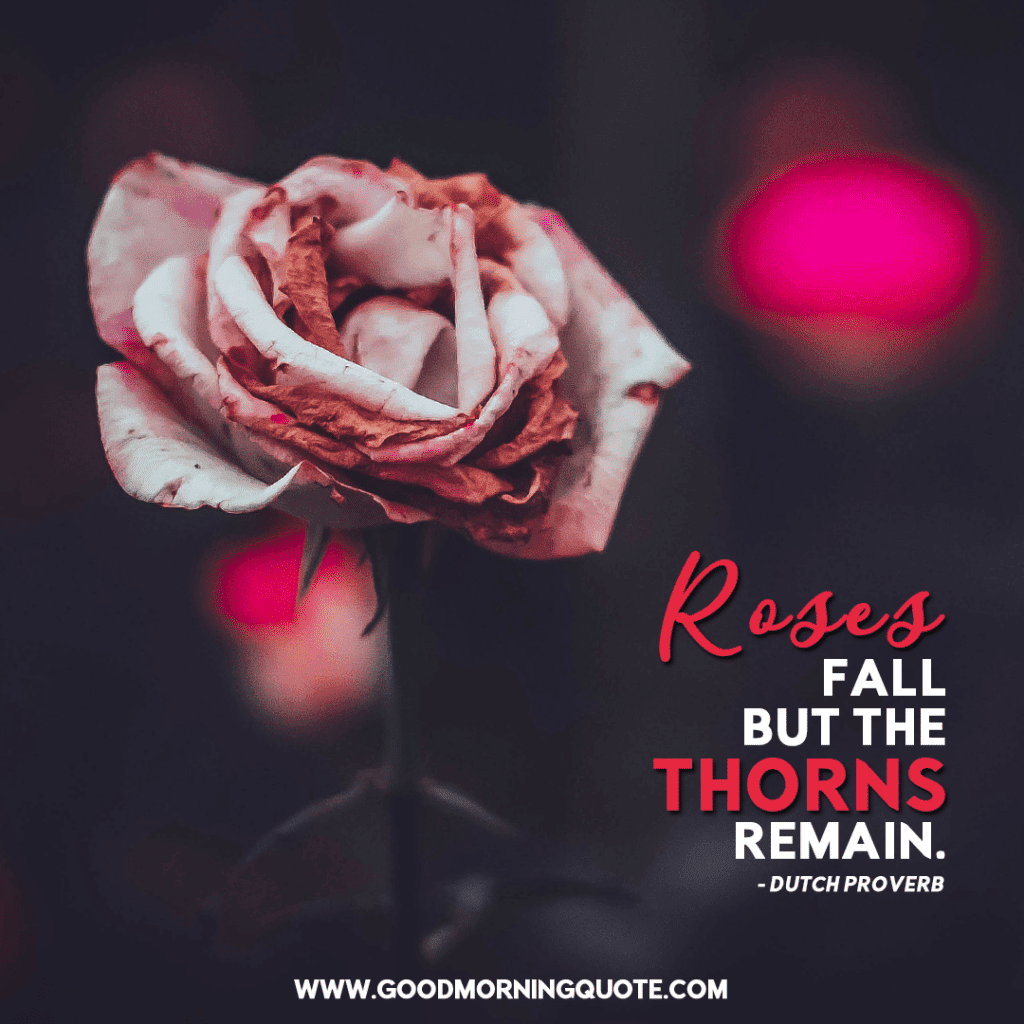 This is a very true fact. The petals of a rose will slowly begin to fall off until there are eventually none left and the rose is dead. However, the thorns will never drop from the stem. They will remain. This is a very beautiful proverb about the life and death of a rose.
5. Do not watch the petals fall from the rose with sadness, know that, like life, things sometimes must fade, before they can bloom again. 
unknown
This is a very true quote and a great metaphor for the things that happen in our lives. Things will often get worse, before they get better. It is important to always remember that, no matter what happens, things will always get better. So when you're going through a tough time, it is important to always remember that fact and to always stay as positive as you possibly can.
6. The rose is a flower of love. The world has acclaimed it for centuries. Pink roses are for love hopeful and expectant. White roses are for love dead or forsaken, but the red roses, ah the red roses are for love triumphant.      
unknown
This is  greta quote which helps to explain the meaning behind each of the different colours of rose and how they relate to love. Roses can be an incredible symbol of love and do play an important role in love. Particularly red roses – they symbolise true love and are often given as gifts between people in love, especially on important dates such as Valentine's Day.
7. A rose must remain with the sun and the rain or its lovely promise won't come true. 
Ray Evans
A rose must be within sunlight and must always be watered in order for it to really grow and bloom. Once a rose has bloomed and blossomed, it looks absolutely beautiful. A blossomed rose is one of the most beautiful flowers in existence and is most likely why it is the flower that mostly symbolises love.
8. But he that dares not grasp the thorn. Should never crave the rose. 
Anne Bronte
The thorns are all part of the experience of handling a rose. This quote is also a great metaphor for our lives. If we want to achieve something great or to obtain something beautiful, then we usually have to do something such as work extremely hard in order to get it. This is similar to having to grasp the thorn in order o experience the true beauty of the rose.
9. You can complain because roses have thorns, or you can rejoice because thorns have roses. 
Ziggy
This is a wonderful quote about always looking on the bright side of life. You can look upon any situation in the world, and either see the good in that situation, or the bad in that situation. This is the same as how you can either complaint because roses have thorns, or rejoice because thorns have roses.
10. If I had a rose for every time I thought of you, I'd be picking roses for a lifetime. 
Swedish Proverb
This is a beautiful love quote about roses that would be perfect for a little message to your partner, or for placing into a Valentine's card. It implies that you think of that other person so much, that no time in the world would be enough time of you to pick all the flowers you would need to equate to one per thought.
11. You may break, you may shatter the vase, if you will, But the scent of the roses will hang round it still. 
Thomas Moore
Even if you ruin roses by throwing them or stamping on them or any other way you can think of to ruin them, their scent will still remain. The scent of a rose is a unique and strong one which many people just love. The potent smell of a rose is part of what makes it an incredibly beautiful flower that everyone just loves.
12. The rose is a rose from the time it is a seed to the time it dies. Within it, at all times, it contains its whole potential. It seems to be constantly in the process of change: Yet at each state, at each moment, it is perfectly all right as it is.      
Paulo Coelho
A rose is one of those rare flowers which is absolutely beautiful at all stages of its life. It is a flower which grows from a small seed and them blossoms into something absolutely beautiful, and it remains beautiful even up until the last petal falls.
13. A rose dreams of enjoying the company of bees, but none appears. The sun asks: Aren't you tired of waiting Yes, answers the rose, but if I close my petals, I will wither and die. 
Paulo Coelho
If you're looking for an absolutely beautiful rose poem, then this one may just be perfect for you. This is a beautiful poem about a rose longing for the company of bees, however none appear. But the rose can't simply close its petals, because then it will wither and die. Poetry is great for reciting to someone that you love.
14. There is simply the rose; it is perfect in every moment of its existence.      
Ralph Waldo Emerson
A rose is incredibly beautiful and remains perfect for its entire life. That is why roses are so important in love and life – because they are so perfect and remain beautiful throughout their entire life. Roses are the essence of perfection and make absolutely wonderful and meaningful gifts.
15. There is no gathering the rose without being pricked by the thorns. 
Panchatantra
If you wish to gather beautiful roses then you must be prepared to be pricked by thorns. All roses contain thorns and if you wish to gather roses, you will be pricked by them. It is difficult to gather roses together without being pricked by them in the process.
We hope that you enjoyed this list of rose quotes and that it inspired and motivated you in some way today. 
Did you enjoy this list of rose quotes? Perhaps you have some rose quotes of your own that you think should be on this list? Or maybe you have some stories that you would like to share with us? We would love to hear them! Please leave a comment in the comment section below this article.
If you enjoyed this article or know someone who may benefit from reading it then please be sure to give it a share!
Related Article: 10 Meditation Quotes To Inspire You To Be More Mindful
Martha lives in the Bay Area and is a dedicated reader of romance novels. She runs a yoga studio and taught yoga for many years. She always says that yoga fuels her writing. She's also a vegetarian and advocate for living a healthy life. Martha has been writing for us for a while now, giving readers a glimpse into her lifestyle and work.