Saying goodbye is very hard. Whether you are saying farewell to a friend, relative, co-worker, boss, or special someone, they deserve to have extraordinary farewell quotes which can be funny or perhaps inspirational. Make sure that the person who is saying goodbye to you realized that he/she is a big loss to your life whether on a personal level or professional level. Celebrate the event by having the grandest farewell party with funny quotes. In this way, the memories can last for a long time.
Some goodbyes can be harder compared to others. It is hard saying goodbye before you immediately start missing someone and you go on searching for I miss you quotes.
In the event that you will be parting with your friends, you still believe that in the near future, your paths will cross again. And because of this belief, we can say that saying goodbye can also be bittersweet.  However, if your parting will last for an indefinite period of time then this kind of goodbye can be taken into a different kind of dimension. These ideas will help you find the words to say.
Here are a few inspiring, encouraging and funny farewell quotes that can help you ease the pain of saying goodbye to someone special:
Inspirational Farewell Quotes
1. Goodbyes are not forever, are not the end; it simply means I'll miss you until we meet again."
2. ""Don't cry because it's over, smile because it happened." —Dr. Seuss
3. "Goodbyes are only for those who love with their eyes. Because for those who love with heart and soul there is no such thing as separation." —Rumi
4. "So long as the memory of certain beloved friends lives in my heart, I shall say that life is good." —Helen Keller
5. "Take what you've learned and be a better person."
6. "Even if we can't be together in the end, I'm glad that you were a part of my life."
7. "Great is the art of beginning, but greater is the art of ending." —Henry Wadsworth Longfellow
8. "Goodbye may seem forever. Farewell is like the end, but in my heart is the memory and there you will always be."
9. "Never say goodbye because goodbye means going away and going away means forgetting." —J.M. Barrie
10. "The pain of parting is nothing to the joy of meeting again." –Charles Dickens
11. "The two hardest things to say in life are hello for the first time and goodbye for the last." —Moira Rogers
12. "True friends don't say goodbye, they just take extended leaves of absences from each other."
13. "This is not a goodbye, my darling, this is a thank you." —Nicholas Sparks
14. "There are no goodbyes for us. Wherever you are, you will always be in my heart." —Mahatma Gandhi
15. "The return makes one love the farewell." –Alfred de Musset
16. "It's time to say goodbye, but I think goodbyes are sad and I'd much rather say hello. Hello to a new adventure." —Ernie Harwell
Funny Farewell Quotes
17. "Good luck on finding better colleagues than me! Goodbye!"
18. "With your resignation, your employment in this office may finish, but the sweet memories of working with you will never diminish."
19. "Wishing you much joy and happiness as you begin a new chapter in your life. Goodbye!"
20. "Some cause happiness wherever they go; others whenever they go"
21. "On the outside, know that we may be smiling and wish you farewell. But on the inside, we are desperately praying that you will quit your new job and come back to work with us again."
22. "Didn't know how to say farewell so I slapped him in the face and ran away."
23. "I still see your face when I am dreaming. That's why I always wake up screaming."
24. "When you feel that nobody loves you, that nobody cares, when all you can do is cry and walk away because everyone is against you, then you are the weakest link. Goodbye!'
25. "When I die, I want to die like my grandmother who died peacefully in her sleep, not screaming like all the passengers in her car."
26. "We are really going to miss trying to avoid you around here."
27. "It will not be the same without you. It will actually be better!"
28. "Farewell. Someone is really going to miss you. But, it is not going to be me!"
29. "I'll miss you until you come back but I hope you'll make up for it by getting me awesome gifts. Bon voyage."
30. "Not all goodbyes are sad, for example, 'Goodbye Class!'"
Other Farewell Quotes
31. "How can I say goodbye to a friend who I can't live without? I will suffer in silence but my heart will scream and shout."
32. "Never part without loving words to think of during your absence. It may be that you will not meet again in this life." —Jean Paul Richter
33. "Sadly enough, the most painful goodbyes are the ones that are left unsaid and never explained." —Jonathan Harnisch
34. "Saying goodbye is the hardest solution of any problem. But sometimes it's the only choice we have." —Anurag Prakash Ray
35. "At some point, you have to realize that some people can stay in your heart but not in your life."
36. "You had me at hello, goodbye and everything in between." —Shannon L. Alder
37. "Just like how you don't forget the tune when a song fades out and stops playing, I will never forget the priceless memories of our friendship even though you are going away."
38. "There was something unfinished about not saying farewell, like a door left open in the chill night." —Julie C. Dao
39. "I guess that's part of growing up—saying good-bye to the things you used to love." —Jenny Han
40. "I have learned along my journey that letting go doesn't mean loving less." —Alex Ell
41. "We'll meet again, don't know where, don't know when, but I know we'll meet again some sunny day." —Vera Lynn
42. "Be well, do good work, and keep in touch." —Garrison Keillor
43. "Two of the greatest predictors of success are the ability to say hello and the ability to say goodbye." —Robert J. Braathe
44. "If you're brave enough to say goodbye, life will reward you with a new hello." —Paulo Coelho
45. "As long as we loved until our last goodbye, then our love had been whole and true."
46. "Man's feelings are always purest and most glowing in the hour of meeting and of farewell." —Jean Paul Richter
47. "Goodbyes make you think. They make you realize what you've had, what you've lost, and what you've taken for granted." —Ritu Ghatourey
48. "It's sad, but sometimes moving on with the rest of your life, starts with goodbye." —Carrie Underwood
49. "A memory lasts forever, never will it die… true friends stay together and they will never say goodbye."
50. "Remember me and smile, for it's better to forget than to remember me and cry." —Dr. Seuss
51. "Only in the agony of parting do we look into the depths of love." —George Eliot
52. "So long as the memory of certain beloved friends lives in my heart, I shall say that life is good." —Helen Keller
53. "Moving on is a simple thing, what it leaves behind is hard." —Dave Mustaine
54. "The magic thing about home is that it feels good to leave, and it feels even better to come back." —Wendy Wunder
55. "Some people come into our lives and quickly go. Some stay for a while, leave footprints on our hearts, and we are never, ever the same." —Flavia Weedn
56. "It's not the days in life we remember, rather the moments." —Walt Disney
57. "Every new beginning comes from some other beginning's end." —Semisonic
58. "No distance of place or lapse of time can lessen the friendship of those who are thoroughly persuaded of each other's worth." —Robert Southey
59. "Nothing makes the earth seem so spacious as to have friends at a distance; they make the latitudes and longitudes." —Henry David Thoreau
60. "Farewell! God knows when we shall meet again." —William Shakespeare
61. "It is always harder to be left behind than to be the one to go." ―Bodie Thoene
62. "Whenever you need me just close your eyes I will be right there."
63. "One goodbye can't separate us because we promised each other that we will live together, no matter what happens in life."
64. "No matter where I go, I will never forget you because there is only one person in my heart that is you."
65. "I hope our paths cross again. Until then, take care of yourself and stay happy."
66. "The roads are different, the journey is different, but you will always be that friend that I can't imagine to forget."
67. "They must often change, who would be constant in happiness or wisdom." —Confucius
68. "It is hard but you have to say goodbye because to start a new chapter in life you have to end the previous chapter."
69. "Farewell doesn't mean that you will not see each other but it means that you will meet again and create more memories."
70. "It doesn't matter if today we are going on a different journey but I promise you that I will meet you again no matter how far you are."
71. "Goodbye, but you will always be in my memories and I will always treasure the memories that I created with you."
72. "I will always remember you no matter where I go!"
73. "Saying farewell to someone means saying thank you for everything you have done for me."
74. "It is painful to say goodbye to someone you love but when you will reunite it is the happiest moment in your life."
75. "When you are leaving someone, leave like the sun leaves the earth with a magnificent elegance!" ―Mehmet Murat Ildan
76. "You know, even when we leave a place, we leave our memories there and they will represent us in our absence! So, in reality, we will always continue to be in every place we depart!" ―Mehmet Murat Ildan
77. "What went away was never yours. Why whine and shed tears? If you loved it so much, hide it in your heart as souvenir." —Neelam Saxena Chandra
78. "Farewell – though it sounds very tragic – is sometimes the best exit from the hell of unhappiness!" ―Mehmet Murat Ildan
79. "Goodbye to the past, with its mysteries which would never be fully unfolded." ―Iris Murdoch
80. "There should have been a better farewell. But in the end, there never is. And we take what meagre scraps we can find." —Richard K. Morgan
81. "We all take different paths in life, but no matter where we go, we take a little of each other everywhere." —Tim McGraw
82. "It is so hard to leave—until you leave. And then it is the easiest thing in the world." —John Green
83. "The pain of a hard goodbye is the heart's tribute to the privilege to love." –Beth Moore
84. "Could we see when and where we are to meet again, we would be more tender when we bid our friends goodbye." —Ouida
85. "Parting is such sweet sorrow that I shall say goodnight till it be morrow." —Shakespeare
86. "The reason it hurts so much to separate is because our souls are connected." —Nicholas Sparks
87. "The world is round and the place which may seem like the end, may also be the beginning." —Ivy Baker Priest
88. "For every goodbye, God also provides a hello." —Donna Gable Hatch
89. "The story of life is quicker than the wink of an eye, the story of love is hello and goodbye…until we meet again." –Jimi Hendrix
90. "Saying goodbye doesn't mean anything. It's the time we spent together that matters, not how we left it." —Trey Parker
91. How lucky I am to have something that makes saying goodbye so hard.
Think of the people who love you dearly and you will surely feel lucky. If you have a little child and you have never left him/her sometimes it's hard to let go when he/she became an adult and eventually will marry and start his/her own life.
92. Friendship is not about whom you have known the longest or who cares the best it's about who came & never left.
It's one of the best farewell quotes that you can send to your best friend.
93. You've been great at your work, I am sure that at your new job your performance will be sensational as well.
Congratulate your friend or colleague on his/her new job.
94. With your resignation, your employment in this company may finish but the sweet memories will always remain.
This is a very special farewell message for your colleague at work.
95. Today, I close the door to my past… Open the door to the future, take a deep breath and step on through to start the next chapter in my life.
This is one of the best farewell quotes that you can give to someone who is about to retire.
96. Even if you know what's coming, you're never prepared for how it feels.
Sometimes when it's finally happening, you are caught by surprise.
97. Inspirational farewell quote – Enjoy the beauty of a sunset and enjoy nature's farewell kiss for the night.
Enjoy the beauty of nature that God has provided to us.
98. Good friends never say goodbye, they simply say "see you soon"
Good friends are always here to stay and will never leave you completely.
99. Depressing quotes – That awkward moment when you think you're important to someone, and you're not.
It is very disappointing when the person that is important to you does not feel the same way that you do.
100. Quotes For Saying Goodbye – My wish for you is that this life becomes all that you want it to.
There are a lot of farewell quotes out there but this is a beautiful one that you can send to someone who will be parting from you in order to make his/her dreams come true.
101. Retirement farewell – Relax, enjoy yourself, try something new.
Retirement is the time that you can do a lot of things in your life.
102. Quotes for letting go – Learning to let go should be learned before learning to get.
There are things that can happen in your life and there is nothing you can do to stop it.
103. Love your parents and treat them with loving care, for you will only know their value when you see their empty chairs.
It's quite unfortunate that there are some sons and daughters out there who will only realize the value of their parents when they are gone.
104. Missing someone is not about how long it has been since you have seen them or the amount of time since you have talked…
Losing someone is very hard to forget even as time goes by.
105. Sometimes, you have to give up on people. Not because you don't care but because they don't.
If it doesn't work then there's no point in continuing your relationship.
106. Isn't it funny how day by day nothing changes but when you look back everything is different.
As time passes by, the pain will gradually heal. One of the best farewell quotes for moving on.
107. The most painful goodbyes are the ones that are never said and never explained.
It hurts so much when someone left you and you don't even know why.
108. Sad quotes – Someday you'll see the reason why there's good in goodbye.
There's definitely good in goodbye but sometimes you can't realize it right away.
109. You can love them, forgive them, want good things for them…but still move on without them.
Saying goodbye is hard, but if it is really meant to be then just accept it and go on with your life. This is just one of the greatest farewell quotes that can inspire you.
110. I want to be your favorite hello and your hardest goodbye.
Forgetting someone close to your heart can take more time.
111. When I say goodbye, promise me you won't cry, 'cause the day I'll be saying that would be the day I die.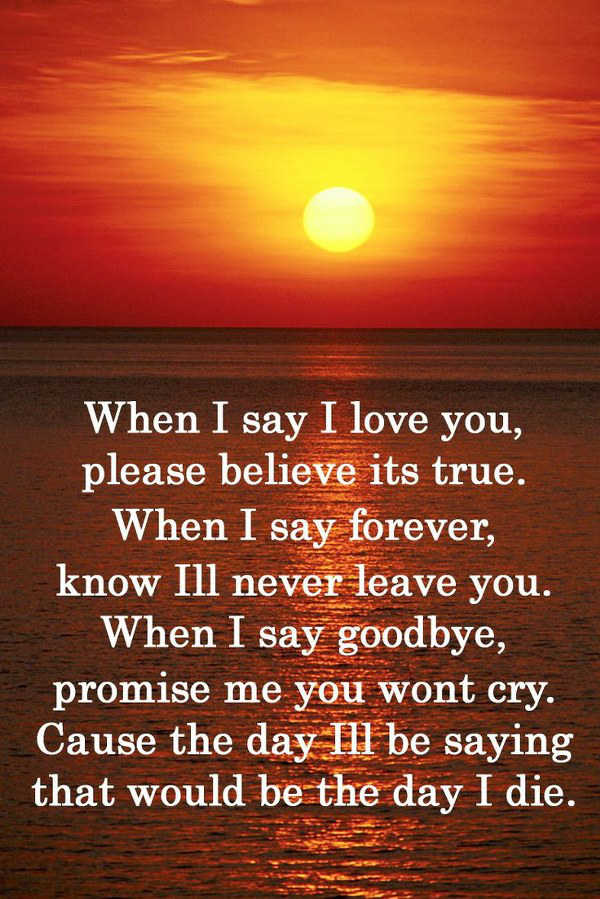 True love really lasts forever.
112. A memory last forever, never does it die, true friends stay together and never say goodbye.
Sometimes it's truly hard to find a good friend that will stay with you forever.
113. It doesn't always work out & that's ok.
Some things are not meant to be and you should be willing to accept them. This is one of the greatest farewell quotes which implies that it's alright to get hurt sometimes.
114. When there are no words, simply love them & hold their hand.
Some words are hard to express and the best way to show them is through actions.
115. And as you move on, remember me, remember us and all we used to be.
The sweetest memories are the hardest to forget.
116. I started missing you as soon as we said goodbye.
The earliest part of parting ways is sometimes the most difficult one.
117. Never make the same mistake.
There are some people who are still willing to give it another try.
118. You're dead to us now.
This is a fun cake that you can give to your departing colleague. Will she/he eat this?
119. Christmas in Heaven, what do they do?
Believing the impossible is not bad at all. Give your Christmas greetings to your loved one in heaven.
120. Don't listen to your inner fatty, she's an evil bitch.
Sometimes you will be craving to eat the foods which you have already abandoned. This is just one of the inspiring farewell quotes for obtaining a physically fit body.
121. I wear black when I work out. It's like a funeral for my fat.
Workout is the best thing that you can do in order to eliminate those fats.
122. Farewell, shitty day, don't forget to fuck thyself on the way out.
Sometimes there are good days but sometimes there are also bad days.
123. Retirement: Twice as much husband for half as much money.
Do you agree? When your husband retires, he can spend more time with you but since he does not have work anymore then you should start spending less.
What Does "Farewell" Even Mean?
Before any pragmatic people come into play, "farewell" means "goodbye." Now let's leave realism aside for a bit and talk about emotions. More often than not, a farewell might be hurtful. It can mean the loss of a loved one, the loss of a spectacular friendship, or even the end of an entire generation.
But farewell doesn't always need to hurt. Sometimes letting go of a relationship is actually beneficial. There are many toxic relationships out there, and the people involved don't always see the bigger picture. The end can be a new beginning. Just like the extinction of the dinosaurs meant that new life could start growing, so does a farewell mean for your physical and mental well-being.
Other times, a simple farewell doesn't have to be forever. Just because friends go their separate ways in life doesn't mean they can't reconnect in the future. In fact, many friendships often reignite after numerous years of growing apart simply because the two people are now more mature and can better connect with each other's experiences. We can learn from one another in more ways than one, and that's what makes friendship so special.
To put it as simply as one can, a farewell doesn't have to be the end. It can be a new beginning, or it can even ignite the next step in your friendship.
Farewell Quotes FAQs
What are some good farewell quotes?
"True friends don't say goodbye, they just take extended leaves of absence from each other."
This is one tongue-in-cheek way of saying goodbye for sure will make a lasting impression. This is one of the best ways of saying farewell to someone.
For more funny ways browse our page.
How do you say farewell words?
First of all, you have to believe in your words. You have to imbue those words with all the emotions you are capable to muster. We, as humans, are very sensitive to emotions and words. Combing these two factors? It can have an impactful result.
With that being said, look for some of our quotes on the page to get inspired. We will show you some of our favorites for saying goodbye to someone:
 "Goodbyes are only for those who love with their eyes. Because for those who love with heart and soul, there is no such thing as separation." —Rumi
"Goodbye may seem forever. Farewell is like the end, but in my heart is the memory and there you will always be."
How do you say goodbye forever quotes?
Saying goodbye is hard. Saying goodbye forever is painful.
Here are some quotes to help with your hardship. You may take inspiration from them, so as to cling to a touching example of how to say goodbye forever quote.
"The two hardest things to say in life are hello for the first time and goodbye for the last." —Moira Rogers
Final Thoughts on Farewell Quotes
These are just some of the most inspirational and funny farewell quotes that can help you in moving on, especially if a person close to your heart has left you. Always remember that life has to go on and you must be strong in accepting the realities. People come and go. There will be people who will journey with you for a long time. Some will be just part of an episode. However, life must go on. A simple farewell should not stop you from meeting more people regardless of whether they'll stay longer or not.
Some farewells are temporary and some are permanent. Well, it can't be helped. What's important is that you show your courtesy to them.
And if you have other ideas, we would appreciate it if you could leave them in the comment section below. We value our readers' opinions and ideas just as much as we value friendship, family, and all of the other beautiful things that life has to offer. So feel free to let your imagination flourish and show us all of your best creative ideas that we and our community can cherish together.
Tina Gray is a freelance journalist, theatre enthusiast and aspiring author. She has a passion for telling stories through various mediums and regularly writes for various online publications. Her short stories will soon be published in her first volume. Currently, she resides in the San Fernando Valley and is studying screenwriting.