Martin Luther King quotes are famous since King is considered as one of the most influential black leaders way back then. Martin Luther King, Jr. was an activist, pastor, humanitarian and a popular leader of the African-American Civil Rights Movement. A lot of people are inspired by his courage to fight for equality. He fought in a nonviolent way using his religious beliefs which made him a winner of Nobel Peace Prize.  King is a Baptist minister and at the same time a protester and a law breaker. Most of his qualities are recorded in history. It's hard to ignore his beliefs and complexities as a person. There are a lot of teachings that we can learn from him as an activist and as a prominent advocate for justice.
The "I Have A Dream" speech was one of his most memorable and popular speech which he delivered during the 1963 March on Washington. King was assassinated in Memphis, Tennessee on April 4, in 1968. He celebrates his birthday every January 15. However, the American people celebrates it every third Monday of January. To honor him, let's take a look at some of his inspirational quotes.
These quotes from Martin Luther Jr. will give us some insights on what kind of person he really is. King was an excellent speaker who can deliver a good speech. His talents are unrivaled to today's public speakers. In order to honor his life and works, we present to you a collection of some of his unforgettable and poignant quotes.  Hope it can inspire and challenge you today!
35 Famous Martin Luther King Quotes with Images
1. 
We are not makers of history. We are made by history.
King is not only an advocate for racial justice, but he also fights for the rights of the poor.
2. 
The ultimate tragedy is not the brutality of the bad people but the silence of the good people.
According to King, the only way that we can truly help people in need is to have a deep understanding of poverty and inequalities.
3. A man who won't die for something is not fit to live.
Discover your mission in life in order to know what you would like to die for.
4. Love is the only force capable of transforming an enemy into a friend.
We should learn to love our enemies regardless if this can change their attitude towards us.
5. No, we will not be satisfied until justice rolls down like water and righteousness like a mighty stream.
Martin Luther King was arrested several times between 1955 and 1965.
6. Hatred paralyzes life; love releases it. Hatred confuses life, love harmonizes it.
In a world filled with hatred, love always wins somehow…
7. The question is not if we will be extremists, but what kind of extremists we will be.
King is known as a reasonable person which is opposite to Malcolm X. Yet some people viewed him as an extremist leader for the Civil Rights Movement and he embraced it.
8. There comes a time when silence becomes betrayal.
Even if King is a nonviolent person, he still fights freedom through his words and efforts.
9. We must accept finite disappointment but never lose infinite hope.
In life, there are always setbacks but it will not last forever. The most important thing is to keep on hoping in order to overcome them.
10. The time is always right to do what is right.
This is intended for people who are still waiting for the right timing to do what is necessary.
11. Everybody can be great. Because anybody can serve. You only need a heart full of grace.
In celebrating his memory, wouldn't it be great if we can help our community?
12. I have a dream that my four children will one day live in a nation where they will not be judged by the color of their skin.
King believed that it is impossible to modify the people's morals but he is a strong believer of the legislation for racial justice.
13. One has a moral responsibility to disobey unjust laws.
King was arrested in 1956 when he joined the Montgomery bus boycotts.
14. Never, never be afraid to do what's right, especially if the well-being of a person or animal is at stake.
Martin Luther King is not only a loving person to humans but also to animals.
15. Hate destroys the hater.
Love your enemies in order to give them a chance of redemption.
16. In fact, violence merely increases hate. So it goes.
He was not actually a violent person yet he is against injustice and oppression.
17. Faith is taking the first step even when you don't see the whole staircase.
We will never know what will happen next but we just need to go on. As long as you have faith, you can continue with the rest of your journey.
18. The ultimate test of a man is not where he stands in moments of comfort and moments of convenience.
In 1958, King was arrested in Montgomery for loitering. In times of trouble, are you willing to stand in the middle of it?
19. We may have all come on different ships, but we're in the same boat now.
In this quote, King implied that despite the fact that we come from different races, cultures, backgrounds and classes, the fact remains that we all live on one planet, Earth. It is essential that we have to settle our differences and cooperate with each other.
20. Peace is more precious than diamonds and gold.
As a leader, most people understood his beliefs about freedom yet do not agree with his methods of action.
21. Life's most important and urgent question is, "What are you doing for others?"
This is a rhetorical question that does not need a verbal answer. We need to dig deep inside ourselves in order to answer this question.
22. Injustice anywhere is a threat to justice everywhere.
King spent most of his life rectifying the misdeeds in this world.
23. If you can't fly then run, if you can't run then walk, if you can't walk then crawl.
This quote reveals that we should have perseverance in order to obtain our goals in life.
24. The reason I can't follow the old eye-for-an-eye philosophy is that it ends up leaving everyone blind.
If every person takes revenge because of his hatred then no one will be left in this world.
25. We must rapidly begin the shift from a "thing-oriented" society.
Just learn to live your life, the way you want it to be.
26. In the struggle for human dignity, the oppressed people of the world must not succumb to the temptation…
The ends do not justify the means. In order to have peace, you have to live by it.
27. Peace is not merely a distant goal that we seek, but a means by which we arrive at that goal.
We all need to strive in order to have world peace and harmony.
28. Whatever your life's work, do it well.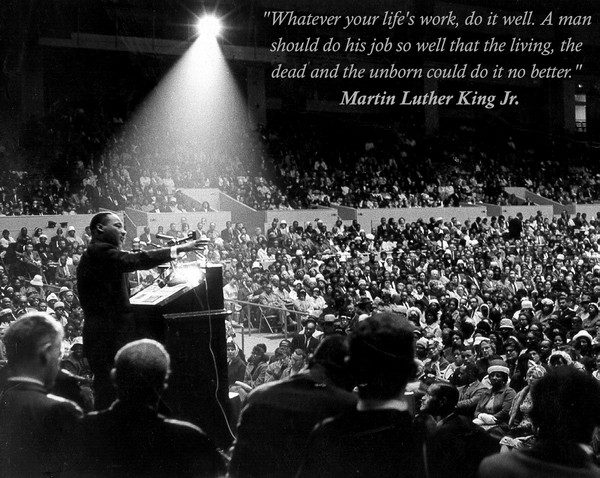 Keep dreaming and it will soon come true.
29. Freedom is never voluntarily given by the oppressor; it must be demanded by the oppressed.
In this quote, King implied that those people who are in control will never easily give up that control.
30. Darkness cannot drive out darkness; only light can do that.
King preached about strength and resistance although he also talks about love.
31. Everything that we see is a shadow cast by that which we do not see.
Our lives are greatly influenced by environment and the people around us.
32. The function of education, therefore, is to teach one to think intensively and to think critically…
King strongly believes that anyone can make a difference, in spite of his education, age or class.
33. Those who love peace must learn to organize as effectively as those who love war.
In 1967, King led a protest to stop the war in Vietnam. The march was attended by 5,000 people.
34. Intelligence plus character – that is the goal of true education.
Education should not only be about the intellectual aspect but should also include the personal growth. It must be able to make you a better person or else it would be useless.
35. I have held many things in my hands, and I have lost them all.
Surrender everything to God and your life will be secured.
Leadership Lessons From Martin Luther King Quotes
Martin Luther King, Jr. was one of the greatest leaders in the world. In his "I Have a Dream" speech we can learn the best leadership lessons. Take some time to watch this speech and you will surely be moved by his knack of words.
In this speech, King did not pull any punches as he talked about the facts, "one hundred years later, the Negro still is not free…" King talks with a heart. There's a big difference in giving information and telling stories for inspiration. "America has given the Negro people a bad check, a check which has come back marked 'insufficient funds.'" Great leaders must be active, not passive. "And so we have come to cash this check, a check that will give us upon demand the riches of freedom and the security of justice." As a leader, you must have a sense of urgency, "Now is the time to make justice a reality for all of God's children."
As a great leader, you should not compromise if it is less than what you demand. King is persistent and he told his followers to persevere, "We can never be satisfied as long as the Negro is the victim of the unspeakable horrors of police brutality." King recognized the sufferings of his followers in his speech, "Some of you have come from areas where your quest for freedom left you battered by the storms of persecutions and staggered by the winds of police brutality." Good leaders will never get tired of expressing his vision for a better tomorrow, "I have a dream that one day on the red hills of Georgia the sons of former slaves and the sons of former slave owners will be able to sit down together at the table of brotherhood."
We hope that these Martin Luther quotes have encouraged you to do the right thing every day of your life. Some of these quotes are actually derived from the bible.  These quotes are truly inspiring in fact, there are one million tweets that contain Martin Luther King, Jr quotes. What do you like about Martin Luther King's leadership?

Anna works as a full-time writer and editor and has devoted the last ten years of her career to assisting readers in improving their perspective on life. She is a Cultural Studies graduate and now contributes to Good Morning Quotes by sharing her traveling experiences and social knowledge with our readers. When she is not typing up her next article, Anna enjoys spending time with friends, visiting new places, and supporting a healthy lifestyle.