Happy Tuesday, everyone! Start your day with these happy Tuesday quotes that we have compiled. These are great sayings that can thoroughly guide you towards making your day rock! Remember, value each day because you can no longer take them back. We cannot predict what will happen to our lives in the future, but we can want what we are aiming to be when we exert our very best at all times.
Having a positive approach every day of the week is a must. We need to condition our hearts and minds to face our week with a hopeful attitude. Not just on Mondays, Wednesdays, Thursdays, or Fridays but every day. Well, we are just humans and we fall short. That is why I hope you become encouraged by these quotes and sayings.
We've also created some happy Tuesday memes that are sure to put a smile on your face to tackle the day with enthusiasm. Whether you're looking to boost your own mood or spread some joy to others, these quotes are the perfect way to do it. So why not share them with your friends, family, or colleagues and make their day a little brighter? Read on to discover our 121 happy Tuesday quotes and memes.
121 Happy Tuesday Quotes and Images
Table of content
Inspirational Tuesday quotes
Funny Tuesday Quotes
Positive Tuesday messages
Inspirational Tuesday quotes
1. "Give the world the best you have and the best will come back to you." —Madeline Bridges
2. "Don't start your day with the broken pieces of yesterday. Every day is a new beginning."
3. "Tuesday is the affirmation that my goals are being moved another step forward."
4. "Monday always passes and there will always be a Tuesday with a beautiful blue sky with few clouds."
5. "Things work out best for those who make the best of how things work out." —John Wooden
6. "Success is not final, failure is not fatal: it is the courage to continue that counts." —Winston S. Churchill
7. "After Tuesday, even the calendar goes W–T–F."
8. "Tuesday isn't so bad. It's a sign that I've somehow survived Monday."
9. "Tuesday is the day I actually start the week, Monday I just deal with the depression of the weekend ending."
10. "On this Tuesday, remember that an attitude is contagious so remember to have a good one."
11. "Live every day like it's Taco Tuesday."
Positive messages
12. "Hold onto positive things that elevate your spirit and be with positive people." —Tracey Edmonds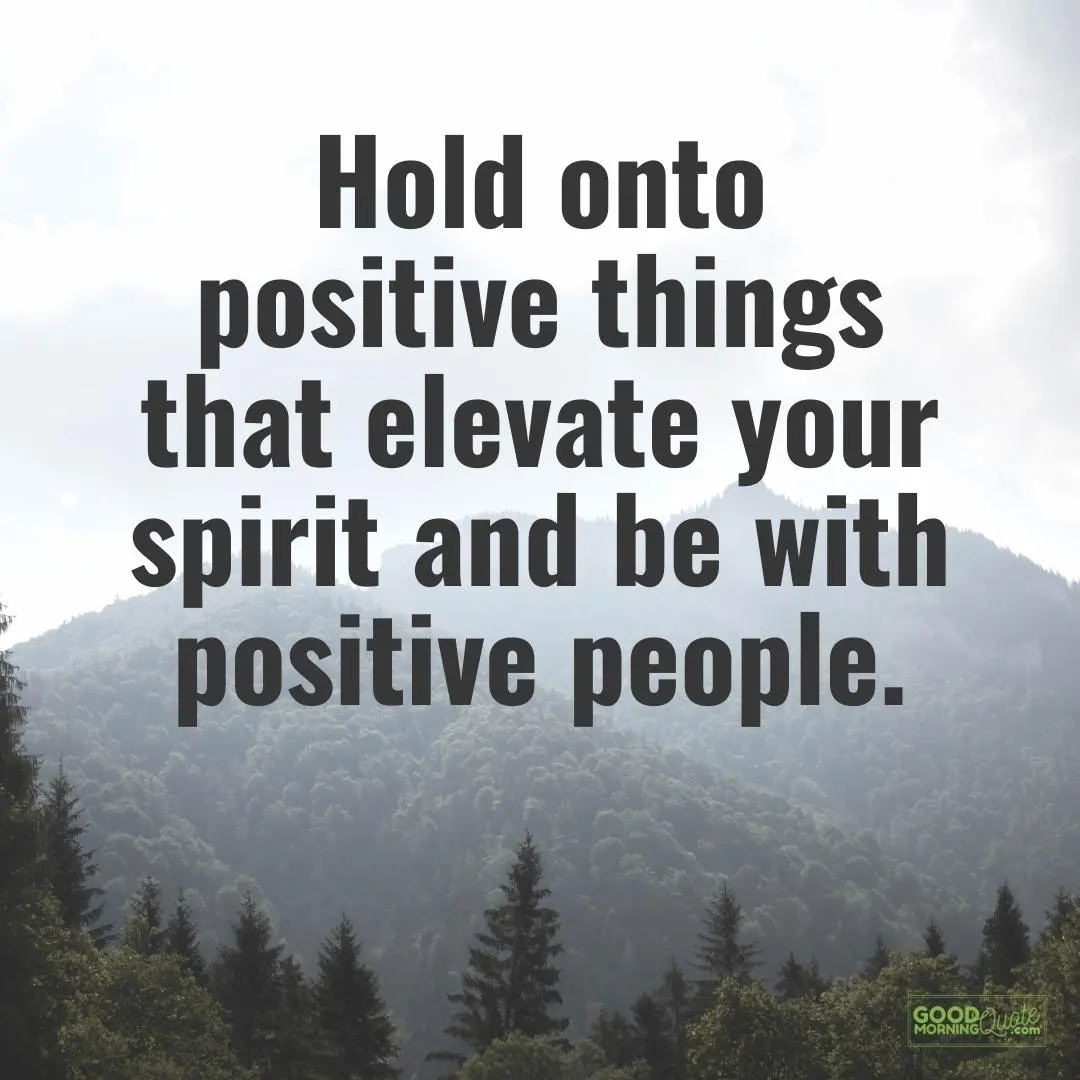 13. "Without ambition one starts nothing. Without work one finishes nothing. The prize will not be sent to you. You have to win it." —Ralph Waldo Emerson
14. "Let the improvement of yourself keep you so busy that you have no time to criticize others." —Roy T. Bennett
15. "What seems to us as bitter trials are often blessings in disguise." —Oscar Wilde
16. "Don't judge each day by the harvest you reap but by the seeds that you plant." —Robert Louis Stevenson
17. "A dream doesn't become reality through magic; it takes sweat, determination and hard work." —Colin Powell
18. "Don't wish it was easier. Wish you were better." —Jim Rohn
19. "Every champion was once a contender that refused to give up." —Rocky Balboa
20. "All I have is all I need and all I need is all I have in this moment."
21. "Start your day with these words: today is going to be a good day. And this morning is going to be an awesome one."
22. "Every day is a gift and proof that your purpose in life has not yet been fulfilled."
23. "A fresh start, a clean slate, and a lot of potential for great things to come. That is what Tuesdays really are."
24. "Let your courage inspire the world around you." —Steve Maraboli
25. "Everyone wants happiness, no one wants pain, but you can't make a rainbow without a little rain." —Zion Lee
26. "Rid yourself of negativity and have a positively Happy Tuesday."
27. "We are responsible for peace and order in our lives! When your world is CONSTANTLY filled with chaos, then it's time to take a look at SELF!" —Tracey Edmonds
28. "The key to a happy Tuesday is forgetting about the broken images of Monday and focusing on a new beginning. Tuesday is, in some ways, a bright and promising day."
29. "Tuesdays are really just Mondays dressed in their Sunday best."
30. "Tuesday is a good day, you survived Monday. And tomorrow is Wednesday, half way through your work week!" —Kate Summers
31. "Make this Tuesday morning more beautiful by planting positive thoughts in your mind."
32. "Every day is a day you can be a better person than you were yesterday."
33. "Tuesday is a day to ask yourself how much courage you have and what good you can find in this day."
34. "Appreciate all you have this Tuesday and you will find you may have a great day!"
35. "Every day brings challenges, so on this Tuesday walk around them."
36. "Life is not measured by the breaths you take, but by its breathtaking moments."
37. "Confidence is what we get when we take fear, face it and replace it." —Tim Fargo
Funny Tuesday Images
38. "Tuesday: The day to remember all the things that I didn't get done on Monday and push them off until Wednesday."
39. "Dear Tuesday, nobody likes you either. You're just Monday's ugly cousin."
40. "Good morning Tuesday! Monday is over, so let's enjoy the rest of the week in peace."
41. "You are a damn lunatic without your coffee and you and I both know it. So, good morning and happy Tuesday!"
42. "Happy Tuesday! You got to admit, at least it sounds better than happy Monday."
43. "A fresh start, a clean slate, and a lot of potential for great things to come. That is what Tuesdays really are."
44. "Tuesday is my second favorite day of the week to put off everything until later in the week."
45. "It's not TUESDAY, it's CHOOSEDAY: choose to smile, choose to be happy, choose to love, choose to bless, choose to be a blessing."
46. "Tuesday is a huge day. Make the most of it!"
47. "People who say "good morning" should be forced to prove it. Happy Tuesday!"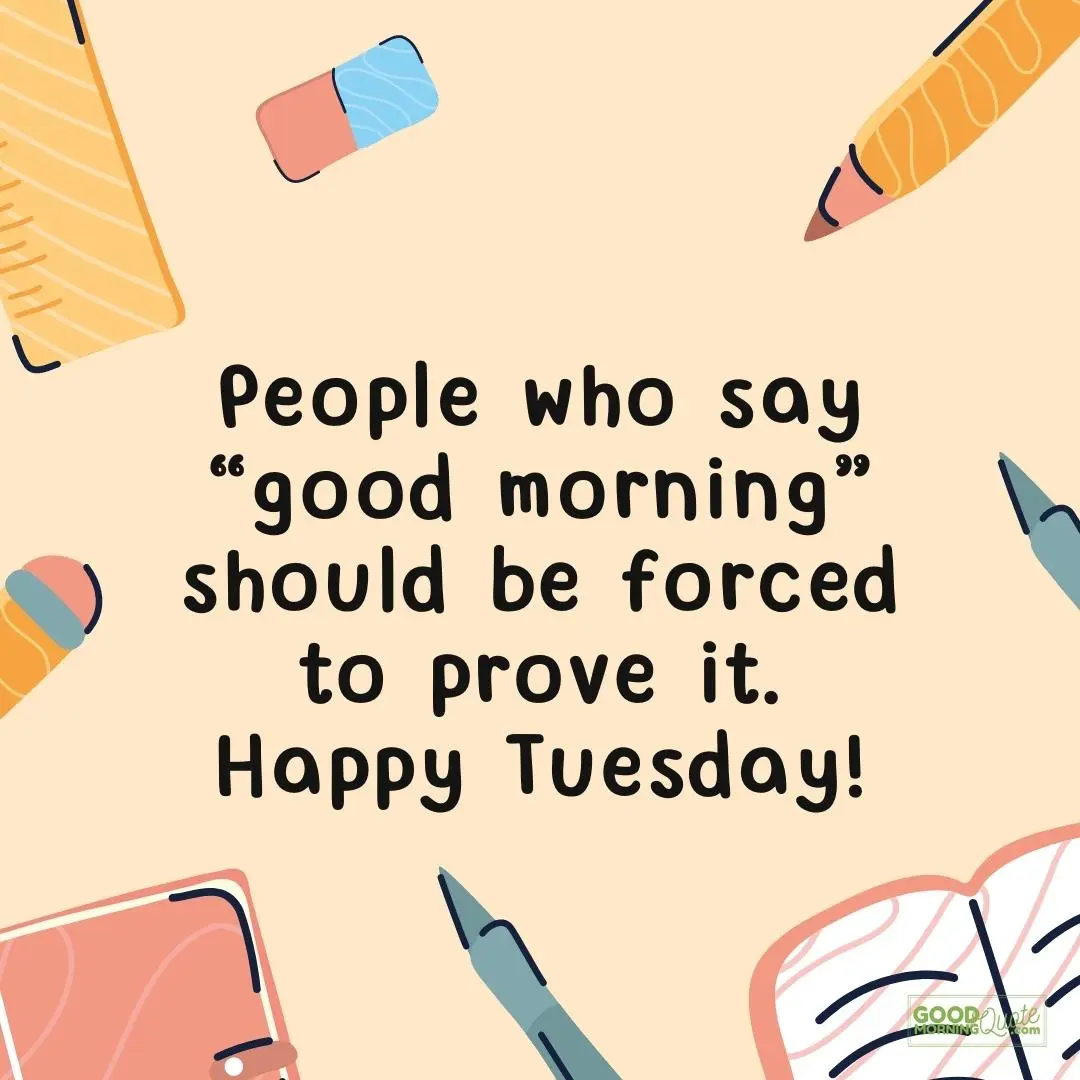 48. "It's only Tuesday? Monday took so long I thought it was Wednesday."
49. "Tuesday: I can't even see the weekend from here."
50. "Today is Thoughtful Tuesday. Try doing something nice for someone else whether it is a kind gesture or a positive remark."
51. "There isn't a Monday that would not cede its place to Tuesday."
52. "Tuesday can be your most blooming and happy day. You decide."
53. "No matter what your Tuesday is, don't worry because Friday is on its way."
54. "If yesterday was good, today will be better. Happy Tuesday."
55. "Tuesdays are a chance for a new beginning and a new perspective, so make them count."
56. "The mind is everything. What you think you become." —Buddha
57. "Tuesday: The day after Monday that reminds you that you still have four more days of not trying to slap a fellow co-worker."
58. "Success is liking yourself, liking what you do, and liking how you do it." —Maya Angelou
59. "Tuesday means we're a day closer to a weekend spent dreading Monday."
Positive Tuesday messages
60. "All progress takes place outside the comfort zone." —Michael John Bobak
61. "Be the morning in everyone's eyes and make their day turn into a thing of beauty." ―Anthony T. Hincks
62. "A year from now you may wish you had started today. Go get it now." —Karen Lamb
63. "Successful people keep moving. They make mistakes, but they don't quit." —Conrad Hilton
64. "Smiling is the best way to face every problem, to crush every fear, and to hide every pain." —Will Smith
65. "The world is changed by your example. Not by your opinion." —Paulo Coelho
66. "You cannot escape the responsibility of tomorrow by evading it today." —Abraham Lincoln
67. "Don't limit your challenges, challenge your limit." —Jerry Dunn
68. "Tough times never last, but tough people do." —Dr. Robert Schuller
69. "Celebrate endings—for they precede new beginnings." —Jonathan Lockwood Huie
70. "Talent means nothing, while experience, acquired in humility and with hard work, means everything." —Patrick Suskind
71. "Every day brings you a chance to draw in a breath, kick off your shoes and dance." —Oprah Winfrey
72. "If we make the mistake of being negative, discouraged, grumpy, or sour, we've wasted the day." —Joel Osteen
73. "The most important part of communication is surprisingly not talking – it is listening." —Elizabeth Bryant
74. "Once you choose hope, anything is possible." —Christopher Reeve
75. "They always say time changes things, but you actually have to change them yourself." —Andy Warhol
76. Tuesday Quotes – "When you arise in the morning, think of what a privilege it is to be alive – to breathe, to think, to enjoy, to love." —Marcus Aurelius
77. Tuesday Quotes – "Don't count the days. Make the days count." —Muhammad Ali
78. Tuesday Quotes – "I would rather die of passion than of boredom." —Emile Zola
79. Tuesday Quotes – "Never argue with stupid people. They will drag you down to their level and beat you with experience." —Mark Twain
80. Tuesday Quotes – "We all make mistakes, but the winner knows that success comes from perseverance: trying, failing, learning, and doing it again until he succeeds." —Judy Ford
81. Tuesday Quotes – "When life puts you in tough situation don't say 'why me' just say 'try me'."
82. Tuesday Quotes – "Our greatest weakness lies in giving up. The most certain way to succeed is always to try just one more time." —Thomas A. Edison
83. Tuesday Quotes – "With the new day comes new strength and new thoughts." —Eleanor Roosevelt
84. Tuesday Quotes – "If you don't like the road you're walking, start paving another one." —Dolly Parton
85. Tuesday Quotes – "Today's accomplishments were yesterday's impossibilities." —Robert H. Schuller
86. Tuesday Quotes – "Remember, today is the tomorrow you worried about yesterday." —Dale Carnegie
87. Tuesday Quotes – "Yesterday's the past, tomorrow's the future, but today is a gift. That's why it's called the present." —Bil Keane
88. Tuesday Quotes – "Ambition is the path to success. Persistence is the vehicle you arrive in." —Bill Bradley
89. Tuesday Quotes – "Make living your life with absolute integrity and kindness your first priority." —Richard Carlson
90. Tuesday Quotes – "Happiness is an attitude. We either make ourselves miserable, or happy and strong. The amount of work is the same." —Carlos Castaneda
91. Tuesday Quotes – "May you always do what you are afraid to do…"
Remember, doing something that is outside your comfort zone is more fulfilling compared to anything else.
92. Tuesday Quotes – "Life isn't about finding yourself…"
It is your sole responsibility to mold your entire being by acquiring your goals in life.
93. Tuesday Quotes – "Enjoy every single moment…"
Be thankful you were able to surpass all the trials… Thank God because He has helped you to become what you are today.
94. Tuesday Quotes – "Happiness is not in another place but this place…"
Because happiness should be acquired now, not later. That's how your approach should be.
95. Tuesday Quotes – "Anyone can make you happy by doing something special…"
That special someone who brings you contentment and happiness. I hope you have found him/her.
96. Tuesday Quotes – "A simple hello could lead to a million things…"
It always starts with a hello. It's up to you how you will nurture the relationship.
97. Tuesday Quotes – "The most important thing is to enjoy your life…"
Happiness is everything. Life may be full of hindrances but take time to find what makes you complete and happy.
98. Tuesday Quotes – "Life is not about waiting for the storm to pass…"
It's how you handle obstacles. Life is never easy, but you have to know how you will make it worth living by handling all your problems efficiently.
99. Tuesday Quotes – "Don't wait for the perfect moment…"
You can never take back all the hours you've missed. You are not even sure if that "perfect moment" will come. Therefore, do it now, do not fret, do not be worried. Because that outcome will depend on your approach.
100. Tuesday Quotes – "Anyone can give up, it's the easiest thing to do…"
Be tough. Life is never easy. There may be reasons that will push you to your limit but you still need to gather all your strength, hold on and move forward.
101. Tuesday Quotes – "Don't cry because it's over. Smile because it happened…"
Be thankful you were given a chance to experience it, even if it was just quick. Not everyone gets that chance.
102. Tuesday Quotes – "In the end, we only regret the changes we didn't take…"
Take the risk — who knows, things would have happened differently.
103. Tuesday Quotes – "I know everything happens for a reason…"
Sometimes, we are so clueless why things happen and make us wish that we are capable to know what took place that led to the outcome.
104. Tuesday Quotes – "Life is not a problem to be solved…"
That's what you should always think. We could get a bunch of problems from time to time, but life isn't just about them. Enjoy and learn from the experiences!
105. Tuesday Quotes – "Enjoy life today!"
We do not know what will happen to us, so make sure that you live each day to the fullest.
106. Tuesday Quotes – "Don't trust, love and hope too much…"
Leave something for yourself so that you can have ample strength when things start to work differently.
107. Tuesday Quotes – "You can't start the next chapter of your life…"
Move forward. Never be stuck in the past.
108. Tuesday Quotes – "Even if you're on the right track…"
Do not be confident. You must continuously do your best in spite of being on top of the pedestal.
109. Tuesday Quotes – "Life is really simple, but we insist on making it complicated…"
Never complicate life because the solutions are simple. You just need to know what to do.
110. Tuesday Quotes – "The quickest way to double your money is to fold it over…"
Because there's no easy way to double your money immediately! It is risky, indeed!
111. Tuesday Quotes – "Someday, everything will make perfect sense…"
Someday, you will understand why it happened. It could have caused you too much pain, but you have to understand that these happen for a reason so just accept it.
112. Tuesday Quotes – "Do what you have to do until you can do what you want to do…"
Start accomplishing things today so that sooner or later, you'll be able to do what you really want.
113. Tuesday Quotes – "You were born to be real, not to be perfect…"
Indeed. It's okay to commit mistakes (just don't make it on a regular basis, haha!).
114. Tuesday Quotes – "I want to inspire people…"
Touch someone's life. Be a reason why they keep on holding on.
115. Tuesday Quotes – "Inhale the future, exhale the past…"
Embrace the future and let go of the past. Never be stuck to what has happened to you. Have ample space in your life to welcome what will happen to you in the future.
116. Tuesday Quotes – "Forget all the reasons why it won't work…"
Keep moving forward, even if you have just a single reason.
117. Tuesday Quotes – "A flower does not think of competing with the flower…"
Do not look at other people's achievements. You must be very busy achieving yours.
118. Tuesday Quotes – "I am not what happened to me…"
Because you always have a choice.
119. Tuesday Quotes – "It's not about being the best…"
You should be a better version of your old self, not of other people.
120. Tuesday Quotes – "Believe you can and you're halfway there…"
Because you can really do it – never be scared, never be skeptical!
121. Tuesday Quotes – "Ask yourself if what you're doing today…"
Never waste time. Make sure that what you are doing today is what will help you achieve your goals tomorrow.
Happy Tuesday Quotes!
Hoping that you will have a wonderful Tuesday. Remember, do not waste your day because you won't be able to take it back. Do what you have to do in order for you to have a better future. We hope that our collection of Tuesday quotes have touched your heart. If you are looking for more motivational quotations, you can check out our 33 Funny and Happy Friday Quotes with Images, or 47 Inspirational Teamwork Quotes and Sayings with Images. We also have 31 Happy Weekend Quotes and Sayings with Images that can inspire you more.

Anna works as a full-time writer and editor and has devoted the last ten years of her career to assisting readers in improving their perspective on life. She is a Cultural Studies graduate and now contributes to Good Morning Quotes by sharing her traveling experiences and social knowledge with our readers. When she is not typing up her next article, Anna enjoys spending time with friends, visiting new places, and supporting a healthy lifestyle.