Weekend quotes can make us feel excited. At last, the weekend is here and the long wait is over! It's time for us to do the things that we want. At the same time it is the best time to spend some quality time with our family and friends by going out with them. This is the best time where you and your friends can share different things such as the events which occur before the weekend. Weekends is also the time when couples will be going out on a date. Happy weekend to everyone!
Happy Weekend Quotes and Images will let us forget all the bad things that happened to us for this week and enjoy a great weekend. The weekend is the time to relax and forget about work. Weekends are special even if you have a lot of things to do. When the weekend arrives its the best time to indulge yourself.
Happy Weekend Quotes
1. "When you are unemployed, weekends are seven days long." ―Mokokoma Mokhonoana
2. "No weekend, all weakened." ―Toba Beta
3. "Better days are coming. They are called Saturday and Sunday."
4. "Weekends are a bit like rainbows; they look good from a distance but disappear when you get up close to them." —John Shirley
5. "The only happy END that I know: it's the weekEND."
6. "Dear weekend, can you last a little while longer? I'm not quite ready to go back to work just yet."
7. "Stop stressing out and chill out. It is finally the weekend."
8. "Weekend forecast: mild alcoholism with a 70% chance of poor decisions and poor judgment."
9. "During the weekend, all you have to do is sleep until you feel hungry and eat until you feel sleepy."
10. "Well, hello, Weekend. Where have you been all week?"
11. "Hands up if you're ready to do something you'll regret this weekend. Go forth! You have my blessing." —Florence Welch
12. "Weekends are days to refuel your soul and to be grateful for the blessings that you have."
13. "There is nothing wrong with being lazy sometimes, especially when it happens to be the weekend."
14. "It's weekend. Take it slow and give your soul a chance to catch up with your body."
15. "The weekend is a time for no's—no alarm clock, no rushing, no urgent phone calls, no working nights!" —Catherine Pulsifer
16. "Happy weekend! Life is short. Grab a friend, and do whatever excites your spirit."
17. "Happiness is not having to set the alarm for the next morning. Happy weekend!"
18. "Laughing and sleeping are the two best cures in the world. They're even more effective during weekends."
19. "May your weekend be full of adventure and cheer, and may the beginning of the next week be far away."
20. "Freedom begins where work ends. This is exactly what weekends are for."
21. "The sun shines brightest on Fridays because it knows that the weekend is here." —Anthony T. Hincks
22. "No matter how demanding and tiresome the weekdays have been, the weekends will always come and let the good things in."
23. "Have a nice weekend! Remember that a few hours on the beach can fix everything, so take a cocktail and forget about everything."
24. "I haven't expected that the weekend would pass so quickly and imperceptibly, so can we repeat it?"
25. "A weekend well-spent brings a whole week of satisfaction and contentment."
26. "Happy Weekend, may every second of your weekend count, don't let anyone steal away your happiness."
27. "Have a great weekend. Enjoy your days of leisure. No work, just chill. Cool, yeah!"
28. "May this weekend make you realize you have a life. Do not waste your weekend by thinking about work."
29. "Hope this weekend brings you joy and happiness with random fun and adventure."
30. "Whole week you have spent your life at work, now just be in love with your holidays. Cheers, mate. Enjoy your weekend."
31. Smile it's Saturday…
Finally, it's Saturday! Let's celebrate!
32. Give me books, French wine, fruit, fine weather and a little music.
This is the best way to enjoy your weekend.
33. Wishing you a weekend full of love and laughter!
Every weekend should be a time of love and fun.
34. The only limits in life are the ones you make.
Enjoy yourself, there should be no limit in having fun.
35. Monday, nothing the beach can't fix.
Enjoy the weekend quotes and also enjoy the beaches!
36. Oversleep this weekend.
Go ahead, it's ok to oversleep intentionally!
37. Where did that weekend go??? Poof… Snap… and it's Monday.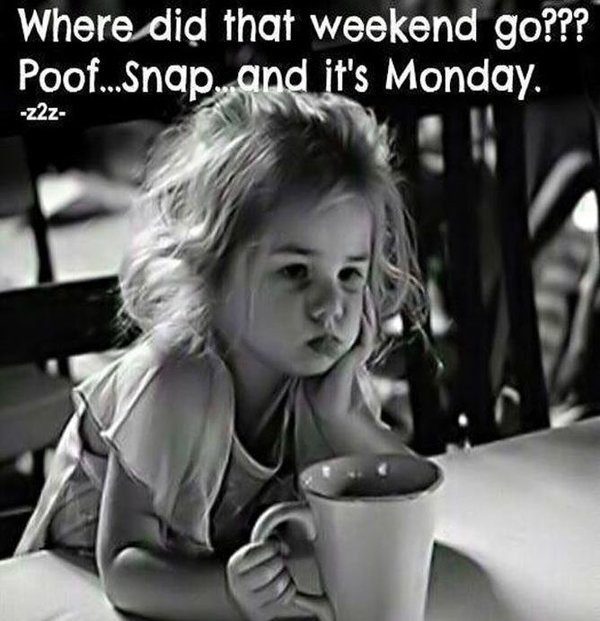 Sometimes we can't believe that the weekend is already over and it's Monday once again.
38. Happiness is a cup of coffee and a really good book.
Some people have simple ways of enjoying the weekend.
39. A positive attitude causes a chain reaction of positive thoughts, events and outcomes.
The best way to deal with any situation is to approach it with positivity and all the things in your life will be better.
40. Good morning everyone. Hope you are all having a beautiful and blessed Sunday!
Enjoy your beautiful Sunday and weekend quotes and before you know it, it's going to be Monday again.
41. Something needs to change, and it's probably me.
Change is great especially if its for the better.
42. Have a nice weekend!
Enjoy your weekend in any way you can!
43. Everyday is a weekend when you're retired!
It's always nice when you're retired because there are no more Mondays!
44. Happy Saturday everyone, have a great day!
The best day of the week is the weekend, so enjoy it!
45. Everyday is a fashion show and the world is your runway.
Beautiful weekend quotes are great inspirations.
Awesome Weekend Quotes
46. Busy is a choice, stress is a choice, joy is a choice, choose well.
Be sure to make the right decision.
47. Hold on…weekend is coming soon…
It's great when you are anticipating the weekend!
48. No! I don't want the weekend to be over.
How I wish that the weekend can be extended.
49. Peace, it does not mean to be in a place when there is no noise, trouble, or hard work…
Have a peaceful heart and a peaceful weekend!
50. Happy Friday! Let the weekend begin.
Weekend quotes tell us that weekend is here, let the fun begin.
51. Have a cool weekend!
Are you having a cool weekend?
52. Start that thing you've been putting off today.
Now is the time to do the things which you have not done yet.
53. Happiness does not depend on what you have or who you are; it solely relies on what you think.
Such a nice weekend quote! Do you agree?
54. Enjoy every bit of today, pretend you are four, giggle, smile, be a little bit silly.
Do what you want to do, it's the weekend, enjoy it!
55. Happy weekend! Life is short, grab a friend and do whatever excites your spirit.
Be sure to enjoy your weekend before Monday comes along.
56. Being yourself is the prettiest thing you can be.
Always remember that you are unique from the others.
57. Beast Mode: Off
Weekend is the best time for relaxing.
58. Weekends don't count unless you spend them doing something completely pointless.
Try doing something exciting this weekend!
59. Weekend forecast: mild alcoholism with a 70% chance of poor decisions and poor judgement.
You can enjoy the weekend but you also have to make wise decisions.
60. Did someone say "weekend?!"
Wow! I can't believe it's weekend already!
61. Hand tight… the weekend is almost here!
It's too exciting when the weekend is getting nearer.
Enjoy your weekend along with these beautiful and cute weekend quotes. Saturdays and Sundays should be a time for relaxing. While some people spend it with their friends and enjoying the things that can make them happy and exciting.
Share these happy weekend quotes with your friends and family so that you can make them smile. Be proud of who you are and do the things that you want as long as you enjoy doing it. No matter what you do, just make sure that you are happy before Monday will come.
There are a lot of things that you can do during the weekend. Always remember that life is short. If there is something that you want to do then you must do it now in order to avoid any regrets in the future.
If you have enjoyed these amazing and funny weekend quotes then you will also enjoy reading more inspiring quotes such as 31 Happy Tuesday Quotes and Sayings with Pictures and 33 Funny and Happy Friday Quotes with Images.

Martha lives in the Bay Area and is a dedicated reader of romance novels. She runs a yoga studio and taught yoga for many years. She always says that yoga fuels her writing. She's also a vegetarian and advocate for living a healthy life. Martha has been writing for us for a while now, giving readers a glimpse into her lifestyle and work.