Welcome your Wednesday with warmth and appreciation. It's the middle of the week, you must ensure that you are halfway to what you are targeting this week, whether it is your financial or life goal. To help you stay motivated, here are some Wednesday quotes and sayings, collected from a variety of sources over the years, that will surely fuel you to continue aspiring to achieve all the things that you want in life.
Tell us your favorite Wednesday quote in the comment section.
Happy Wednesday Quotes
1. "Wednesdays are like Mondays in the middle of the week!" – Lee Fox Williams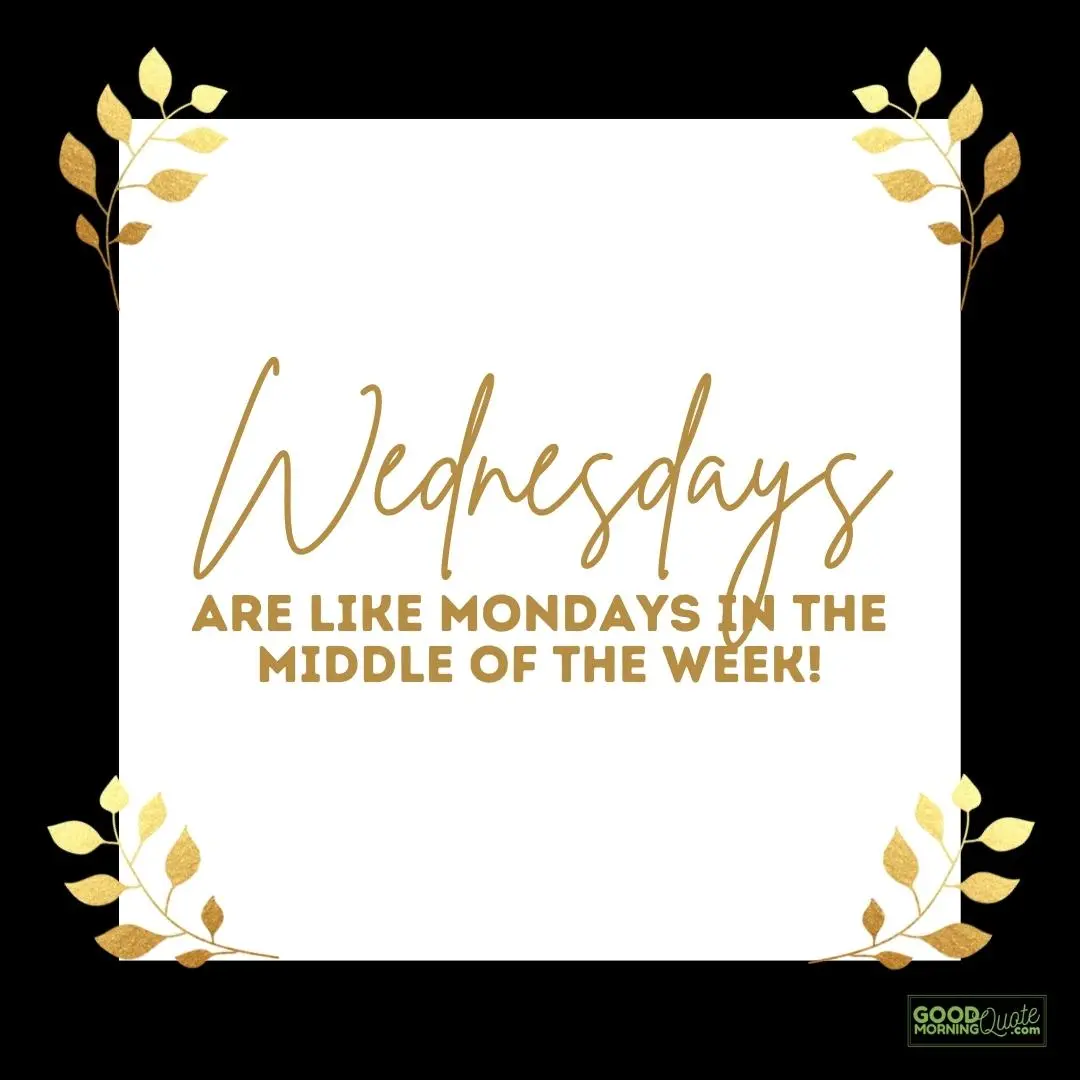 2. "Wednesday is the perfect day to take a step back, reflect on your accomplishments so far, and plan your next moves for the rest of the week". GoodMorningQuote.com
3. "Choose a job you love, and you will never have to work a day in your life." Confucius
4. "Good things come to people who wait, but better things come to those who go out and get them." Unknown
5. "Start where you are. Use what you have. Do what you can." —Arthur Ash
6. "The best preparation for good work tomorrow is to do good work today." —Elbert Hubbard
7. "Don't judge each day by the harvest you reap, but by the seeds you plant."
8. "Half the week is over. Make a small celebration of that today to up your motivation for last few days until the weekend."
9. "Someday is not a day of the week." —Denise Brennan-Nelson
10. "You are never too old to set another goal or to dream a new dream." —C.S. Lewis
11. "It does not matter how slowly you go, so long as you do not stop." —Confucius
12. "You must not allow your Wednesday to sound like a Sunday. Remember, Wednesday is midweek. It is time to refuel your energy to work more."
13. "This is another new day, instead of looking forward to the weekend, live for the day and have fun."
14. "Don't let the fear of losing be greater than the excitement of winning." —Robert Kiyosaki
15. "If you are not willing to risk the usual you will have to settle for the ordinary." —Jim Rohn
16. "The individual who says it is not possible should move out of the way of those doing it." ―Tricia Cunningham
17. "Even if you are on the right track, you'll get run over if you just sit there." —Will Rogers
Inspirational Wednesday Quotes
18. "You don't have to see the whole staircase, just take the first step." —Martin Luther King, Jr.
19. "When writing the story of your life, don't let anyone else hold the pen." —Harley Davidson
20. "You miss 100 percent of the shots you don't take." —Wayne Gretzky
21. "Inspiration is one thing and you can't control it, but hard work is what keeps the ship moving. Keep up the good work." —Kevin Eubanks
22. "Wednesday always reminds us that the weekend is almost upon us, but not lose your focus. Have some patience and keep working towards your goal."
23. "Be like a duck, paddling and working hard in the water, but what everyone sees is a smiling, calm face." —Manoj Arora
24. "You've got to get up every morning with determination if you're going to go to bed with satisfaction." —George Lorimer
Short Wednesday quotes
25. "If you get tired, learn to rest, not to quit." —Banksy
26. "Celebrate endings—for they precede new beginnings." —Jonathan Lockwood Huie
27. "Let your frustration fuel your fire."
28. "Push yourself, because no one else is going to do it for you."
29. "Do it now. Sometimes later becomes never."
30. "The difference between ordinary and extraordinary is that little extra." —Jimmy Johnson
31. "Pain and sufferings are proof that you are trying."
32. "Every day brings you a chance to draw in a breath, kick off your shoes and dance." —Oprah Winfrey
33. "If you're going through hell, keep going." —Winston Churchill
34. "Hard work beats talent when talent fails to work hard." —Kevin Durant
35. "Go the extra mile. It's never crowded."
Motivational Wednesday quotes
36. "Each morning is the open door to a new world – new vistas, new aims, new plans, new things. Wednesday morning is no less." Unknown.
37. "Wash away negative experiences of the day from your mind. Be confident in knowing that a new day brings new experiences and a new beginning." —Shadonna Richards
38. "Go as far as you can see; when you get there, you'll be able to see further." —Thomas Carlyle
39. "Never give up on a dream just because of the time it will take to accomplish it. The time will pass anyway." —Earl Nightingale
40. "There are no shortcuts to any place worth going." —Beverly Sills
41. "Your direction is more important than your speed."
42. "Sometimes life gets weird. Hang in there; it gets better." —Tanner Patrick
43. "You can dream about it, or you can work to make it happen."
44. "You've heard that it's wise to learn from experience, but it is wiser to learn from the experience of others." —Rick Warren
45. "When you want it bad enough, you find a way. When you don't, you find an excuse."
46. "Pain can change you, but that doesn't mean it has to be a bad change. Take that pain and turn it into wisdom." —Dalai Lama
47. "When looking for wise words, the best ones often come from our elders." —Catherine Pulsifer
48. "Take action when others procrastinate. Speed up when others slow down."
49. "Do not be wise in words; be wise in deeds." —Jewish Proverb
50. "Don't raise your voice, improve your argument."
51. "The distance between insanity and genius is measured only by success." —Bruce Feirstein
52. "Wednesday is the angel of the week because she balances the days evenly for us. Sun, Mon, Tues – Wednesday – Thu, Fri, Sat." Anthony T. Hincks
53. "Wednesdays were the best thing about Atlantis. The middle of the week was a traditional holiday there. Everyone stopped work and celebrated the fact that half the week was over." Walter Moers
54. "Monday for wealth, Tuesday for health, Wednesday the best day of all; Thursday for crosses, Friday for losses, Saturday no luck at all." English Proverb
55. "Love all, trust a few, do wrong to none." William Shakespeare
56. "When we stagnate, we lose ourselves and we lose endless chances. That is why a good Wednesday is a day when we did things and we did them well." Liza Hawkins
57. "Happy Wednesday! Happiness is found from within when you learn to appreciate your blessings, LIVE in the present and LOVE!" Tracey Edmonds
58. "Happy Wednesday! You are who you are; be happy with what you are called to do. Do not pretend to be like someone else, for your gifts are unique to help lead you to the success as only you can define. Have a good day." Byron Pulsifer
59. "On Wednesday they're feeling fine again,
And they're workin like a dog and diggin' in." Johnny Cash
60. "My job is to give people who work hard all week something to enjoy on Saturdays and Wednesdays." Arsene Wenger
61. "Never schedule a board meeting on Wednesday because it kills two weekends." Kurt Vonnegut
62. "Each morning we are born again. What we do today is what matters most." ― Buddha
63. "One small positive thought in the morning can change your whole day." Dalai Lama
64. "Wednesday will either make you or break you. You are either on the upward trend or the downward slide to the end of the work week. Give it all you got this Wednesday!" Catherine Pulsifer
Funny Wednesday Quotes
65. "Keep Calm. It's only Wednesday. We still have 2 more days to go."
66. "Wednesday will be amazing so wake up and smile."
67. "A Wednesday with no rain is a dry hump day." —Demetri Martin
68. "By Wednesday, work is something that's easy to complain about. But at the end of the day, you're making money and making a living."
69. "Challenges are what make life interesting and overcoming them is what makes life meaningful." —Joshua Marine
70. "Wednesdays will always bring smiles for the second half of the week." —Anthony T. Hincks
71. "Things work out best for those who make the best of how things work out." —John Wooden
72. "Heaven knows the difference between Sunday morning and Wednesday afternoon. God longs to speak as clearly in the workplace as He does in the sanctuary." —Max Lucado
73. "If all our national holidays were observed on Wednesdays, we could wind up with nine-day weekends." —George Carlin
74. "The only way I can get through Wednesday is by avoiding people who call it Hump Day."
75. "People often say that motivation doesn't last. Well, neither does bathing. That's why we recommend it daily." – Zig Ziglar
76. "There's nothing a cup of coffee can't fix. If not, make it two."
77. "On Wednesday afternoons I could be practically anything." Kit Williams, Masquerade
78. "When people refer to 'Back in the Day,' it was a Wednesday. Just a little fun fact for you." Dane Cook
79. "Home may be where the heart is, but it's no place to spend Wednesday afternoon." Walker Percy
80. "Elephants love Wednesday, and so will you." Anthony T. Hincks
81. "To some, it's Hump Day. To us, it's Wednesday getting its ass kicked and Thursday just asking Friday to switch places." Dwayne Johnson
82. "I think vestigially there's a synesthete in me, but not like a real one who immediately knows what color Wednesday is." A. S. Byatt
83. "I've heard of Monday, Tuesday, Wednesday, Thursday, and Friday, but I've never heard of Someday." Reverend Ike
84. "When a day that you happen to know is Wednesday starts off sounding like Sunday, there is something seriously wrong somewhere." John Wyndham
Good Morning Wednesday messages
85. "After Monday and Tuesday, even the calendar says W – T – F." Unknown
86. "Wednesday: it's almost, sorta, kinda, close to, just about, nearly the weekend…" Unknown
87. It's Woohoo Wednesday. Today is going to be a good day." Unknown
88. "Nothing screws up your Friday more than realizing it's Wednesday." Unknown
89. "Wednesdays are like the middle finger of the week." Unknown
90. "Have a lovely Wednesday morning; it has brought no distress but joy to you. Have a wonderful day ahead because Wednesday is smiling at you, Good morning!" Unknown
91. "Good morning, I just want to remind you that you should do some exercise to kick off the day with a smile on your face. Happy Wednesday!." Unknown
92. "Happy Wednesday! Be happy with who you're and what you and you can do anything you want." Unknown
93. "Good Morning! Have a wonderful Wednesday. Here's a great big hug from me to you!" Unknown
94. "Focus on good thoughts and good things will happen. Happy Wednesday! Stay positive. Think positive. Do positive! A very good morning to you." Unknown
95. "Keep going. You're halfway to the weekend." Unknown
96. "The road to a happy Wednesday goes through a productive Tuesday. When we split our tasks evenly throughout the days, we find ourselves in a comfortable and serene place, where work no longer overwhelms us, but rather excites us." Unknown
97. "Nothing ruins Friday more than realizing that today is Wednesday." Unknown
98. "By Wednesday, work is something that's easy to complain about. But at the end of the day, you're making money and making a living." Unknown
99. "As much as we would want, we cannot move Wednesday closer to the weekend. The only solution is to make Wednesday a holiday. A break in the middle of the week might help us regain our energy and increase our productivity." Unknown
100. "Worry-free Wednesday! Because worry is like a rocking chair: it gives you something to do but never gets you anywhere." Unknown
These are our favorite Wednesday quotes to make each day lighter. Most of these are from renowned individuals who have successfully attained their goals in life because they know how to handle the challenges that almost hinder them in doing what they want in their lives.
If you need more inspirational quotes, we have an entire collection for each day of the week, you can start checking out Happy Tuesday Quotes, and also Happy Thursday Quotes; Happy Friday Quotes, Happy Saturday and Happy Sunday quotes and sayings.
Did you enjoy these Wednesday quotes? Which of the quotes was your favorite?
We would love to hear all about it in the comment section below.
Also, don't forget to follow us on Facebook and Pinterest and share these quotes with your friends.

Martha lives in the Bay Area and is a dedicated reader of romance novels. She runs a yoga studio and taught yoga for many years. She always says that yoga fuels her writing. She's also a vegetarian and advocate for living a healthy life. Martha has been writing for us for a while now, giving readers a glimpse into her lifestyle and work.
Updated by