Welcome your Wednesday with warmth and appreciation. It's the middle of the week, you must ensure that you are halfway to what you are targeting this week, whether it is your financial or life goal. Here are some Wednesday quotes that will surely fuel you to continue aspiring to achieve all the things that you want in life. We hope that we continuously guide you towards being the best version of yourself.
56 Happy Wednesday Quotes
1. "Wednesdays are like Mondays in the middle of the week!" – Lee Fox Williams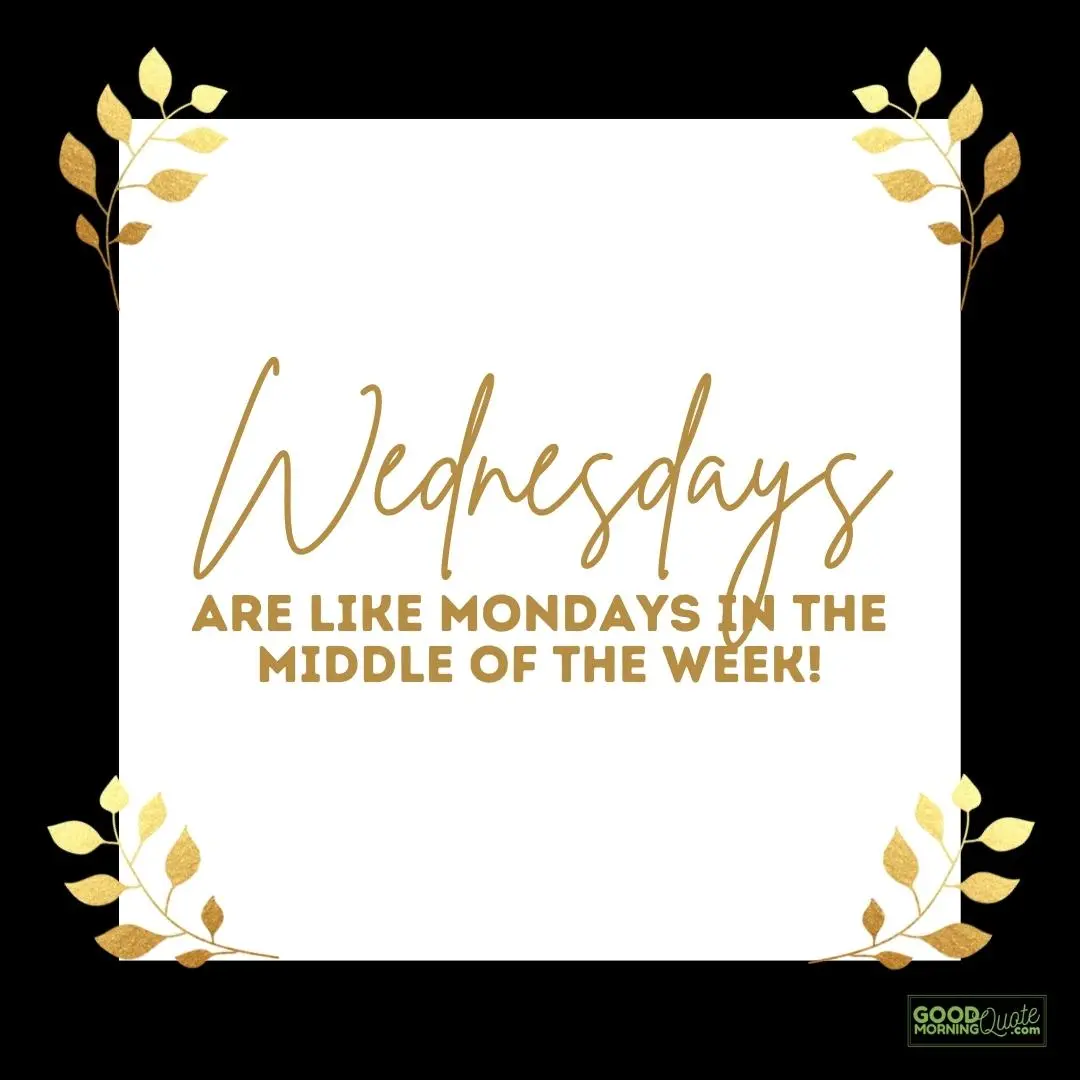 2. "Good things come to people who wait, but better things come to those who go out and get them."
3. "Start where you are. Use what you have. Do what you can." —Arthur Ash
4. "The best preparation for good work tomorrow is to do good work today." —Elbert Hubbard
5. "Don't judge each day by the harvest you reap, but by the seeds you plant."
6. "Half the week is over. Make a small celebration of that today to up your motivation for last few days until the weekend."
7. "You are never too old to set another goal or to dream a new dream." —C.S. Lewis
8. "Someday is not a day of the week." —Denise Brennan-Nelson
9. "It does not matter how slowly you go, so long as you do not stop." —Confucius
10. "Don't let the fear of losing be greater than the excitement of winning." —Robert Kiyosaki
11. "If you are not willing to risk the usual you will have to settle for the ordinary." —Jim Rohn
12. "The individual who says it is not possible should move out of the way of those doing it." ―Tricia Cunningham
13. "Even if you are on the right track, you'll get run over if you just sit there." —Will Rogers
14. "You must not allow your Wednesday to sound like a Sunday. Remember, Wednesday is midweek. It is time to refuel your energy to work more."
15. "This is another new day, instead of looking forward to the weekend, live for the day and have fun."
16. "Keep Calm. It's only Wednesday. We still have 2 more days to go."
17. "Wednesday will be amazing so wake up and smile."
18. "By Wednesday, work is something that's easy to complain about. But at the end of the day, you're making money and making a living."
19. "Challenges are what make life interesting and overcoming them is what makes life meaningful." —Joshua Marine
20. "Wednesdays will always bring smiles for the second half of the week." —Anthony T. Hincks
21. "When writing the story of your life, don't let anyone else hold the pen." —Harley Davidson
22. "You don't have to see the whole staircase, just take the first step." —Martin Luther King, Jr.
23. "Things work out best for those who make the best of how things work out." —John Wooden
24. "Heaven knows the difference between Sunday morning and Wednesday afternoon. God longs to speak as clearly in the workplace as He does in the sanctuary." —Max Lucado
25. "A Wednesday with no rain is a dry hump day." —Demetri Martin
26. "If all our national holidays were observed on Wednesdays, we could wind up with nine-day weekends." —George Carlin
27. "You miss 100 percent of the shots you don't take." —Wayne Gretzky
28. "Inspiration is one thing and you can't control it, but hard work is what keeps the ship moving. Keep up the good work." —Kevin Eubanks
29. "People often say that motivation doesn't last. Well, neither does bathing. That's why we recommend it daily." – Zig Ziglar
30. "Wednesday always reminds us that the weekend is almost upon us, but not lose your focus. Have some patience and keep working towards your goal."
31. "Strong people always have their life in order…"
32. "Sometimes, you need to step outside, get some air…"
33. "Over-thinking ruins you…"
34. "Too many people in the world to let just one keep you down…"
35. "We all die. The goal isn't to live forever…"
36. "Life is like a camera…"
37. "You'll never be brave if you don't get hurt…"
38. "We are all in the same game, just different levels…"
39. "Happiness not only in another place, but this place…"
40. "We're just trying to find some color in this black and white world…"
41. "Be who you are and say what you feel…"
42. "Sometimes, me think…"
43. "You can't have a better tomorrow…"
44. "Don't be a woman that needs a man…"
45. "There's so many beautiful reasons to be happy…"
46. "Live your life and forget your age…"
47. "I decided that the most subversive…"
48. "Smile like you've never cried…"
49. "We all live with the objective to be happy…"
50. "Do not look back and grieve over the past…"
51. "Life is too short to wait…"
52. "Live life to the fullest…"
53. "Life is like riding a bicycle…"
54. "Life is too important to be taken seriously…"
55 "Thousands of candles can be lit from a single candle…"
56. "We make a living by what we get…"
These are just among the most amazing Wednesday quotes that are so nice in making each day lighter. Most of these are from renowned individuals who have successfully attained their goals in life because they know how to handle the challenges that almost hinder them in doing what they want in their lives. Well, they were undoubtedly toughened due to their positive outlook. If you want to be inspired more, you can also check out our 26 Happy Thursday Quotes with Images and 33 Funny and Happy Friday Quotes with Images.