Making a girl feel loved and special is something that must be learned by men. It doesn't require special skills and talents – what you need is passion and love towards your partner. If you truly value your girlfriend or wife's presence, making her feel how much you want her in your life will come out naturally. You can give her flowers, take her out on dinner dates, send her gifts – all these are effective methods. But wait, don't forget to express your emotions through words, too and one great way to do that is by consistently sending love quotes for her!
To clarify, it should not always be just about your actions. Your girl would love to hear how much you love her, too. Say "I love you" before ending a call, when she wakes up, or when she has done something for you – these are just among the ideal moments where you can say how much you love her. Apart from the "magic word," sending sweet love quotes for her are great, too! Messages that will sum up your emotions will make her cry, not because of sadness but because of how thankful she is because she has you in her life.
If you are having no idea what type of messages to send to your partner, here are some amazingly sweet love quotes for her.
110 Sweet Love Quotes for Her
1. "If you think that someday, I'll love another girl…"
2. "You've ad my heart since hello…"
3. "You make me smile, you make me laugh…"
4. "You make me laugh. You make me smile. You're smart…"
5. "I want you to know that you are the only person I ever want…"
6. "I never thought that love could feel like this…"
7. "To me, you are perfect…."
8. "You are my world…"
9. "You are my life…"
10. "You are my downfall, you are my muse…"
11. "My heart is perfect because you are inside…"
12. "Every morning reminds me of all the wrong dreams…"
13. "No matter how long it is before we meet again…"
14. "I won't give up on you. So don't give up on me…"
15. "Your eyes, your smile, your ability to make my life worthwhile…"
16. "When the angels ask what I loved most about life…"
17. "When I text you, it means I miss you…"
18. "I trust fate and I believe in love, which is why I know…"
19. "They told me that to make her fall in love…"
20. "My love for you knows no bounds, it's timeless and endless…"
21. "All the cute thing you do, do simple tickle in my heart…"
22. "I was playing back a thousand memories, baby…"
23. "Thought of you today, that's not new. Thought of you yesterday…"

24. "I keep myself busy with things to do, but every time I pause…"
25. "Your text received on my phone, and I didn't know what was brighter…"
26. "I tried to think of the sweetest way to wake you up…"
27. "If you choose to steal my heart, remember that if you break it…"
28. "Falling in love is only half of what I want. Staying in love with you…"
29. "I'm the type of person who will stay committed…"
30. "I don't think you understand how important it is for me to hear…"
31. "Even after the way you walked away, I won't stop myself…"
32. "Your lips so soft and red, the thought of kissing you is stuck…"
33. "Before I met you, I never know what it was like to be able to look…"
34. 'Even the mere silence of love, has the power to drown out…"
35. "I've seen you at your worst and I still think…"
36. By the moon as I sit to seek your glory, the white roses I see…"
37. "Loving is not just looking at each other…"
38. "I want to share the rest of my life with you…"
39. "I believe in the immeasurable power of love; that true love can endure…"
40. "'I wasn't planning on loving you, but I'm happy that I did…"
41. "When I say 'I love you,' it's not because I want you…"
42. "Give a little time to me or burn this out, we'll play hide and seek…"
43. "True love isn't easy, but it must be fought for…"
44. "Being in love with you makes every morning worth getting up for…"
45. "Love is what makes two people sit in the middle of a bench…"
46. "I like to think that I actually mean something to you…"
47. "You have no idea how much I like you, how much you make me smile…"
48. "I love your hugs so much that I hug you in my dreams…"
49. "Never look for a good face, it will turn old one day…"
50. "There will always be a part of me that loves you no matter what…"
51. "Every love story is beautiful, but ours is my favorite…"
52. "It's not what I feel for you; it;s what I don't feel for anyone…"
53. "It's okay if you don't love me back but just give me a chance to make you…"
54. "I look forward to each morning because it is yet another day…"
55. "The thoughts of how much I love you are keeping me awake…"
56. "Sometimes I can't see myself when I'm with you…"
57. "My hand can hold your wrists, your hair twined round my fist…"
58. "In your arms is where I'd like to be right now…"
59. "Your love's a gathered storm I chased across the sky…"
60. "I miss you everyday. And I have told everyone here that I…"
61. "I just wondered how you are and if you miss me at all…"
62. "If I hadn't met you, I wouldn't like you. If I hadn't liked you…"
63. "There's only 1 thing 2 do 3 words…"
64. "I love my life because it gave me you…"
65. "I loved you yesterday, I love you still, I always have…"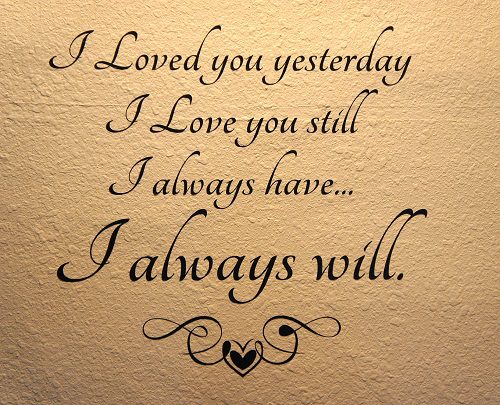 66. "If you're alone, I'll be your shadow. If you want to cry…"
67. "I have seen the best of you, and the worst of you, and I…"
68. "I am sorry I hurt you so many times, I wasted your love…"
69. "I love those hugs where you just don't want to let go…"
70. "I'd hug you all day if I could…"
71. "It doesn't matter how the past has been… I promise, our future…"
72. "Hold my hand forever…"
73. "To live a life I need heartbeat. To have heartbeat, I need a heart…"
74. "When my heart beats, it takes your name, but alas!"
75. "You give me happiness everyday, is more than any words…"
76. "I love the morning because it gives me another day to meet…"
77. "To love is to receive a glimpse of heaven…"
78. "I asked God for flower, he gave me a bouquet…"
79. "The first time I saw you, my heart whispered…"
80. "First love. What adults called puppy love, and what we thought…"
81. "I never give up on you and you will never give up on me…"
82. "If you ask me how much I love you, I won't say anything…"
83. "I know that you are the one, because when we are apart…"
84. "I want to be your favorite hello and your hardest goodbye…"
85. "It's amazing how you can fall in love with a person…"
86. "I chose to be your friend, but falling in love with you…"
87. "If I knew I would be falling in love with an angel…"
88. "Your eyes are so expressive and beautiful, I can't help…"
89. "Without you, I am emotionally crippled…"
90. "You know what? I don't feel sleepy at all…"
91. "Every woman deserves a man that can make her heart forget…"
92. "You are dazzling and gorgeous, you are attractive and…"
93. "Daffodils bloom full of dew…"
94. "Can I curl up in your arms and let the beat of your heart soothe…"
95. "The cuddles in the morning make me feel so good…"
96. "Every time you text me, my cheeks hurt!"
97. "You're the one who broke my heart, you're the reason my world…"
98. "Just the thought of you brightens up my morning…"
99. "When I tell you I love you, I don't say it out of habit…"
100. "If you just give me a small chance, I will prove it…"
101. "Someday, when the pages of my life end…"
102. "When we hug, my heart tingles. When we kiss, my soul sizzles…"
103. "If you ask me about the love, I can't answer you…"
104. "I can be annoying, weird, and sometimes overly emotional…"
105. "Our anniversary is not meant to be a reminder of a long journey…"
106. "However far away, I will always love you…"
107. "It takes two special people, to make a loving pair…"
108. "I feel so alone without you…"
109. "Let's be absolutely stupid and fall in love with each other…"
110. "I don't care if we talk about absolutely nothing…"
Express your Emotions with these Love Quotes for Her
Things will work well in your relationship if you know how to treat your partner well. For sure, your girl will shower you with love, hugs, and kisses in return. Who does not like that, anyway? With all these love quotes for her, you can efficiently strengthen your relationship that simple problems can be immediately eased and solved, eliminating chances of much bigger complications.
Celebrating your anniversary, soon? We also have a collection of anniversary quotes! In case you want a general love quote, too, we also have a huge collection that you can check out.

Martha lives in the Bay Area and is a dedicated reader of romance novels. She runs a yoga studio and taught yoga for many years. She always says that yoga fuels her writing. She's also a vegetarian and advocate for living a healthy life. Martha has been writing for us for a while now, giving readers a glimpse into her lifestyle and work.