Anniversary quotes are a celebration of your beautiful memories. After your marriage, you and your spouse will experience the wonderful journey of a married life. As a couple, you'll be sharing everything together.  As the years passed, you will both grow together and maybe have children.
The experiences that you have shared together can make your bond stronger. Even if you are already a couple, you can still continue to date each other and get to know each other more. You and your spouse will always support each other through all the good and the bad. Each wedding anniversary is a great celebration.
Anniversaries Are Indeed Something Special
A wedding anniversary is one of the special and most important dates of every couple. It is a celebration of the whole year that the couple spends together. Of course, it does not only consist of the good days since there are also bad days. On your good days, be thankful to God for bringing you closer together. On your bad days, be mindful of your marriage vows. This is what keeps you together and helps you in overcoming the struggles in life. Here are 100-anniversary quotes that can inspire you to love each other more whether it's your first anniversary or your fiftieth anniversary.
On the day of your anniversary, there are a lot of things to talk about, so much to thank for.  But deep inside, all that matters is that you both enjoy being together despite the trials and the struggles.  Finding the perfect message or gift for a guy, to express your love to your spouse can be daunting.  Fortunately, you've come to the right place as we have scoured some of the best wedding quotes for your anniversary. Check them out! Here are 100-anniversary quotes that can inspire you to love each other more.
100 Anniversary Quotes for Him and Her with Images
1. Let's celebrate our anniversary and raise a toast to our togetherness.
All these years, I just hope that I've been the amazing person that you truly deserve.
2. Hundreds of "Love you" for you is still less, because you have handled our marriage with finesse.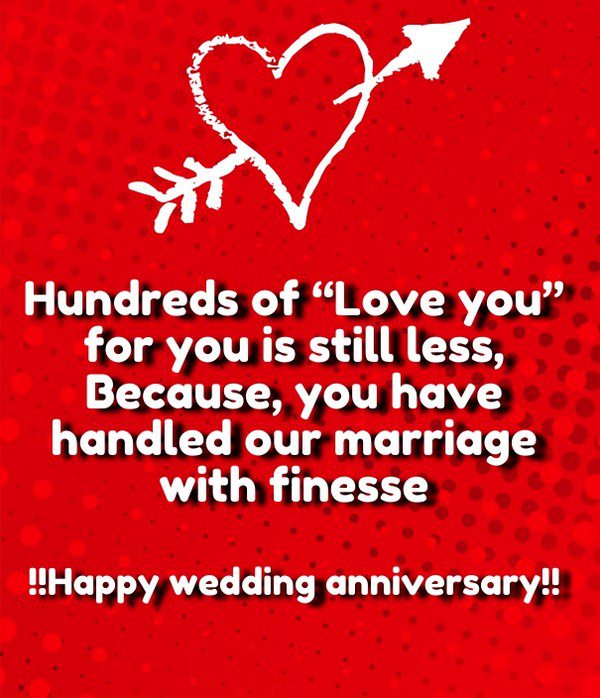 Life keeps getting better with you.
3. You are the light that wakes me in the morning, guides me through the day, and watches over me at night.
It doesn't matter whether it's our first or twentieth anniversary, what matters is that we love each other always.
4. The value of marriage is not that adults produce children but that children produce adults.
Thank you for giving me a wonderful life!
5. Happy and thrice happy are those who enjoy an uninterrupted union…
All the words in the world cannot describe my deep love for you.
6. When I look at you, my dear – it doesn't seem like you've aged.
You are not only the love of my life, but you are my soul.
7. Our anniversary is just a momentary celebration, but our marriage is a timeless one…
Congratulations to both of us! Cheers to another 365 days of suffering and misery!
8. I love you more than life itself and so thankful that we met…
I'll still continue to love you even if we are already old and wrinkly.
9. When I tell you I love you I don't say it out of habit.
As long as we are together, I feel that everyday is our wedding anniversary.
10. To my wonderful husband who has shown me what love really is.
Being with you is a great blessing!
11. No words can express the love I have for you.
I'll always cherish you and love you.  Happy anniversary!
12. If I had a flower for every time you made me smile and laugh, I'd have a garden to walk in forever.
You are my adventure in life, I love you for being with me every step of the way.
13. After all this time, you are still amazing to me.
There is no gift in the world comparable to the wonderful love that you have given me.
14. My husband said he needed more space… So I locked him outside!
Thank you for being my spouse, for standing by my side and always supporting be especially during the hard times.
15. Thank you for making time for us to be together for the comfort of your arms…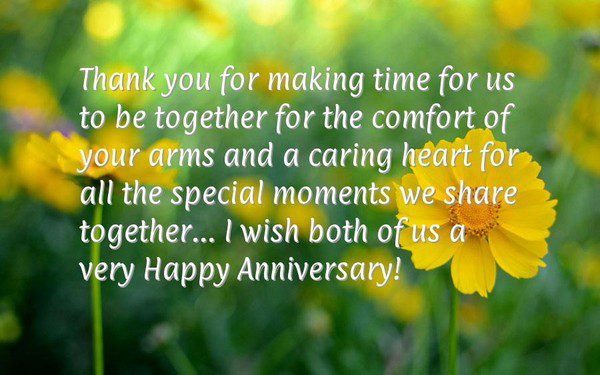 All these years, I could not imagine myself being with someone else.
16. Instead of a card, you should get a trophy for putting up with me another year.
You're the only one for me.
17. Happy Anniversary to the love of my life!
Our love has survived through the good and the bad times, I hope it will last through the future.
18. Wise men say only fools rush in but I can't help falling in love with you.
There is just one thing that I want to say on our wedding anniversary, I love you.
19. If staying married to you the rest of my life is crazy, then I don't want to be sane.
I can't imagine my life without you.
20. Marriage is a relationship in which one person is always right and the other is the husband!
Thank you for loving me for what I am.  It had made me a better person.
21. Marriage is like vitamins; we supplement each other's minimum daily requirements.
Knowing that, you love me can already make me happy.
22. The best thing about having forever is you.
Thank you for accepting me for who I am, obnoxious and crazy.
23. Thank you for treating me just as special on the days that are not our anniversary.
I've fallen in love with you, so many times!
24. All the words in the world could not even begin to describe how deeply I am in love with you…
You are more than a spouse to me.  You are my companion, friend, partner and soul mate.
25. You are truly a blessing from God.
With each passing day, I find myself loving you more.
26. I was incomplete without you.
You make my life special and worth living for.
27. Can't believe we've been a couple for one year already.
Words cannot express how happy I am when I am with you every single day.
28. When two people are connected at heart, it doesn't matter what you do, or who you are …
We'll stick together in times of joy and strife till the end.
29. Our wedding was many years ago. The celebration continues to this day.
Thank you for making my life worth living.
30. There is in you a loveliness that makes my darkness shine…
I'll spend the rest of my days making you feel special.
31. To keep your marriage brimming, with love in the loving cup…
No other person can ever make my life complete.
32. My heart is totally filled with things that words alone can't say.
Thank you for making me the happiest person in this world.
33. Knowing you'll be in all my tomorrows, makes my today so wonderful!
I couldn't live without you.
34. Happy Anniversary! Thank you for being my partner…
I'll always love you.
35. Why does a woman work ten years to change a man's habits and then complain…
We vow to love and honor each other for the rest of our lives.
36. As long that I have you by my side, I know I will always have someone to fight with…
Nobody really knows what kind of love we have for each other.
37. A wedding anniversary is the celebration of love, trust, partnership, tolerance and tenacity.
Anniversaries only happen once a year, so we should celebrate it in an extraordinary way.
38. Not only have I seen truth in your eyes you remind me of time itself  for you are my Past, Present, Future…
Make your spouse feel exceptional on your anniversary.
39. No one else would understand our relationship, and no one else in this world would understand me…
These anniversary quotes are the perfect way of telling your spouse how much she/he means to you.
40. The best and most beautiful things in the world cannot be seen or even touched…
Happy anniversary to all the happy couples!
41. You walked into my life making it a true heaven. What would I do without you?
A wedding anniversary is a much-awaited event for every couple.
42. If I had to choose again, I'd still choose you. Happy Anniversary!
It is important for every couple to express their feelings about each other in words.
43. Loved you then, love you still, always have, always will.
Wedding anniversaries are the time to recap the years that you've spent together.
44. It doesn't matter where you in go life, it's who you have beside you.
Thank you for being there when I needed you the most.
45. The day that changed my life, the day that brought happiness in my life…
This is the best day of my life.
46. The day when I met you, the day when I proposed you; the day when you entered into my life…
I am very lucky to have you as my spouse.
47. 25th Anniversary! A celebration of love as bright and enduring as silver.
Thank you for bringing me joy always.
48. You have made me a better person by loving me for who I am.
Happy anniversary to you, sweetheart!
49. You have shown me what True Love is, adding harmony deep within my heart.
I love you forever and always!
50. As we learn, let us share. As we take, let us give. As we weep, let us care. As we love, let us live.
I thank the Lord for giving me such a wonderful spouse.
51. That special day is here again the day we took our vows. You're just as special to me today…
Thank you for being my friend, partner, lover and spouse.
52. Something tells me I'm going to love him forever.
According to scientists, couples who stayed married for a long time have the tendency to look alike.
53. Gowing old with you is the best thing I could ever dream of.
I love you more and more as time goes by.
54. If I had my life to live over again, next time I would find you sooner…
I am excited to start another year of life with you.
55. Love is great and possible, always, but it's very rare to have the feeling…
Thank you for being my guide.
56. On our 1st wedding anniversary I have this to say – I love life because of you.
Thank you for making me happy each day.
57. Anywhere with you is better than anywhere without you.
When I am lonely, you are always there with a smile.
58. They say the first year of marriage is the hardest…
You always inspire me.
59. An anniversary is a time to celebrate the joys of today, the memories of yesterday…
Your love gives me strength.
60. True love is spending one day getting married…
I love you so much!
61. Baby, even though you wake me up in the middle of the night with the most annoying snores…
Thank you for giving me your support when I feel sad.
62. It was clear right from the start that you and me would never part. Happy Anniversary dear!
You've made my life colorful.
63. I see truth, passion, and beauty deep within your heart, escalating into your soul.
You're my reason for waking up in the morning with a smile.
64. Another year to create precious memories together.
I live my life to the fullest because of you.
65. The very first moment I laid my eyes on you, I knew our hearts were meant to be.
I love you more with each passing day.
66. In French, you don't say "I miss you." You say "tu me mangues" …
I'll always love and cherish you for the rest of my life.
67. I fell so lucky to have you in my life… Happy Anniversary!
Thank you for standing by my side through all the good and bad times.
68. Your love is the strength that drives me to do everything for this family.
I'll go with you, no matter where life will lead us.
69. I love you more and more each year that pass.
Thank you for being on my side always.
70. All these years, you have been amazing. As a Dad to our kids and as my lover…
My knees get weak every time you look at me.
71. The day is here again, I can't remember every moment of that day.
Happy Aniversary to my romantic spouse!
72. Sweetheart, this day is a special day, and not only for me.
If I could, I would marry you all over again.
73. Every love story is beautiful, but ours is my favorite.
Happy Anniversary to my lovely spouse!
74. Nothing in this world could ever be as wonderful as the love you've given me.
I need your strength to keep me steady.
75. Thinking of my life without you makes me think of a calm life.
No other person could ever take your place in my heart.
76. Love is something eternal; the aspect may change, but not the essence.
With you by my side, I feel invincible!
77. With you alongside, everyday of my life is a celebration!
After all these years, you are still the most wonderful spouse that I ever know.
78. All the memories have brightened again, the same day has come again…
When I try to imagine a perfect spouse, the only person that comes to my mind is you.
79. We have changed over the years, but the sparkle in your eyes is as bright as ever…
Being with you is one of the best things that I want to do.
80. One man by himself is nothing. Two people who belong together make a world.
On our anniversary day, let's spend some quality time together.
81. My love for you could not possibly get any bigger for it is endless and timeless.
Today, we are going to celebrate our accomplishment as a married couple.
82. To my dear wife… From the moment I married you love and happiness abound.
You are my hero, I love you!
83. May our anniversary lead to many more glorious years of happiness and joy.
I'm so glad, there is a day each year to celebrate my partnership with you.
84. Darling, for the wondrous time we have spent together as well as the time we will have…
Through the happy moments and the tough moments, we are still in love!
85. An anniversary marks another year of sharing as husband and wife.
On this special occasion, tell your spouse how much you love him/her!
86. Nothing in this world could ever be as wonderful as the love you've given me.
May our life together be filled with delight and joy!
87. Every love story is beautiful, but ours is my favorite.
My life started to change on the day that I met you.
88. The way you love me, the way you touch my life, I wish the journey, should never end till I die.
I love you more and more!
89. I'm so happy that, all these years ago, I found the one person I want to annoy for the rest of my life.
I'm yours forever.
90. Here's wishing us both a rocking first marriage anniversary. Cheers!
We have always been together, through all the good times and the bad times.  I hope that it will never change.
91. I searched all the dictionaries to find the meaning of life but I found nothing.
I feel so lucky for having a perfect partner like you.
92. People are always asking couples whose marriage has endured at least a quarter of a century…
I'm so glad I found you.
93. As we begin a new chapter in our lives, remember one thing: My heart is forever yours…
My favorite thing to do is to be with you and that's enough for me.
94. It has been an honor to be your husband for all these years.
The road that we've travelled may have been smooth and bumpy, yet I wouldn't change any of it.
95. Our anniversary is not meant to be a reminder of a long journey.

Each year, I fall in love with you more and more.
96. May our relationship always be as tranquil s the first ray of the morning sun.
Some things may change, but my love for you will keep on burning like fire.
97. What was, still is. Happy Anniversary!
I want to grow old with you.
98. Nothing in this world could ever be as wonderful as the love you've giving me.
I always enjoy spending time with you.
99. You are truly a blessing from God. Thank you for being my partner, spouse, lover, and friend.
I will always love you.
100. I love you more and more each year that pass.
You are the love of my life! Wedding Anniversary Quotes, Images and Wishes
Fun Ideas For Celebrating Your Anniversary
Anniversaries are a great occasion to do something out of the ordinary. So spice up your couple life with these ideas:
Attend a Local Mixology Class
It's not every day that you get to learn how to make your own cocktails at home. Your anniversary is the perfect occasion to do something exquisite, and a mixology class is one hell of a way to spend your time together. You'll no longer have to spend tons of money on your favorite drinks since you'll be able to make them yourselves and thus impress any guests you have coming over.
Rent a Karaoke Bar For Your Party
Gather up some friends with who you want to celebrate this special occasion and rent out a karaoke bar. Karaoke is fun, especially if you can get a few people that have an inherent musical talent. And even if none of you knows how to sing even the most basic things, you'll still have loads of fun once you're all loaded up with some alcohol.
Relax at a Spa Together
It's not every day that you can afford to go to a spa, but your anniversary is truly something worth celebrating with a day of relaxation. You'll be treated to a sauna, a nice massage, a relaxing jacuzzi, and much more. Go ahead and treat yourselves! It's your special day and you deserve to get treated well even if you end up spending a lot of money.
Head Over to a Wine Tasting
Some fine wine can really get you in the mood for the naughty stuff that will come down later during the night. A wine tasting is the perfect event for your anniversary from multiple perspectives: you get to taste something great, you'll have a fun time, and you'll feel especially good in bed.
Final Thoughts
Your spouse is your life partner who will always stay strong with you from the good times to the bad times.  Share these anniversary quotes to your spouse on your wedding anniversary quotes and wishes in order to express your appreciation for all the things that you've been through.  You can even customize them and include your personal experiences and jokes.  Your wedding anniversary is a special day, therefore, you'll want to make him/her feel special with your words.  Words are more precious than any gift in the world.