Quotes about missing someone can relieve our pain by adding us to express our deep sadness and melancholy.
Missing someone you love can cause extreme melancholy. Sometimes, reading quotations will give us inspiration and help us recover from our sadness. A great word to describe this is Saudade. Saudade is a word that came from Portuguese, Galician, and Spanish. It best describes a deep emotional state of nostalgia and melancholy. It is the extreme longing for an absent something or someone you love.
Additionally, Saudade usually it often carries a repressed knowledge and worries that someone or something may never return. For example, remembering one of the best days of our lives, the wedding, can bring a whisper of melancholia in our hearts that can be expressed through lovely wedding quotes.
Here we have prepared inspiring quotes to help you ease the pain. These quotes about missing someone are perfect if you're currently missing someone who was once important to you.
Quotes About Missing Someone
1. "I'll hold you in my heart, 'till I can hold you in my arms." –Eddy Arnold
2. "Think I'll miss you forever. Like the stars miss the sun in the morning sky." —Lana Del Rey
3. "In case you ever foolishly forget: I am never not thinking of you." —Virginia Wolf
4. "In true love, the smallest distance is too great, and the greatest distance can be bridged." —Hans Nouwens
5. "My memory loves you; it asks about you all the time."
6. "Just so we're all clear, it's okay to miss people you no longer want in your life."
7. "I have late night conversations with the moon, he tells me about the sun and I tell him about you." —S.L. Gray
8. "Listen to the sunset; see its pretty hue. When you see it, think of me, and I'll think of you." ―Oksana Rus
9. "If you think missing me is hard, then you should try missing you." —Theofilos
10. "My eyes await your return. Please come back soon. I miss you baby!"
11. "My heart never knew loneliness until you went away. I'm missing you."
12. "No matter how bad things got between us I still miss you and wish nothing but the best for you."
13. "But nothing makes a room feel emptier than wanting someone in it." ―Calla Quinn
14. "That's the worst way to miss somebody. When they're right beside you and you miss them anyway." ―Pittacus Lore
15. "What is the opposite of two? A lonely me, a lonely you." —Richard Wilbur
16. "The pain of missing you is a beautiful reminder of the joy of loving you." –Dean Jackson
17. "Sometimes, when one person is missing, the whole world seems depopulated." —Lamartine
18. "There's solace in the thought that I will never finish missing her."― Jim Crace
19. "And they can't understand, what hurts more—missing the other person, or pretending not to." —Khadija Rupa
20. "Sometimes, it's not just about missing someone, it's wondering if they're missing you too."
21. "You are not mine to think about but I still do."
22. "You know someone is very special to you when days just don't seem right without them." —John Cena
23. "You never really stop missing someone —you just learn to live around the huge gaping hole of their absence." —Alyson Noel
24. "You're too far for my hands to hold you, but too near for my heart to love you." —Laetitia Matilda Hawkins
25. "I love you past the moon and miss you beyond the stars." —JmStorm
26. "I miss you deeply, unfathomably, senselessly, terribly." —Franz Kafka
27. "I miss you in ways that not even words can understand." —Gemma Troy
28. "I miss you so bad I think I might die."
29. "I want to say I miss you. But it wouldn't change anything so I'll just keep on pretending I don't."
30. "Even if I spent the whole day with you, I will still miss you the second you leave."
31. "I would prefer to be kissing you rather than missing you."
32. "If you cannot hold me in your arms, then hold my memory in high regard. And if I cannot be in your life, then at least let me live in your heart." ―Ranata Suzuki
33. "I miss you a little. A little too much, a little too often, and a little bit more every day." —John Michael Montgomery
34. "Distance means so little when someone means so much." –Tom McNeal
35. "Distance unites missing beats of two hearts in love." —Munia Khan
36. "Missing you could turn from pain to pleasure, if I knew you were missing me too."
37. "He kisses me like he misses me, even before I have to go." – C.J. Carlyon
38. "How do I say I miss you in a way that will make your heart ache as mine does?"
39. "I can't pretend that I don't miss you because I see you in everything that I do."
40. "I dropped a tear in the ocean. The day you find it is the day I will stop missing you."
41. "But nothing makes a room feel emptier than wanting someone in it." —Calla Quinn
42. "I miss everything about you. Can't believe that I still want you after all the things we've been through." ―Colbie Caillat
43. "How is it that he's always in my thoughts even when I am not thinking." ―Sanober Khan
44. "Missing someone you love is like falling sick, it kills you every second, over and over again." ―Rakesh Balu
45. "The sound of your laughter is still echoing in the room of my memories." —F.M. Sogamiah
46. "You never know how hard it is to remember things and act like you forgot everything." ―Danya Krish
47. "Though I forget things about me all the time, I never forget a thing about you." ―Danya Krish
48. "Your unconditional love made an everlasting imprint on my heart and life forever." —Heather Wolf
49. "When I miss you and don't know where you are, I will look up at the sky and pray for you as always."
50. "I am not incomplete without you; I am just little less that complete." ―Shantanand Sharma
51. "Missing you is flashes of our past and fantasies of our future with the hard irony of the absence of our present as present occurs." ―Zhi
52. "You realize how much you truly miss someone when something happens, good or bad, and the only person you want to tell is the one person who isn't there."
53. "The reason it hurts so much to separate is because our souls are connected."
54. "Missing someone is your heart's way of reminding you that you love them."
55. "I knew that looking back on the tears would make me laugh but I never knew that looking back on the laughs would bring tears."
56. "I miss you and I want to be with you. It's as simple, and as complicated as that." —Charles Bukowski
57. "Poets use countless words to describe their pain, but I only need three: I miss you." —Caroline George
58. "For when the cold winds blow, I will close my eyes calmly, knowing I am anchored to you." —Tyler Knott Gregson
59. "Yes, the nights are the worst part in missing you. Too much time and not enough to keep me occupied. So my thoughts travel to you, to missing you." —Donald D. Grasham
60. "I don't know what they are called, the spaces between seconds – but I think of you always in those intervals." —Salvador Plascencia
61. "No matter where I am, no matter where I go, your heart is my northern light, I will always find my way home." —Michael Kilby
62. "How strange to dream of you even when I am wide awake." —David Jones
63. "They say that time heals all wounds but all it's done so far is give me more time to think about how much I miss you." —Elizabeth Wilder
64. "Trees quiet without the birds. My heart quiet without you." —Terri Guillemets
65. "When you are not at hand to kiss away my fears I cannot choose but be wretched." —Byron Caldwell Smith
66. "I miss him in so many ways, but right now I miss him in the way you always miss someone when you're single among a room full of couples." —Emily Giffin
67. "How you can already miss someone when you are in the same room with them, I have no idea. But I do." —Karen Harrington
68. "There are moments in life when you miss someone so much that you just want to pick them from where they are and hug them for real." —Diana Elmessiri
69. "Missing someone enlightens how the person means to you and broadens the feelings shared." —Unarine Ramaru
70. "Absence from whom we love is worse than death, and frustrates hope severer than despair." —William Cowper
71. "Plant a good seed in people who have fertile hearts. When you are away, they'll miss you. When you are coming again, they can't wait!" —Israelmore Ayivor
72. "The most beautiful discovery true friends make is that they can grow separately without growing apart." —Elisabeth Foley
73. "Your absence has gone through me like thread through a needle, everything I do stitched with its color." —W.S. Merwin
74. "When we miss someone, what we really miss is the part of us that this someone awakens." ―Luigina Sgarro
75. "Love reckons hours for months, and days for years; and every little absence is an age." ―John Dryden
76. "There is not a single moment in any day that I do not find myself missing you."
77. "I wonder if that's just how it feels to miss someone so bad – like being stabbed in the gut a little bit, each time you think of them." —Kate Ellison
78. "When I think of you, I think of kindness, wisdom, and love. Thanks for being you." —Sam Crow
79. "My heart dances with joy when I think about you." —Debasish Mridha
80. "If every time I think of you a star fell, well, the sky would be empty."
81. "Late at night when all the world is sleeping, I stay up and think of you. And I wish on a star that somewhere you are thinking of me too." —Selena Quintanilla Perez
82. "My thoughts are free to go anywhere, but it's surprising how often they head in your direction." —Perez
83. "If I quit thinking of you, I might stop breathing too."
84. "You know you really miss someone when you crave something so simple such as the sound of their voice."
85. "The world is very quiet without you around." —Lemony Snicket
86. "Your memory feels like home to me. So whenever my mind wanders, it always finds its way back to you." ―Ranata Suzuki
87. "I wish for you the wisdom to realize that it's okay to miss something, but not want it back." —Steve Maraboli
88. "Sometimes the tender breeze can help us feel the presence of someone by bringing us their fragrance." ―Avijeet Das
89. "Though I never really had you, to me you will always be the one that got away." —Ranata Suzuki
90. "My mind is still having trouble wrapping itself around the fact that you are gone." —Katherine Mullin
91. "Separation isn't time or distance. It's the bridge between us; finer than silk thread, sharper than swords." ―Nazım Hikmet
92. "I felt like I was leaving a piece of my soul behind the moment you left." —J.A. Huss
93. "Without you, I feel restless like a fish without water. Come back and make me feel alive again."
94. "Sometimes I miss you so much, it hurts. It feels like someone is squeezing my heart with the strength of the entire world." ―Colleen Hoover
95. "You are my joy, my happiness, my smile, my laughter. Without you, I become pale and withered like a flower without sunlight. Come back and make me bloom again."
96. "My love, you are my anchor. Without you feels like I am sinking. Come back to me soon. I can't bear this feeling for too long."
97. "Thinking of you every second, minute, hour, day, is medication to my illness of missing you."
98. "I want your sun to reach my raindrops, so your heat can raise my soul upward like a cloud." —Rumi
99. "You may not always be here at my side, but you are always right here in my heart. I miss you."
100. "Missing you is like walking around without my heart. I feel this way because my heart is still with you."
101. "I think about you constantly, whether it's with my mind or my heart." —Terri Guillemets
102. "I wish you to know that you have been the last dream of my soul." —Charles Dickens
103. "I've missed you every single day we weren't together since the moment I met you." —Colleen Hoover
104. "But I must admit, I miss you quite terribly. The world is too quiet without you nearby." —Lemony Snicket
105. "Good friends are like stars. You don't always see them, but you know they're always there."
106. "Words can't describe the ache that runs through my body when I'm missing you."
107. "Without you here, the sun forgets to shine."
108. "Today is just another day of trying to get by without you." —Ranata Suzuki
109. "You are worth every mile between us."
110. "The air I breathe in a room empty of you is unhealthy." —John Keats
111. "I left the light in my heart on in case you ever wanted to come back home." —Lennon Hodson
112. "My love is selfish. I cannot breathe without you." —John Keats
113. "If I could plant a flower for every time I miss you, I could walk through my garden forever."
114. "No matter where you go, you will always be in my heart." —Anthony T. Hincks
115. "My world is a million shattered pieces put together, glued by my tears, where each piece is nothing but a reflection of you." —Sanhita Baruah
116. "Whenever I miss you, I look at my heart. Because it's the only place I can find you."
117. "The worst thing you can do if you miss someone or need them is let it hide from them." ―Pooja
118. "She sits there and feels the loneliness and the lack of him." —Maggie O'Farrell
119. "I might not always show it or tell you, but I miss you like crazy when you are not here."
120. "No, I can't close my eyes without you in my dreams." ―Luke Bryan
121. "I miss you so much that I can't help but feel that every song I hear is about you."
122. "You may be out of sight, but you are never out of my mind."
123. "If you want someone to miss you, go secretly and spray your fragrance somewhere." —Blake Lively
124. "Years from now I'll still remember how your name tasted in my mouth and I'll have to start missing you all over again." —Azra T.
125. "She affected me, even when she was absent." —Shannon A. Thompson
126. "The simple lack of her is more to me than others' presence." —Edward Thomas
127. "When your absence is felt, your presence is the essence and it makes a difference." —Michael Bassey Johnson
128. "When something is missing in your life, it usually turns out to be someone." —Robert Brault
129. "That is when time stands still – when you watch the one you love, walk away." —Mallika Nawal
130. "I could've sworn I was telling the truth when I told you I didn't miss you."
131. "I am summer yearning for a drop of your rain." —Gemma Troy
132. "After all this time? Always."
133. "What was it like to lose him? It was like hearing every goodbye ever said to me – said all at once." —Lang Leav
134. "The thing is that you brought this out in me. How could I want it with anyone else?" —JM Storm
135. "I wish I had done everything on earth with you." —F. Scott Fitzgerald
136. "It is lonely here and I miss your light." —Ranata Suzuki
137. "I hold onto the pain because it is all I have left of you." —Ava
138. "You're everywhere except right here and it hurts." —Rupi Kaur
139. "I wake to you everywhere. Yet you are not here." —Nayyirah Waheed
140. "You are the finest, loveliest, tenderest, and most beautiful person I have ever known – and even that is an understatement." —F. Scott Fitzgerald
141. "If I miss you any harder my heart might come looking for you." —Gemma Troy
142. "How did the days steal you so efficiently from me? Time is a thief that never gets caught." —Tyler Knott Gregson
143. "If it's real, they'll find you no matter how far you go." —R.M Drake
144. "Dreaming of you is my greatest escape." —Perry Poetry
145. "You are my blue crayon, the one I never have enough of, the one I use to color my sky." —A.R. Asher
146. "I say "never again", but I have a masochistic heart and a horrible need to love that which doesn't love me." —Jessica Katoff
147. "I still hide you in my poetry." —M. Razon
148. "We could have been happy. I know that, and it is perhaps the hardest thing to know." —Allie Condie
149. "I am trying to remember you and let you go at the same time."
150. "Perhaps one day we will meet again as characters in a different story, maybe we'll share a lifetime then." —Pavana
151. "You are my paradox. You are the love letter that I can't read anymore. The same one I refuse to throw away." —JM Storm
152. "They said: 'Write the longest sentence you know.' I wrote: 'A life without you.'" —Cameron Lincoln
153. "I think about you now and then about all the mornings that could have been." —Atticus
154. "Hell exists. It's here. 3 a.m. awake and without you." —Beau Taplin
155. "You are the person I'll never stop looking for in a crowded place." —WTM
156. "If only my heart were as cold as I pretend it is, maybe I could get over this." —Jessica Katoff
157. "I've lost you and will live on forever in a dwindled life without you." —Atticus
158. "Half of me is missing… and the other half is missing you." —Ranata Suzuki
159. "Not a day goes by that I don't look at your picture and smile. Or cry. Or both." —Dean Jackson
160. "What cannot be said will be wept." —Sappho
161. Missing someone and not being able to see them is the worst feeling ever.
If there is a person you know or once knew that you are now missing, then that can be a terrible feeling ended. At that moment when you're missing someone, you can feel incredible emotional pain which can usually only be cured by seeing that person once again. Here, quotes about missing someone can come as a soft band-aid over that painful cut.
162. When I close my eyes I see you; When I open my eyes I miss you.
People will often miss people whom they have lost. It is human nature to miss people. The absence of a special person who was once a big part of your life can be very painful and heartbreaking. Quotes about missing someone are here to alleviate, a bit, our pain.
163. Someone asked me if I missed you. I didn't answer. I just closed my eyes and walked away and whispered 'so much'.
If you feel like you are missing someone, then it is important to take control of your feelings and accept that you miss that person. Perhaps you miss a loved one, or maybe you miss an ex-partner from a relationship. Whoever it is that you're missing, you must learn to accept that they have gone from your life for a reason.
164. I miss you. Not in some cheesy "Let's hold hands and be together forever kind of way". I just miss you, plain and simple. I miss your presence in my life. I miss you always being there for me. I miss you bestfriend.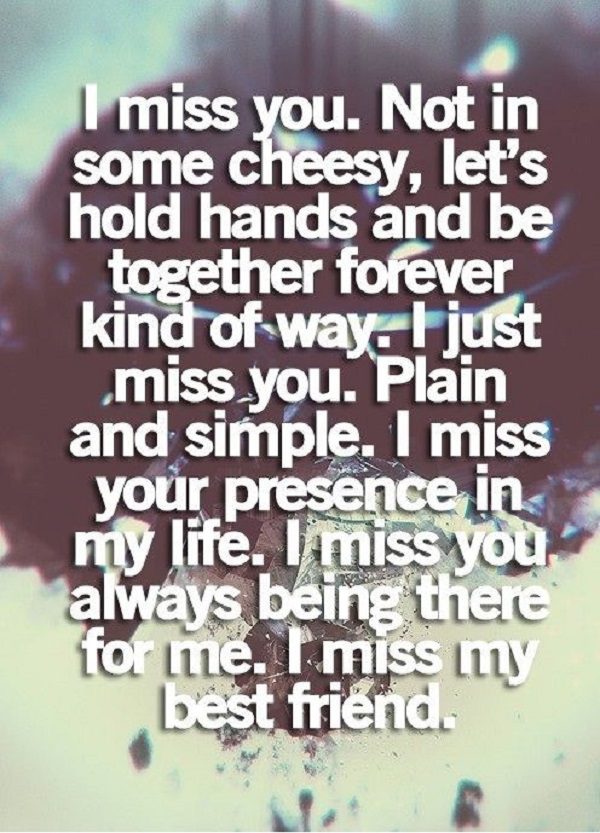 The memories that you hold with friends and family members are ones that will last a lifetime. People who are important to you will always remain in your thoughts and in your dreams.
165. If you can't get someone out of your head, maybe they are supposed to be there.
If someone remains in your thoughts and dreams then they are obviously there for a reason because they are important to you. Loneliness can often bring back memories of someone you once knew.
166. In French, you don't really say "I miss you", you say "Tu me manques" which means "You are missing from me".
Even a small distance between people who are important to each other can bring a lot of grief. Sometimes missing someone can feel like a piece of yourself is missing. Let the quotes about missing someone tell them how much you ache for them.
167. I keep myself busy with the things I do but everytime I pause, I still think of you.
Share your time with others and be sure to keep busy. If you spend time with great people who bring you to hope, then you will never have a reason to be sad.
168. Have you ever missed someone so much that even the thought of them made you burst into tears?
Once you realize that you can no longer experience feeling warm holding that special person in your arms, it's enough to fill you with grief and make you incredibly sad.
169. I miss you. A little too much, a little too often and a little more every day.
Loving someone a lot can help you feel free. However, when that person is then lost, you are left feeling trapped within your own mind and thoughts. But take a step back, by looking at other people`s experiences. See for example these quotes about missing someone that tries to sympathize with your humane emotions.
170. Sometimes, it's not just about missing someone, it's wondering if they're missing you too.
The emotional stress that comes with missing someone and wishing they were still around is huge. When you're missing someone special, you will often wonder if they are missing you too.
171. Missing someone is your heart's way of reminding you that you love them.
If you're missing an ex-boyfriend or girlfriend, then this is usually a sign that they are still important to you, you still care about them, and you still love them.
172. If you can't get someone off of your mind; It's because your mind always know what your heart is thinking.
Your heart is a beautiful thing and you will often find yourself waiting for that special someone to come along whom you missing.
173. Never give up on something you can't go a day without thinking about.
If someone is in your thoughts, then they are usually there for a reason. This is usually because that person is so important to you that you can't help but think about them.
Quotes about missing someone who died
174. It's hard to forget someone who gave you so much to remember.
When someone in our life has passed on, it is impossible to forget them. They will always live on within our hearts and souls, but mostly, they will live on in our memories. Nothing can replace the memories that you have shared with someone.
175. I miss our conversations; I miss how we used to talk every minute of everyday and how I was about to everything that was on my mind.
Sometimes when you miss someone, you can simply just miss talking to them. Many times, people will just miss having someone there that they can talk to and get along with.
176. Death leaves a heartache no one can heal; Love leaves a memory no one can steal.
177. And God shall wipe away all the tears from their eyes; and there shall be no more death, neither sorrow nor crying, neither shall there be any more pain: for the former things have passed away.
178. After all this time, I still miss you everyday.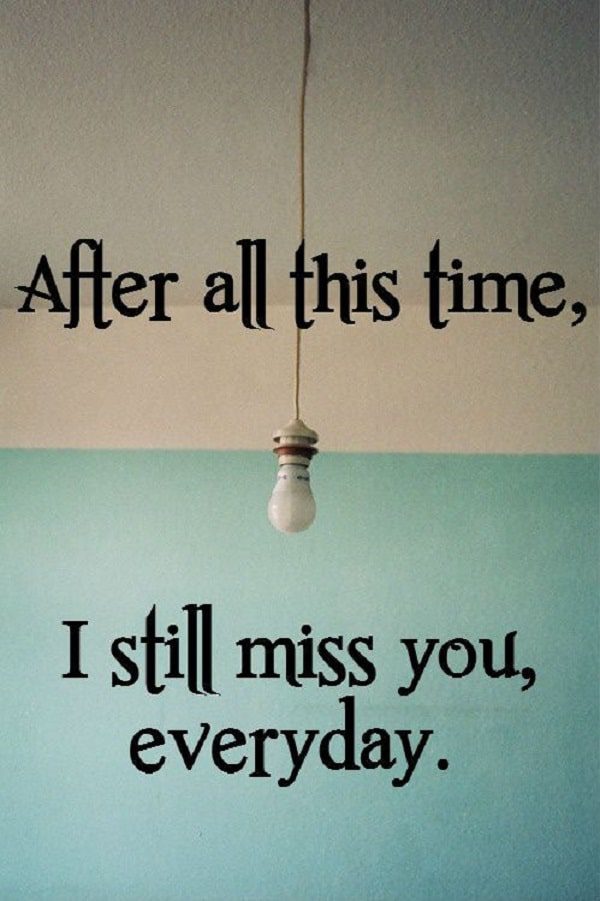 179. Those we love don't go away, they walk beside us everyday…Unseen, unheard but always near, still loved, still missed and very dear.
180. When someone you love becomes a memory… That memory becomes a treasure.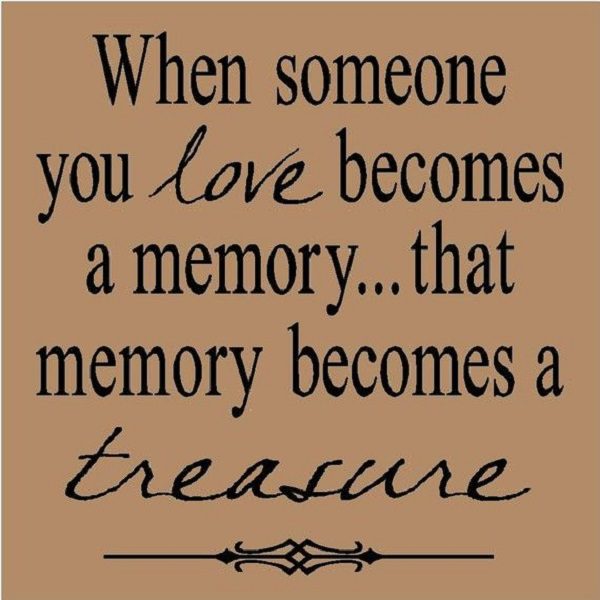 181. A million times I've needed you; A million times I've cried. If love alone could have saved you, you never would have died. In life I loved you dearly, in death I love you still. In my heart you hold a place no one else can ever fill. I broke my heart to lose you but you didn't go alone. Part of me went with you the day God took you home.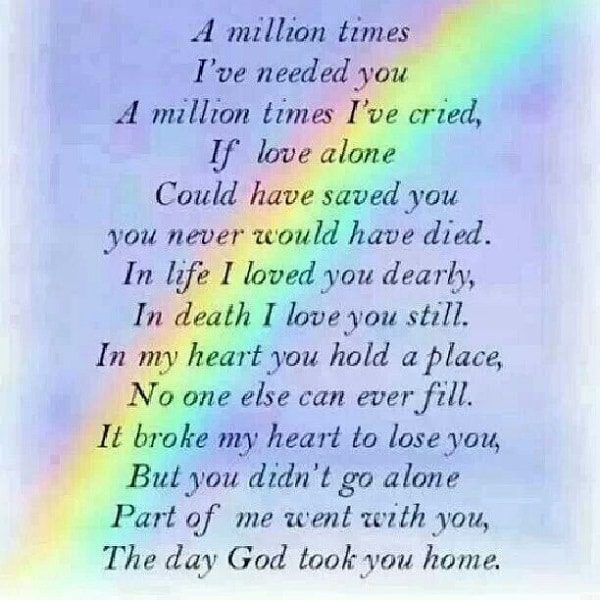 182. You can love someone so much, but you can never love people as much as you can miss them.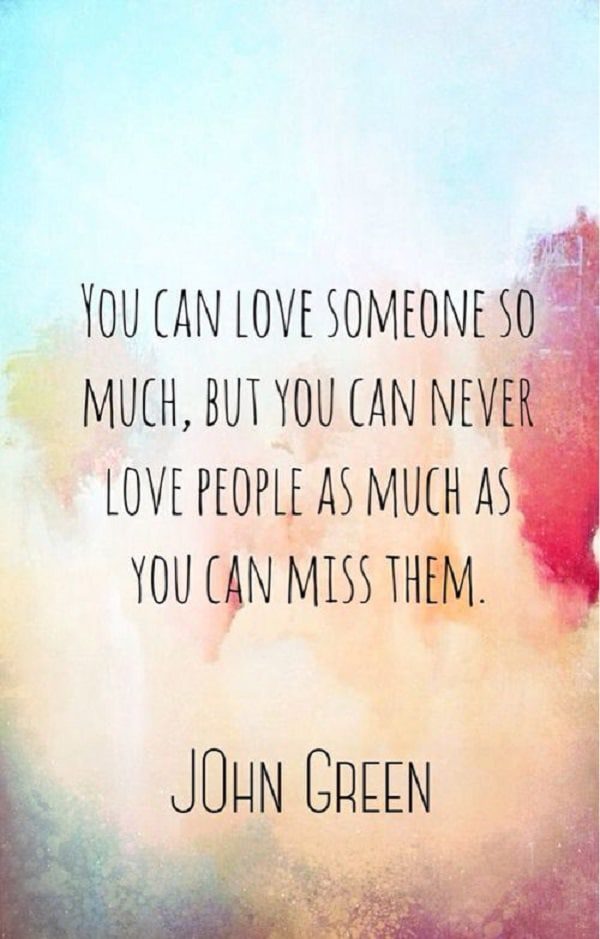 183. You don't get over it, you get through it. It doesn't get better, it gets different. Everyday just like me, grief puts on a new face.
Quotes About Missing Someone Who is Far Away
184. Missing someone gets easier everyday because even though you are one day further from the last time you saw them, you are one day closer to the next time you will.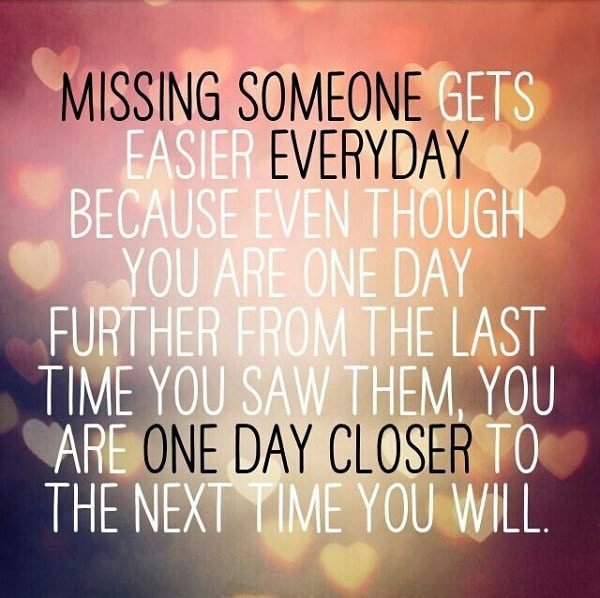 185. When you truly love someone, no distance or amount of time can tear you apart. Sure, it would be easier to move on, but being with anyone else would just be settling. The days are lonely and the nights are worse but when you have a love that strong… never lit it go. It may be hard but God knows it will be worth it.
186. I think we dream so we don't have to be apart for so long. If we're in each other's dreams, we can be together all the time.
187. I wish that you were here or I were there or we were together anywhere.
188. I need you because you make me laugh more than anyone else, and I'm the best me when I'm with you. And because when you're gone, nothing feels right until you return.
189. A thousand miles can't keep me away from you.
190. Distance shouldn't matter because at the end of the day we're all under the same sky.
191. Quotes About Missing Someone –You Are With Me
You are near, even if I don't see you. You are with me, even if you are far away. You are in my heart, in my thoughts, and in my life always.
192. The desire to cry, or an overwhelming feeling of sadness for no apparent reason, is linked to emotional stress caused by missing someone.
193 The truth is, I miss you. All the time, every second, every minute, every hour, every day.
The Truth Behind Loving and Missing Someone
Missing someone is an inner confirmation that the person has truly had an impact on your life and that you feel their absence. When you're missing someone, you're generating a feeling of continuity. If you start missing someone only when you feel sad or alone, it might not be true love at all, but rather a coping mechanism through which you long to feel close to another person.
However, if you truly love someone, you're going to miss them no matter what. Even when you're having fun with other groups of people, you'll still be longing for that special someone. Whenever we remember someone we love, our dopamine levels fluctuate and either bring us happiness or sadness. It all depends on the context. If you know you're going to see that person soon, you'll have high dopamine levels, thus experiencing happiness. But if that person has passed away, your dopamine levels will drop and you'll experience immense sadness.
Even from a young age, connecting with someone is second nature. It's instinct. At first, it is instinctive, as in the case of a baby with her mother and then, as rationality develops, we are aware of our actions, and we establish stronger bonds. But although these connections are somewhat based on rationality down the line, love is powerful and sometimes we might irrationally love someone even if they affect us negatively. However, we must not be discouraged to love and miss another person just because a previous one had done us wrong.
If you miss someone who deserves to be missed, don't be afraid to tell them so. So, keeping a strong connection with someone even if they are miles away is important. And when you finally get to see each other again, that bond will be all that more powerful.
FAQ
What do you say when you miss someone?
"In case you ever foolishly forget: I am not thinking of you." —Virginia Wolf
"My memory loves you; it asks about you all the time."
"I have late-night conversations with the moon, he tells me about the sun and I tell him about you." —S.L. Gray
These are some great examples of quotes about missing someone. Help yourself with one or more of these quotes to express your deep feelings. Sharing your pain is the first step toward healing.
How can "I miss you" caption?
"But nothing makes a room feel emptier than wanting someone in it." ―Calla Quinn
"You never really stop missing someone —you just learn to live around the huge gaping hole of their absence." —Alyson Noel
Try some of these quotes. For writing, the "I miss you" caption is best to go with quotes. They are more powerful because they were well thought off by people that were skilled in writing.
How do I say I miss you in a message?
"What is the opposite of two? A lonely me, a lonely you." —Richard Wilbur
This is a great opener for when you want to break the ice and tell someone how much you miss them.
Final Thoughts
The strong feeling of missing someone you love can be felt towards people and things whose whereabouts are unknown, such as a lost lover, or a family member who has gone missing, moved away, separated, or died. So, if you want to read more inspirational quotes about strength, you can check them out.
Try this out
Sometimes, it is much harder to fall asleep at night when you are missing someone. Is it normal that you can't sleep at night when you are missing someone? Of course, it's absolutely normal. Most often when your mind is occupied with a lot of things, falling asleep can be very difficult.
Sometimes you just don't know when you can fall asleep when you're thinking about someone. You'll spend sleepless nights thinking about a certain person and the only thing you wish you had was the best telescope to see your favorite person on the other side. The best thing to do is to throw away those thoughts, read quotes about missing someone, and get a good night's sleep.

Tina Gray is a freelance journalist, theatre enthusiast and aspiring author. She has a passion for telling stories through various mediums and regularly writes for various online publications. Her short stories will soon be published in her first volume. Currently, she resides in the San Fernando Valley and is studying screenwriting.