Spring is not only the most pleasant season in some parts of the world but it is also the time for rebirth, new beginnings, and inspiration especially for those who would want to be reborn, in a sense. And what's the best thing to jump start a new beginning? Quotes. With spring quotes, one can find that sense of urge to begin anew, to feel fresh, to be someone amazing – once again.
Since Spring has been so associated with love and tender relations between people and we want you to feel this freshness easily and without hassle, we have compiled some of the best spring quotes that you could ever find on the internet. Some are funny, some are cool, some are inspirational, but all of them are worth reading for and could be used as your mantra in leading your life or your fresh new life. Remember, Spring is life.
These beautiful Spring Quotes remind us of growth, happiness, and hope. We have collected 95 inspirational spring quotes with beautiful images as we welcome this colorful season. You may share these list of spring quotes below to your family and friends to inspire them that nature itself speaks about growth, happiness, and hope.
Inspirational Spring Quotes and Sayings
1. "There's so much spring in the air—there's so much lazy sweetness in your heart." —F. Scott Fitzgerald
2. "The deep roots never doubt spring will come." —Marty Rubin
3. "Keep your face to the sun and you will never see the shadows." —Helen Keller
4. "Some old-fashioned things like fresh air and sunshine are hard to beat." —Laura Ingalls Wilder
5. "Sometimes we can only find our true direction when we let the wind of change carry us." —Mimi Novic
6. "Never yet was a springtime, when the buds forgot to bloom." —Margaret Elizabeth Sangster
7. "Despite the heart numbing frost, my soul is blooming like spring." —Debasish Mridha
8. "Nature gives to every time and season some beauties of its own." —Charles Dickens
9. "No matter how long the winter, spring is sure to follow." —Proverb
10. "Spring work is going on with joyful enthusiasm." —John Muir
11. "Flowers are the music of the ground. From earth's lips spoken without sound." —Edwin Curran
12. "Don't wait for someone to bring you flowers. Plant your own garden and decorate your own soul." —Luther Burbank
13. "The promise of spring's arrival is enough to get anyone through the bitter winter." — Jen Selinsky
14. "No winter lasts forever; no spring skips its turn." —Hal Borland
15. "Springtime is the land awakening. The March winds are the morning yawn." —Lewis Grizzard
16. "Blossom by blossom the Spring begins." —Algernon Swinburne
17. "Spring has returned. The Earth is like a child that knows poems." —Rainer Maria Rilke
18. "There is a cleansing from winter darkness the moment we sink our fingers into spring's fresh earth." —Toni Sorenson
19. "Spring adds new life and new joy to all that is." —Jessica Harrelson
20. "Flowers don't worry about how they're going to bloom. They just open up and turn toward the light and that makes them beautiful." —Jim Carrey
21. "Where flowers bloom, so does hope." —Lady Bird Johnson
22. "Spring shows what God can do with a drab and dirty world." —Virgil A. Kraft
23. "If people did not love one another, I really don't see what use there would be in having any spring." —Victor Hugo
24. "Flowers don't tell; they show." —Stephanie Skeem
25. "Spring unlocks the flowers to paint the laughing soil." —Bishop Reginald Heber
26. "No matter how chaotic it is, wildflowers will still spring up in the middle of nowhere." —Sheryl Crow
27. "If I had my life to live over, I would start barefoot earlier in the spring and stay that way later in the fall." —Nadine Stair
28. "Despite the forecast, live like it's spring." —Lilly Pulitzer
29. "If you think my winter is too cold, you don't deserve my spring." —Erin Hanson
30. "Spring will come and so will happiness. Hold on. Life will get warmer." —Anita Krizzan
31. Spring: a lovely reminder of how beautiful change can truly be.
32. Bloom, where you are planted.
33. Spring is when life's alive in everything.
34. 'Spring Break 2018' Spring Quotes Plate.
35. You can cut all the flowers but you cannot keep Spring from coming.
36. Spring is when you feel like whistling even with a shoe show full of slush.
37. Spring Time! When the earth laughs in flowers.
38. 'The earth laughs in flowers' Spring Quotes Pillow Cover with Insert.
39. Spring Time is the land awakening.
40. The earth laughs in flowers.
41. Spring is nature's way of saying, 'Let's Party!'.
42. "Hello Spring" Spring Quotes Doormat.
43. Every flower must grow through dirt.
44. I must have flowers, always, always.
45. Spring adds new life and new beauty to all that is.
46. 'The earth laughs in flowers' Spring Quotes Pouch.
Positive Spring Quotes
47. If we had no winter, the Spring would not be so pleasant.
48. Let your hearts sing as flowers bloom this spring.
49. Spring has returned the Earth is like a child that knows poems.
50. 'Spring the music of open windows' Spring Quotes District Unisex Shirt.
51. There are always flowers for those who want to see them.
52. Sit quietly, doing nothing, spring comes, and the grass grows by itself.
53. You can cut all the flowers, but you cannot keep spring from coming.
54. "Spring is the nature's way of saying, 'Lets Party'" Spring Quotes iPhone Case.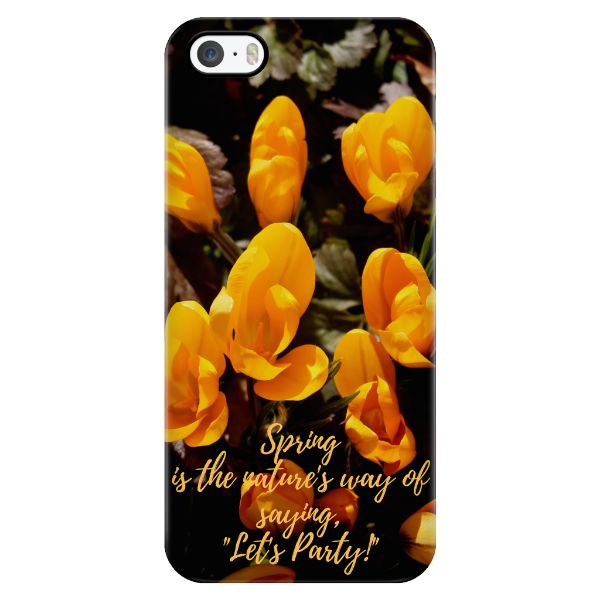 Most Beautiful Spring Quotes
55. "I believe in the process, in four seasons, that winter's tough, but spring's coming, that there's a growing season. And I think that you realize that in life, you grow. You get better." – Steve Southerland
Life has different phases and perfect timing. Our time clock ticks according to our phasing. Each one of us has a different way of learning and growing in life. We may feel pressured to conform to the norm and social expectations. But take it easy, life is a process of growing.
56. "Unless a tree has borne blossoms in spring, you will vainly look for fruit on it in autumn." – Walter Scott

This spring quote tells us that a blossom in spring reminds us that there is a fruitful future awaiting. A blossom indicates that in life, there is a bearing fruit for us. It may not be now but in the near future. Beautiful flowers remind us that one day "I will bear much fruit." So what you reap now is what you will sow. Reap love and happiness and it will surely come back to you in tenfold.
57. "Earth, teach me to forget myself as melted snow forgets its life, teach me resignation as the leaves which die in the fall, teach me courage as the tree which stands all alone, teach me regeneration as the seed which rises in the spring." – William Alexander

Beautiful words to learn from. Life is a season of forgetting the past behind, embracing the present and hoping for a better future.
58. "To find the universal elements enough, to find the air and the water exhilarating, to be refreshed by a morning walk or an evening saunter, to be thrilled by the stars at night, to be elated over a bird's nest or a wildflower in spring – these are some of the rewards of the simple life." – John Burroughs
Nature can teach us bountiful lessons. These precious spring quotes remind us that nature speaks happiness and beauty. Being one with nature is the key to experiencing simple joys in life.
59. "The essence of a thoughtful spring menu is bringing the table to life with flavorful color!" – Sherry Yard

This spring quote tells us that life is not only white and grey! Spring is the season of variety and in life, we have to embrace a season of change, variety, and color. In life, there is a phase of change and in the process, we have to embrace the precious gems of learning in order to grow.
60. "The day the Lord created hope was probably the same day he created Spring." – Bernard Williams

I am thankful that this spring quote reminds us hope! Yes, springtime reminds us of hope! Life can be frustrating and full of failures. But wait a minute! Stop and think of the great hope that one day these tough times will soon last. Hope is the energy which fuels our passion and motivation to keep us going. So never lose hope!
61. "Spring is God's way of saying, 'One more time!'" – Robert Orben

It's very assuring to know that as long as we live there is still second, third, fourth and many chances to rise up from our failures. It's never too late to love, to reach out, to ask for forgiveness and to learn and to grow. This spring quote reminds us that God created different seasons to show us that in life – there is always chances, not only second chance but many chances. There are limitless possibilities to grow.
62. "Expect to have hope rekindled. Expect your prayers to be answered in wondrous ways. The dry seasons in life do not last. The spring rains will come again." – Sarah Ban Breathnach

The best spring quote reminder that there is hope. Springtime never fails to come each year! Though climate change, the season of growth comes. There is hope for a better life. It's up to us to embrace what a season brings. What we only need is to wait and be patient. Let the fire of hope always kindle you.
63. "Never: cut a tree down in the wintertime; make a negative decision in the low time; make your most important decisions when you are in your worst moods. Wait. Be patient. The storm will pass. The spring will come." – Robert H. Schuller

This spring quote hit me when I feel so impatient how things are going. Springtime reminds us that there is hope. Things will get easy and dandy. Be kind to yourself and wait for the best timing to make big decisions in life. Sometimes we feel frustrated. Its normal and we just need to validate our feelings of frustrations. But never rush when you are at your lowest point. Find time to retreat and look at the bigger picture. It will not hurt you when you think about the situation from a different perspective. We need to find consolation through the process of healing and perfect timing.
64. "I love feeling the crispness of fall and the sensuality of spring." – Christopher Meloni

Each season brings its valuable experience and emotions. Embracing what each season can offer helps us find meaning, contentment, and happiness. Spring stimulates our senses and tells us, "hey there is more in life".
Spring Quotes and Sayings with Images
65. It's spring, we got so excited we wet our plants.
66. What I need is the dandelion in the spring. The yellow that means rebirth instead of…
67. No matter how long the winter, spring is sure to follow.

68. If you watch how nature deals with adversity, continually renewing itself, you can't help…
69. I do hope that our spring will be starting shortly and we will all be able to enjoy some sunshine…

70. Spring is when life's alive in everything.

71. Hello spring, we missed your green grass, warm sunshine, and beautiful flowers.
72. I glanced out the window at the signs of spring. The sky was almost blue, the trees were almost…

73. The day the Lord created hope was probably the same day He created spring.

74. Came the spring with all its splendor. All its birds and all its blossoms. All its flowers and…

75. An optimist is the human personification of spring.
76. Spring shows what God can do with a drab and dirty world.

77. April prepares her green traffic light and the world thinks go.
78. Treat everyone with politeness even those who are rude to you not because they are not…
Refreshing Spring Quotes
79. Keep your face towards the sunshine and shadows will fall behind you.

80. Bloom where you are planted.

81. And springtime rallies at the touch of the breath of God.
82. Some old-fashioned things like fresh air and sunshine are hard to beat.

83. The first day of spring is one thing, and the first spring day is another. The difference between…
84. The art of healing comes from nature and not from the physician. Therefore, the physician…

85. And Spring arose on the garden fair, like the Spirit of Love felt everywhere; And each flower…
86. Every spring is the only spring – a perpetual astonishment.

87. She smelled of sun and daisies with a hint of river water.

88. It's spring fever. That is what the name of it is. And when you've got it, you want – oh, you…
89. Autumn is a second spring when every leaf is a flower.

90. Spring is nature's way of saying lets party!

91. It is spring again. The earth is like a child that know poems by heart.
92. Spring makes everything young again.

93. Screw the laundry, spring is here.
94. The naked earth is warm with spring, and with green grass and bursting trees leans to the…

And lastly,
95. The beautiful spring came; and when nature resumes her loveliness, the human soul is apt…
Life Lessons from Spring Quotes
Growth
The winter season may feel so cold and lifeless but these spring quotes remind that there are life and growth. We can get out to watch the flowers bud into blossoms and the leaves come to life. We can enjoy and listen to the chirping birds and be elated to see the bird's nest. These spring quotes help us reflect and find meaning that in life it's about growing. Even though we have made mistakes and experienced failures in the past, move on and be inspired that life is like a spring of growing.
Happiness
The colorful buds and vibrant and verdant landscape sprinkled with beautiful blossoms speak life and happiness. These spring quotes remind us that in life we can find happiness in simple things. Simple joys of being with nature are limitless and priceless. Take time to stop, watch, and smell the fragrance of budding flowers. Find happiness in knowing that the sources of happiness are just around us. Get out and find life as the spring season unpacked her presents of happiness.
Hope
The last and best part of these spring quotes remind us that there is "one more time", that there is hope – never lose that! Like a winter, failure hits us but spring brings back hope. We can have one, two or more chances to win this battle called life. It is not the end. Life has a limitless offer and as long as we don't lose hope, we have the reason to keep going. It's never easy to face our failures but hold on – there's hope!
Conclusion
Spring is no doubt the best of all the four seasons. And the best way to celebrate it is by sharing some of these beautiful spring quotes to your friends and acquaintances to warm them up and make them feel the lovely freshness of Spring.
We hope that you have enjoyed reading the this blog. Feel free to download them or share them to your friends, family, colleague or any acquaintances on Facebook and other social media sites . You might also be interested in reading the 32 Winter Quotes and Sayings with Stunning Images.
Happy Spring Time!
I hope you have been inspired by these spring quotes. Share these with your loved ones and be inspired! Rekindle hope to the waning heart and spread warm cheers to the fainting soul. You may never know that these beautiful selections of spring quotes can be one of the means to bring back life, growth, happiness and hope to a weary heart. Have a blessed day!

Martha lives in the Bay Area and is a dedicated reader of romance novels. She runs a yoga studio and taught yoga for many years. She always says that yoga fuels her writing. She's also a vegetarian and advocate for living a healthy life. Martha has been writing for us for a while now, giving readers a glimpse into her lifestyle and work.