We all need little bit of uplifting every now and again to help us get through life. 
In order to succeed in life, we often need a little bit of uplifting from family, friends, or co-workers to help us through. In order to help with this, we have created this list of inspiring, motivating and uplifting quotes to help make your day a little bit better. Our list of quotes has been specially curated using quotes from various sources and includes some very famous quotes from important world leaders and successful entrepreneurs. These quotes should help to inspire you to succeed and achieve.  If you enjoy these quotes, please be sure to give it a share. You never know who's life you could change with a simple share!
A Bit About Uplifting Quotes
Uplifting quotes are great for helping you to feel inspired and motivated to succeed in life. Everyone could do with a bit of uplifting every now and again, and these quotes should help with just that.
What does uplifting mean?
Uplifting means to inspire or motivate someone to be happy or live in hope. When we uplift people with our words, it can really inspire them to be a better person and to achieve great things. Everyone likes to feel uplifted every now and again, which is why uplifting quotes are so great.
How can uplifting quotes help us?
By reading uplifting quotes, we can feel inspired and motivated to do something great with our lives. We are all capable of great things, no matter where we come from or who we are. When we feel uplifted, we can achieve great things. So with that in mind, take a read of our list of uplifting quotes and see what motivation it brings to your life today.
Our List of the Greatest Uplifting Quotes
Following is our list of uplifting quotes which should inspire and motivate you today. We hope that you enjoy these quotes and we would love to hear your thoughts on them in the comments section below this article.
1."The Best Way To Get Started Is To Quit Talking And Begin Doing." – Walt Disney
This is an excellent quote from the man who created one of the happiest empires in the world. The only way that we can actually start something is to physically start it. No matter how much we talk about doing something, we've never actually done it, until we've done it. So with that in mind, if there is something that you want to do, then you should get up today and start doing it.
2. "Don't Let Yesterday Take Up Too Much Of Today." – Will Rogers
Will Rogers was an American actor, cowboy, columnist and social commentator. This was a man who believed in keeping forward momentum. We must all use this advice and focus on our present day and future, rather than allowing ourselves to dwell on the past. The past is just that, the past. So with that in mind, it's important to shift our focus from the past to the present day and future.
3. "You Learn More From Failure Than From Success. Don't Let It Stop You. Failure Builds Character." – Unknown
Failure doesn't mean that you have lost, because failure is usually the best way to learn how to do something well. We can learn so much from our failures. The experience alone can build you as a person, and when you succeed in overcoming your failure, you will feel so much more confident and proud than you did before. Failures force you to learn how to do a better job of the thing that you're trying to do, so in a way, failures are the best way to learn how to do something in the best possible way you can.
4. "It's Not Whether You Get Knocked Down, It's Whether You Get Up." – Vince Lombardi
We will all get knocked down at some point in our lives – it's inevitable. However, we must know let our set backs keep us from succeeding. There will always be things that get in the way along your journey to success and there will always be things that come along and knock you down. Therefore, the best thing we can possibly do is just get back up and keep pushing on. Nothing great was ever accomplished by staying down when we get knocked down.
5. "If You Are Working On Something That You Really Care About, You Don't Have To Be Pushed. The Vision Pulls You." – Steve Jobs
This quote comes from a man who was arguably one of the most successful men to ever exist. If you really care about something that you're working on, then it won't even feel like work at all. So with this in mind, when you set your sights on something that you love, that vision will pull you towards success, and all the while it won't even feel like you've worked a day for it, because it's something that you enjoy.
6. "People Who Are Crazy Enough To Think They Can Change The World, Are The Ones Who Do." – Rob Siltanen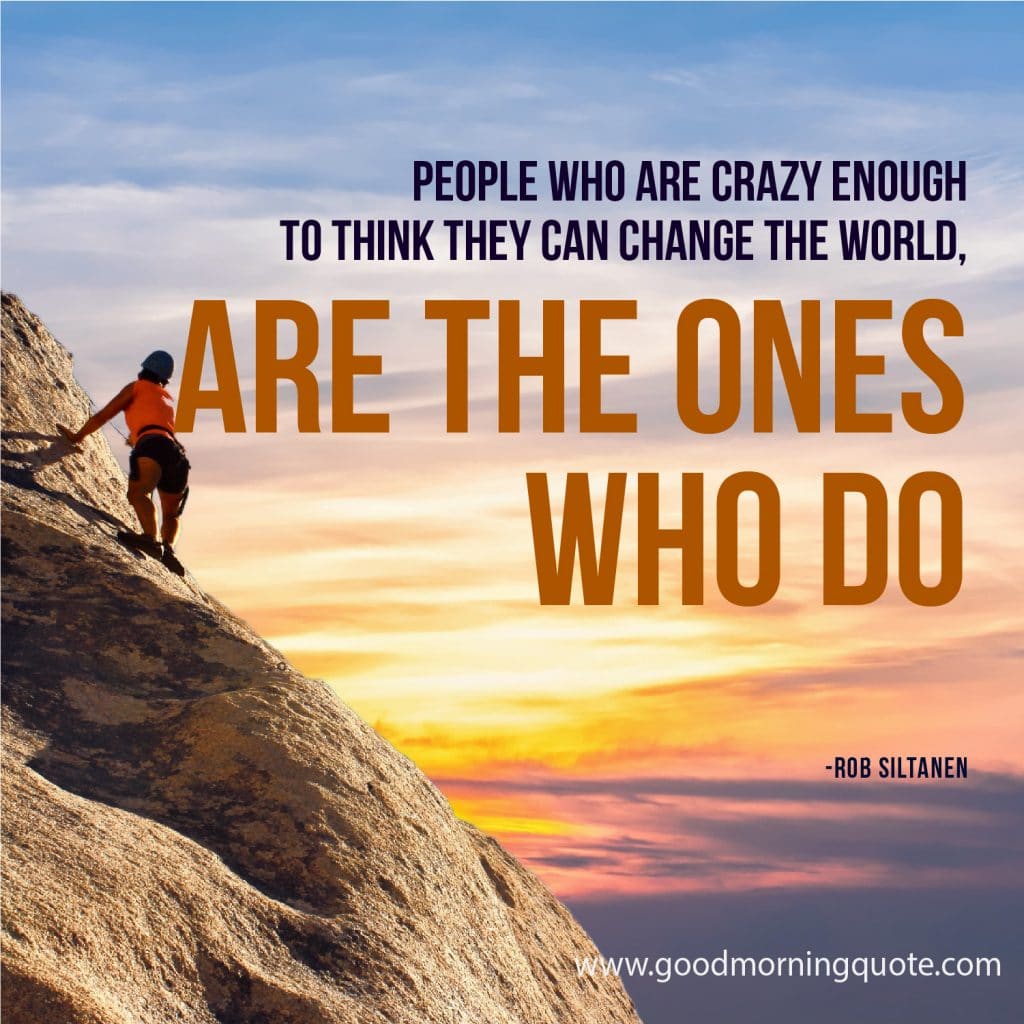 This is an excellent quote because it acts as a reminder to live your life without limits and that no dream is too big. You are capable of achieving things beyond your wildest dreams so it is important that you believe in yourself and you believe that you can make that change in the world. It doesn't matter who you are or where you've come from – every single person on this earth has the ability to do great things and to make a change.
7. "Entrepreneurs Are Great At Dealing With Uncertainty And Also Very Good At Minimizing Risk. That's The Classic Entrepreneur." – Mohnish Pabrai
All entrepreneurs live their lives not knowing whether what they're working toward is going to be a success. There is a lot of uncertainty in entrepreneurship, but that is often what makes it so exciting. If the thing you're working on does end up to be a big hit or a huge success, then that can be an extremely rewarding and exciting time for any entrepreneur, and can often be a life-changing outcome.
8. "Knowing Is Not Enough; We Must Apply. Wishing Is Not Enough; We Must Do." – Johann Wolfgang Von Goethe
There is a lot of wisdom behind this quote, which is what makes it such a great one. Knowing things is never enough. In order to achieve something or success then we must apply our knowledge to building that thing and creating a success. Wishing is also never enough because within won't get you anywhere. Instead, you must get out there and do the things that you are wishing for. Make them happen for yourself.
9. "We Generate Fears While We Sit. We Overcome Them By Action." – Dr. Henry Link
When we sit and think about something that we're scared of, we can build that thing up in our mind into something that is even scarier than before. Never allow your imagination to run wild thinking about something that you're afraid of. Instead, you must just get out there and take that leap of faith. Believe in yourself and anything is possible, no matter how scary it may seem at first. You are capable of great things and you must always remember that.
10. "Whether You Think You Can Or Think You Can't, You're Right." – Henry Ford
Henry Ford, an American captain of industry, is still one of the wealthiest men in the modern world. This inspiring quote from him is extremely relatable and something that can be applied to our lives. If you think you can do something, then chances are you can do it. If you think you can't do something, then that mindset will often set you up for failure. One of the great keys of life is to always believe in yourself. You are capable of great things – always remember that!
We hope our list of uplifting quotes inspired and motivated you in some way today. 
Did you enjoy this list of uplifting quotes? Perhaps you have some uplifting quotes of your own that you think should be on this list? Or maybe you have some stories about a time that you were uplifted or a time that you uplifted someone else that you would like to share with us? We would love to hear them! Please leave a comment in the comment section below this article.
If you enjoyed this article or know someone who may benefit from reading it then please be sure to give it a share – You never know who's life you could change just with a simple share to social media!
Related Article: 15 of The Most Famous Quotes to Inspire You Today

Martha lives in the Bay Area and is a dedicated reader of romance novels. She runs a yoga studio and taught yoga for many years. She always says that yoga fuels her writing. She's also a vegetarian and advocate for living a healthy life. Martha has been writing for us for a while now, giving readers a glimpse into her lifestyle and work.