Walter Elias "Walt" Disney is the person behind the renowned American animation industry, Walt Disney. He is an entrepreneur, a voice actor, a film producer and an animator who started his venture in 1920. He was known not only because of the success of his company but because of how he strived in his life to acquire his goals and strengthen his company's pillars to be where it is now. Challenges didn't stop Walt from pursuing his dreams. In fact, he even said that he must not have attained his goals without them. These brought out the best in him, which became his fuel towards his journey. Because of his outlook in life, many were inspired with all the Walt Disney quotes.
He was just 18 when he has decided to move to New York with his brother to reach for their dreams. They have established Disney Brothers Studio, currently known as the Walt Disney Animation Studio. He has worked with his colleague to put Mickey Mouse renowned. The company has established its name and has released films such as Snow White and the Seven Dwarfs, Pinocchio and Fantasia. In 1955, he has successfully established the Disneyland. He died in 1966 due to cancer.
His words were incorporated into all his work. Life changing quotations were used on different Walt Disney movies, which made all of them renowned because they are not just for entertainment purposes – they were also used to instill good manners to its viewers. Here are some amazing Walt Disney quotes that will ignite your drive towards attaining your goals.
Walt Disney Quotes to Live By
1. "When you believe in a thing, believe in it all the way…"
2. "The more you are in a state of gratitude, the more you will be attract…"
3. "I only hope that we don't lose site of one thing…"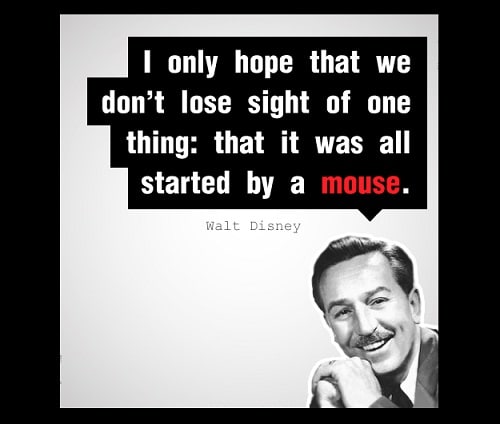 4. "Leadership means that a group, large or small…"
5. "That's the real trouble with the world, too many people grow up…"
6. "The difference in winning and losing is most often not quitting…"
7. "You can't just let nature run wild…"
8. "The more you like yourself, the less you are like anyone else…"
9. "Why worry? If you have done the very best you can…"
10. "Animation is different from other parts. Its language is the language…"
11. "Around here, however, we don't look backwards for very long…"
12. "When you believe in a thing, believe in it all the way…"
13. "Laughter is timeless. Imagination has no age…"
14. "Most of my life I have done what I wanted to do…"
15. "First, think. Second, believe. Third, dream…"
16. "All our dreams can come true if we have the courage…"
17. "Around here, we don't look backwards for very long…"
18. "Disneyland will never be completed. It will continue to grow…"
19. "Do what you do so well that they will want to see it again…"
20. 'The way to get started is to quit talking and begin doing…"
21. "All the adversity I've had in my life, all my troubles and obstacles…"
Walt Disney Quotes – Continuing the Legacy
In spite of Walt Disney's death, his legacy has continued. His company has become the epitome of perfection in entertaining not just kids, but adults, too. He has inspired many and has provided work for everyone. He is indeed among the people we should look up to – a real story of from "rugs to riches," which will inspire us that we can be successful someday if we will never stop chasing our dreams. His vision has surely created a giant – a giant that has continuously touched everyone's hearts.

Anna works as a full-time writer and editor and has devoted the last ten years of her career to assisting readers in improving their perspective on life. She is a Cultural Studies graduate and now contributes to Good Morning Quotes by sharing her traveling experiences and social knowledge with our readers. When she is not typing up her next article, Anna enjoys spending time with friends, visiting new places, and supporting a healthy lifestyle.