It is that time of the year when girls become so ecstatic over romantic ideas – Valentines Day. To make this day perfect, guys or even girls gift their partners with sweet little or elegant things. But to make this day even sweeter and more romantic, accompany your gifts with Valentines Day Quotes – words that could melt your lover's heart. They say that actions speak louder than words but do not believe this entirely. Actions become more powerful with words spoken and words spoken becomes more believable with actions done. So this Valentines Day, be a giver and a poet at the same time. Send gifts with endearing valentines quotes in it.
Valentines Day quotes are considered both very cheesy and romantic. These quotes make a sharing of gifts more special compared to the mere action of exchange.  If you are not born a poet, has scarcity of words, or totally mum when times come, don't fret. We have prepared the Top 26 Romantic Valentine quotes for you to surprise your Valentine with a beautiful saying to make him or her love you even more.
26 Romantic Valentines Day Quotes
1. I've fallen many times… always with you.
Love is not just a one time thing, it is a thing forever.
2. I loved you yesterday, I love you still, I always have…
Remember that love is eternal. It doesn't fade with time, it stays with it.
3. A hundred hearts would be too few to carry all my love for you.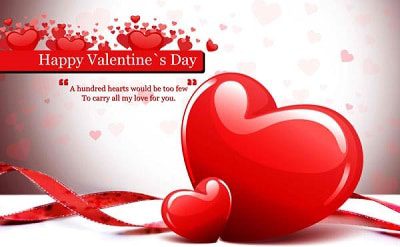 When you love a person, you feel so much bliss in your heart that you want to share that to your lover and you feel like you can give a lot, lot more.
4. My sweetheart, from now until forever even when death separates us…
Stay true to one love and this love will become true to you as well.
5. When I tell you I love you, I don't say it out of habit or to make conversation.
Saying you love someone is like telling them that they are a beautiful person.
6. My thoughts are free to go anywhere but it's surprising…
When you are in love, daydreaming becomes a good habit.
7. …to the sweetest valentine I could want.
Having to call someone yours is considered already as an accomplishment.
8. I would love you only little when I would be able…
Words are not enough to say you love someone, it must be showed and felt.
9. When I saw you, I was afraid to meet you. When I met you, I was afraid to kiss you…
Love is such a powerful feeling.
10. It's like this… the greatest thing that happened to me was finding you.
Need I to say more?
11. I love you for all that you are, all that you have been…
Love is not love 'at this instance' but of love 'always no matter what'.
12. I enjoy thinking about you but the thing I enjoy most is being with you.
Being with someone you love makes the world a different kind of place.
13. I went to sleep last night with a smile because I knew I'd be dreaming of you…
14. Anyone can catch my eye but it took someone very special to catch my heart.
Not anyone can captivate you like how your lover.
15. The minute I heard my first love story I started looking for you…
Look not into others but look unto your heart and you will be able to find your true love.
16. I love you without knowing how or when or from where.
Love has no conditions.
17. You're not just my friend, you're my love.
18. What I need to live has given to me by the earth…
Love can be everything to someone.
19. If you live to be a hundred, I want to live to be a hundred minus one day…
 20. When I'm with you I'm happy, when we hug it's like I don't ever want to let go…
21. Before I met you, I never knew what it was like to look at someone and smile for no reason.
Love can really make someone smile for no reason at all.
22. Love is not as simple as candle and roses.
Love is bettered with efforts.
23. My heart is perfect because you are inside.
Two hearts are better than one.
24.   You are my heart, my soul, my treasure, my today, my tomorrow…
25. Feelings are many but words are few, clouds are dark but sky is blue.
26. I love my eyes when you look into them…
Valentines Day quotes are beautiful
These beautiful Valentines Day quotes are very useful in making your valentine gifts more special. Valentines Day is a festival of romantic love and many people give cards, letters, flowers or presents to their spouse or partner. Why not give them DIY made Valentines Day Quotes on a piece of wood, work of art of anything he will like? You must keep in mind these tips when for your valentine quotes:
The quotes must be appealing to your partner's personality.
Valentines quotes must be sincere.
Be creative, have it handwritten. It makes it more special.
We hope that you are able to find sweet valentine quotes from the list above. If not you, can mix and match the words and create something very unique. Just like what we said, be a poet especially at this time of the year! Do you still need more ideas? Check out our quotes for real lovers.

Martha lives in the Bay Area and is a dedicated reader of romance novels. She runs a yoga studio and taught yoga for many years. She always says that yoga fuels her writing. She's also a vegetarian and advocate for living a healthy life. Martha has been writing for us for a while now, giving readers a glimpse into her lifestyle and work.