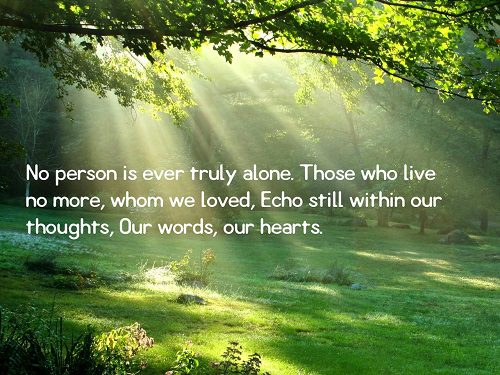 Sympathy quotes are quotes or messages that can show your comfort to people. It is best used for people who lost their loved ones – family, friends, or even pets, or any other misfortune. In life, we can never detach the truth that everything will be gone especially the ones will love. These are the most difficult times that we would encounter along the way. Most people relate that receiving cards with personal memories helps them in healing their heartaches.
Writing a sympathy quote for cards or letters isn't easy. We look for words and we wonder what would be comforting to hear. We even worry about saying the wrong things. If you have difficulty with what you will say or how to phrase your thoughts and feelings for them, don't worry because we have compiled some of the best sympathy quotes that you can use. Use them to show how you feel for those people who have their difficult times. Here are the Inspirational Sympathy Quotes for Loss with Images that we have prepared.
31 Inspirational Sympathy Quotes for Loss with Images
1. Death is not the greatest loss in life. The greatest loss is what dies inside us while we live.
2. After a loved one passes, be encouraged by their passing and legacy. Instead of crying, live…

3. Memories… let them fill your mind, warm your heart, and lead you through.

4. Death leaves a heartache no one can heal, love leaves a memory no one can steal.

5. Relationships can be strengthened through the veil with people we know and love. That is…

6. Friends are the pillars on your porch. Sometimes they hold you up, sometimes they lean on…

7. No person is every truly alone. Those who live no more, whom we loved, Echo still within our…

8. Autumn wins you best by this, its mute appeal to sympathy for its decay.

9. What is lovely never dies, but passes into other loveliness.

10. With sympathy, thinking of you at this sad time and sending love.
11. A loss to us is a gain to our God so let's rejoice to those who will see Him after this life.

12. I've learned that people will forget what you said, people will forget what you did, but…

13. Perhaps they are not the stars, but rather openings in Heaven where the love of our lost…
14. Words, however kind, can't mend your heartache, but those who care and share your loss…
15. We thought of you in love today, but that is nothing new. We thought about you yesterday…
16. What we have once enjoyed we can never lose; all that we deeply love becomes a part of us.
17. Those we love and lose are always connected by heartstrings into infinity.

18. Your life was a blessing, your memory a treasure. You are loved beyond words and missed…

19. Death brings pain that time can only heal, no words could ease what we truly feel; but with…
20. Tenderly, may time heal your sorrow. Gently, may your friends ease your pain. Softly, may…

21. An Eternal memory until we meet again. Those special memories will always bring a smile…
22. Sympathy does not think. It acts. It acts to remove the ceaseless sufferings of the world.
23. Seasons change and songs do fade. Death can never be detached in our fate. Don't worry…

24. Words cannot express my sadness. May the comfort of God help you through this difficult time.

25. Remember that everyone you meet is afraid of something, loves something, and has lost…

26. Those we love don't go away, they walk beside us everyday.
27. Your friend can never be replaced, but will always be remembered.

28. Gone is the face we loved so dear. Silent is the voice we loved to hear. Too far away for sight…

28. Losing a member if the family is never easy,especially one who offered such unconditional…

30. Don't be sad. I'll be waiting at the rainbow.
And lastly,
31. A special smile, a special face in our hearts, a special place. Memories are a gift to treasure…
The Importance of Giving Sympathy
No matter how introverted some of you might seem, you can't deny the fact that humans are social animals. With that said, the loss of someone near and dear to our hearts is downright tragic. Having other people close to us and willing to support us emotionally through this period is of utmost importance.
From this statement, we can confirm that giving sympathy to someone in need is crucial for that person's mental health. You see, a regular human being gets to feel pity for another human who is going through a tough time. That's when giving sympathy becomes second nature. However, sometimes it's not enough. We must go the extra mile and give that person empathy as well. Empathy is above sympathy through the simple fact that empathy implies you should be able to put yourself in that person's shoes.
Furthermore, empathy becomes the bridge that connects two people together and creates a space for more genuine healing, understanding, and compassion. By working on our empathy, it allows us to hear others' points of view and spring us forward into automatically becoming more helpful. Through empathy, we garner not only the betterment of our afflicted acquaintances but also a lasting feeling of trust that will help shape your next big friendship.
Other Things That Can Help
We highly recommend going to therapy if you have recently lost a loved one. Psychological therapy can make all the difference in the world as long as the therapist you're seeing is a real professional who is involved with their patients.
Another thing that can help, ironically, is spirituality. Going to church, saying a prayer, and other small gestures like these can somewhat alleviate the pain of losing someone near and dear to us.
Sympathy Quotes for the Loss of a Loved One
There are a lot of sympathy quotes out there. You can even write your own sympathy quotes based on your personal experiences, stories you have overheard, or even the messages of other experienced people. Writing a sympathy quote, message, or note can be a very difficult task because we are afraid that we might say the wrong words. The point is, letting someone know you care for them will mean a lot, even if you are not quite sure what to say.
The most important thing to remember while writing a sympathy quote is that your message comes from the heart. Your friend or loved one will surely appreciate that you are honoring their loss or acknowledging their grief. Another note to remember is to write what feels natural or comfortable for you. Choose words that you think will not get other people offended.
We hope that you have enjoyed reading the Sympathy Quotes for Loss. You might also be interested in reading the 52 Best Osho Quotes on Love, Life, and Fear with Images. Feel free to share them with your friends and loved ones on Facebook or any other social media site.