Life, they say, happens only once. That it is a one-time journey in this very amazing world. That it cannot be created again no matter how we long for it.  We must live it wholeheartedly. Enjoy it in the best possible and righteous way. Have fun in a way that you are not hurting anyone or disrespecting them. For some, to remind them that life must be enjoyed and cherished, they carry in their hearts their own quotes to live by with. These quotes to live by are reminders to them how precious life is and the time we have to use it.
If you are someone who already has or have quotes to live by to guide and motivate you, perhaps you can add one more from our list. Or  if you are someone who wishes to have one as inspiration, feel free to check our 12 Quotes to live by in your life.
12 Quotes To Live By
1. Never give up on something you really want.
In life, try to have less regrets. Decide on things well. If you want something and you know you can achieve it, go for it. Do not give up. Reach your goals.
2. The trick is to enjoy life.
You cannot enjoy your present if you keep thinking of the possible better things that lie ahead in the future. Just try to have fun today. Cherish the things and the people you see. Move, act and just enjoy.
3. Don't allow your attitude to stand between your happiness and you.
Sometimes, if not most of the time, our attitude like being pessimistic or hopeless makes our lives more despairing. Don't let that happen. Try to be more positive and hopeful everyday.
4. I choose to be unstoppable.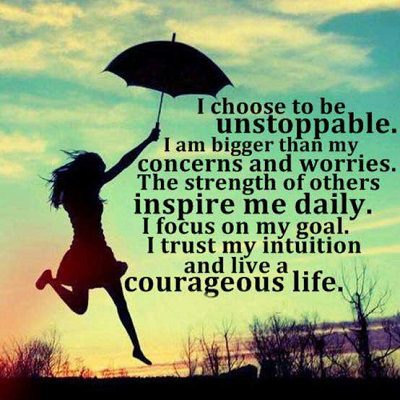 Let this be your mantra everyday. Believe that you are unstoppable and soon you will be.
 5. Why fit in when you were born to stand out.
Do not feel like you are a little less. If you choose to be, you can be more than who you expect yourself to be.
6. Help others achieve their dreams and you will achieve yours.
Help other people reach their dreams. Be happy with them. This way, you will feel like you already achieved the same.
7. Be strong enough…
It is always about timing.
8. Dream as if you'll live forever.
In dreaming, we create goals. These goals make our lives better and us, better persons.
9. Never get so busy making a living that you forget to make a life.
Work and play is the best combination. Work to let you live and play to have a life.
10. The greatest challenge in life is knowing you are…
Know who you are and you will know where you're going.
11. I may not be there yet but I'm closer than I was yesterday.
Work hard everyday to achieve your goals. In time, you won't even realize it, that you already have them in your midst.
Lastly, remember this one quote to live by everyday…
Yes. Love yourself. That way, you will be able to act real and won't need to please others.
Use Your Own Quotes To Live By
Your sayings to live by should be treated like they are your best comrades. Your comrades that you ask help from whenever you face a crisis, personal or interpersonal. These quotes represent your principles in every day. Learn to check them from time to time or even every day and especially when you are feeling down. If you feel a need for more inspiration, you can check out our new year quotes or if you are happily in love, our in love sayings.
Always remember that to live by happily every day, you must appreciate the world you live in, enjoy the persons around you, be content with what you have, don't despair and forget the worries about the future. Listen to your favorite country songs. Finally, love yourself and be happy with it. Have a good life, good morning!

Martha lives in the Bay Area and is a dedicated reader of romance novels. She runs a yoga studio and taught yoga for many years. She always says that yoga fuels her writing. She's also a vegetarian and advocate for living a healthy life. Martha has been writing for us for a while now, giving readers a glimpse into her lifestyle and work.