These inspiring quotes about loving yourself can make you feel more satisfied. There are some things that are valuable, however, nothing is more momentous than having a virile sense to love yourself along with a vigorous self-esteem.
Reasons For Loving Yourself
Try loving yourself and you will feel lighter. It makes life simpler and easier. Avoid making mountains out of molehills. Never beat yourself up just because you've done a few mistakes or experienced some momentary setbacks.
If you love yourself then you can have inner stability. You'll think highly of yourself so you won't be seeking too much appreciation and attention from others. Since you already have resoluteness then you will not be affected by the negativity and uncertainties around you.
The intensification of your self-love can make you feel that you deserve all the good things in life. It motivates you to do the things that you've always wanted deep down inside. Loving yourself can make you feel happier. It can make your own life so much fun.
Love makes the world go round, but you have to start loving yourself. Self-love is very compelling in every aspect of life, especially when it comes to relationships. Simply put, romance starts by loving and respecting oneself. Thus, if you require a bit of self-esteem then you can read these quotes about loving yourself to remind you to respect yourself. We'd like to share with you these inspiring and exalting quotes to let you know yourself more so you can boost your self-esteem and discover self-love.
52 Inspirational Quotes about Loving Yourself
1. Love yourself first and everything else falls into line.
The key to life is to love yourself.
2. It doesn't mean that everyone will treat you the way you deserve to be treated.
Avoid breaking your own heart.
3. I don't like myself, I'm crazy about myself.
You'll have to love more and more.
4. If you aren't good at loving yourself, you will have a difficult time loving anyone…
As much as possible try to enhance your skills in loving.
5. Be gentle with yourself, learn to love yourself, to forgive yourself…
Develop the proper attitude.
6. Never give up on anyone. And that includes not giving up on yourself.
Life is not easy, there will always be tears and difficulties. Never give up and the light will shine upon you forever.
7. Demonstrate love by giving it, unconditionally, to yourself.
This is genuine self-love.
8. Love yourself enough to set boundaries. Your time and energy are precious.
Be sure to take care of your well-being.
9. Even when you don't love your body… Your body still loves you!
In order to have a better life, you have to love your body. Support your body, after all, it's the only thing that will stay with you throughout your life.
10. Low self-esteem is like driving through life with your hand-break on.
This is one of the greatest quotes about loving yourself. It sums up all the reasons for loving yourself.
11. You yourself, as much as anybody in the entire universe, deserve your love and affection.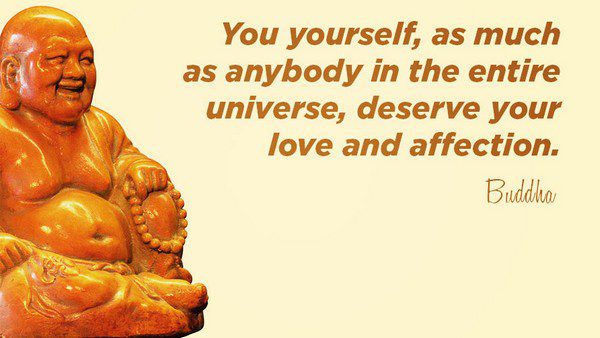 If there is anybody in this world who greatly deserve your love then it's definitely you.
12. Self-care is never a selfish act—it is simply good stewardship of the only gift I have…
Look after yourself so that you can look after the others.
13. It`s not your job to like me – it`s mine.
What others think of you does not really matters, what matters is your own opinion.
14. To establish true self-esteem, we must concentrate on our successes…
Stop beating yourself up! It's time to forgive yourself and forget about the past. This is the perfect way to move forward and start loving yourself more.
15. You're always with yourself, so you might as well enjoy the company.
This is a reality that we often overlook. Since you are going to be with yourself all your life then it's only appropriate to like the person that you are.
16. There is nothing noble about being superior to some other man.
This is more about self-discovery. You don't need to answer to anyone but yourself. Loving yourself means learning to grow as a person.
17. Trust yourself. You know more than you think you do.
In any relationship, it is important to have trust, so you must trust yourself. You're much better than you pretend to be.
18. If you don't love yourself, nobody else will.
You can only learn to love others if you start loving yourself.
19. Falling in love with yourself first doesn't make you vain or selfish – it makes you indestructible.
Always make time for yourself.
20. I am mine before I am ever anyone else's.
Understand that the only person that can control your actions is you.
21. Be gentle with yourself, you're doing the best you can.
Try not to be too hard on yourself.
22. I am my problem but also my solution.
You might not be aware of it but you have more control than you think.
23. The problem is not the problem. The problem is your attitude about the problem.
Sometimes the problem is when others do not want to accept you.
24. If you light a lamp for someone else, it will also brighten your path.
Life is filled with constant struggles.
25. The fact that someone else loves you doesn't rescue you from the project of loving yourself.
Having a relationship is never an excuse for loving yourself.
26. You're a work of art. Not everyone will understand you.
Do not look for approval from others.
27. I am not looking to escape my darkness, I'm learning to love myself there.
You have to learn how to love every inch of yourself.
28. I get angry, I yell, I bitch, I cry, I speak my mind…
Be true to yourself at all times.
29. Admire someone else's beauty without questioning your own.
Avoid being cynical when you compare yourself to others.
30. The more you like yourself, the less you are like anyone else, which makes you unique.
Loving yourself can make you discover your own uniqueness.
31. Far too many people are looking for the right person, instead of trying to be the right person.
Don't wait for somebody to fix you.
32. You weren't born to just pay bills and die.
Stop believing that all your circumstances will be perpetual.
33. Happiness is an inside job.
Your happiness should not depend on other people.
34. Dare  to love yourself as if you were a rainbow with gold at both ends.
To love yourself means to fully accept and be grateful for who you are.
35. Why compare yourself with others? No one in the entire world…
If you compare yourself to others, you will be deprived of happiness. You will start regretting of who you aren't instead of permitting you to enjoy of who you really are.
36. You, yourself, as much as anybody else in the entire universe, deserve your love and affection.
First and foremost, you should truly accept yourself.
37. Love is the great miracle cure. Loving ourselves works miracles in our lives.
Love is very powerful and if you apply it towards yourself then miracles can happen.
38.  When a woman becomes her own best friend life is easier.
Self-love should be your main priority.
39. Don't sacrifice yourself too much, because if you sacrifice too much there's nothing else you can give…
Never compromise your own needs so that you won't lose yourself.
40. The most terrifying thing is to accept oneself completely.
By loving and accepting who you are despite your flaws, you can create an unbreakable bond with yourself.
41. One of the greatest regrets in life is being what others would want you to be…
Be who you are.
42. Your time is way too valuable to be wasting on people that can't accept who you are.
If you love and accept yourself then you won't get irritable with the people who disrespect you.
43. If you have the ability to love, love yourself first.
Wherever you go, whatever you do, always be who you are.
44. The most powerful relationship that you will ever have is the relationship with yourself.
Once you've fallen passionately with yourself then others can't help but do the same.
45. To be yourself in a world that is constantly trying to make you something else is the greatest accomplishment.
If you love yourself then you should not compromise on who you really are.
46. No one is going to love you if you don't love yourself.
Before you can start loving somebody else, you must first love yourself.
47. Don't forget you're human. It's okay to have a meltdown…
Life will always have ups and downs.
48. Love yourself for all you have been, all you are and all you will become.
Be ready to accept the past, present and the future.
49. It's not selfish to love yourself, to take care of yourself and to make your happiness a priority…
Don't be too tough on yourself.
50. To love yourself is to understand that you don't need to be perfect to be good.
Be proud of everything that you do.
51. Stop hating yourself for everything you aren't. Start loving yourself for everything that you are.
Don't be afraid to make mistakes, it only shows that you are trying your best.
52. To be beautiful means to be yourself, you don't need to be accepted by others.
Be proud of who you are.
What are your favorite quotes about loving yourself? If you're looking for the best quotes to share with someone you love then look no further. From the super sweet quotes, humorous quotes and motivational quotes, philosophical quotes, we've got it all! According to the latest study, physical activities can help in making you feel happy and positive. Always love yourself and stay happy!
Anna works as a full-time writer and editor and has devoted the last ten years of her career to assisting readers in improving their perspective on life. She is a Cultural Studies graduate and now contributes to Good Morning Quotes by sharing her traveling experiences and social knowledge with our readers. When she is not typing up her next article, Anna enjoys spending time with friends, visiting new places, and supporting a healthy lifestyle.