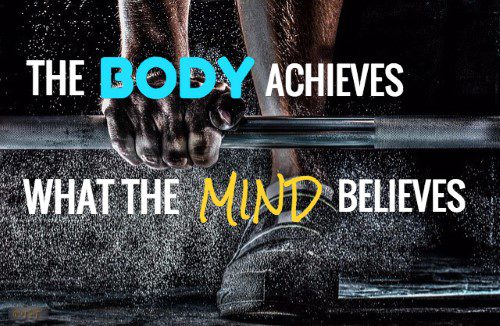 Want to have a beautiful body but you are too bored to do something about it? Having a beautiful body can boost someone's confidence. Working out or exercising regularly can also make your body healthy. Whether you are into seasoned gym veteran or just getting started, a little motivation can be just what you need to start your fitness journey. If you are into strength gaining or weight loss, working out is the best way to achieve it.Well, try to read some workout quotes. These are quotes that can motivate you or make you exert some effort to do exercises or workouts for weight loss or muscle build-ups.
In here, we have collected some of the best workout quotes that you can find on the internet. You may have heard some of them since some of them are from famous athletes or fitness gurus or bodybuilders, but regardless they will keep you moving. Here are the 31 Motivational Workout Quotes with Images that we have prepared just for you.
Motivational Workout Quotes with Images
1. I will beat her. I will train harder. I will eat cleaner. I know her strengths. I've lost…
2. Exercise is like telling your body "you're gonna hate me for this, but you'll thank…

3. The only bad workout is the one you didn't do.

4. Success isn't always about greatness. It's about consistency. Consistent hard…
5. Motivation is what gets you started. Habit is what keeps you going.
6. No rest is worth anything except the rest that is earned.

7. Working out doesn't have to be a chore. Have fun with it.

8. Obstacles can't stop you. Problems can't stop you. People can't stop you. Only you…
9. I don't have a personal trainer. All that I have is that voice telling me if I stop now..

10. A good workout is when you make your dry fit shirt look like false advertising.

11. Sore? Tired? Out of breath? Sweaty? Good. It's working.

12. When you feel like quitting, think about why you started.
13. I may not be there yet, but I'm closer than I was yesterday.
14. If you tool all that energy you put towards hating your body into changing it, you…

15. Go ahead. Tell me that I'm not good enough. Tell me I can't do it because I will…

16. Good things come to those who sweat.
17. Nothing truly great ever came from a comfort zone.

18. If it doesn't challenge you, then it doesn't change you.

19. The body achieves what the mind believes.

20. I am not the strongest. I am not the biggest. I am not the fastest. But, I am…

21. Make your supporters proud and your haters jealous.

22. Today, I will do what others won't so tomorrow, I can do what others can't.
23. Do something today that your future self will thank you for.

24. You're only one workout away from a good mood.
25. Fitness is not quitting. It's getting up one more time.
26. Excuses don't burn calories.

27. Your workouts are important meeting you schedule with yourself bosses don't…

28. Surround yourself with those who challenge you, push you, and motivate you.

29. Be stronger than your excuses. Focus on health not on weight.

30. Don't stop when it hurts. Stop when you're done.
And lastly,
31. People will hate you, rate you, shake you, and break you. But how strong you…
Working out is not only for athletes or body-builders. Whether who you are, you can do workouts anytime or anywhere you like. Working out doesn't need to be in a fitness gym.  You just need to have the motivation to do it. Whatever excuses you have, these motivational workout quotes can help you stay on the track to being your happiest, healthiest, and fittest and be your driving force for you to not to skip your workout routine. We hope that you have enjoyed reading the 31 Motivational Workout Quotes with Images above that we have prepared for you.
You might also be interested in reading the Motivational Fitness Quotes with Inspirational Images. Feel free to share them with your friends and acquaintances in Facebook to motivate them as well!