I love myself quotes will allow you to embrace and accept yourself including all your imperfections. These are some things which are essential but nothing is more significant than loving yourself. Why should you love yourself? When you learn to love yourself then life can become lighter and simpler. You will gain more stability and most of all you can become happier. Good Morning Quote likes to share with you these inspiring I love myself quotes in order to help you in discovering self-love and boost your self-esteem.
47 Cute I Love Myself Quotes with Images
1. "Keep taking time for yourself until you're you again." —Lalah Delia
2. "You are enough just as you are." —Meghan Markle
3. "Be enough for yourself first. The rest of the world can wait."
4. "If you don't love yourself, nobody will. Not only that, you won't be good at loving anyone else. Loving starts with the self." —Wayne Dyer
5. "Make happiness your priority and be gentle with yourself in the process." —Bronnie Ware
6. "My mother told me to be a lady. And for her, that meant be your own person, be independent." —Ruth Bader Ginsburg
7. "You carry so much love in your heart. Give some to yourself." – R.Z.
8. "This life is mine alone. So I have stopped asking people for directions to places they've never been." —Glennon Doyle
9. "Until you value yourself, you won't value your time. Until you value your time, you will not do anything with it." —M. Scott Peck
10. "Loving yourself isn't vanity. It's sanity." —Katrina Mayer
11. "Self-love is not selfish; you cannot truly love another until you know how to love yourself."
12. "There are no prerequisites to worthiness. You are born worthy."
13. "Love yourself first because this is the person you are going to spend the rest of your life with." —Paulo Coelho
14. "You can't pour from an empty cup. Take care of yourself first."
15. "You yourself, as much as anybody in the entire universe, deserve your love and affection." —Buddha
16. "Never be bullied into silence. Never allow yourself to be made a victim. Accept no one's definition of your life, but define yourself." —Harvey Fierstein
17. "Self-care is never a selfish act—it is simply good stewardship of the only gift I have, the gift I was put on earth to offer to others." —Parker Palmer
18. "How you love yourself is how you teach others to love you." —Rupi Kaur
19. "Beauty begins the moment you decided to be yourself." —Coco Chanel
20. "Lend yourself to others, but give yourself to yourself." — Michel de Montaigne
21. "To fall in love with yourself is the first secret to happiness." —Robert Morley
22. "Be so completely yourself that everyone else feels safe to be themselves, too."
23. "No other love, no matter how genuine it is, can fulfill one's heart better than unconditional self-love." —Edmond Mbiaka
24. "Owning our story and loving ourselves through that process is the bravest thing that we'll ever do." —Brené Brown
25. "Keep watering yourself. You're growing." —E.Russell
26. "I am my own experiment. I am my own work of art." —Madonna
27. "Once you embrace your value, talents, and strengths, it neutralizes when others think less of you." —Rob Liano
28. "When you say 'yes' to others make sure you are not saying 'no' to yourself." —Paulo Coelho
29. "Never give up on anyone. And that includes not giving up on yourself."
30. "If you find it hard to fit in, stop trying."
31. Love yourself first and everything else falls into place.
The first thing that you have to do is to love yourself.
32. When people walk away from you, let them go.
Letting go can be very hard.
33. Love yourself. Forgive yourself. Be true to yourself.
Are you being true to yourself?
34. No, I'm not talking to myself because I'm crazy.
Do you talk to yourself?
35. To love oneself is the beginning of a lifelong romance.
Happiness can be found in loving yourself.
36. If you want to soar in life, you must first learn to fly.
You have to fall in love with yourself first.
37. How I feel about myself is more important than how I look.
Be contented with what you have.
38. I am not perfect but I am limited edition.
There's nothing more beautiful than someone who dreams.
39. Be proud of who you are and not ashamed of how others see you.
How others see you is not important at all.
40. As I began to love myself, I found that anguish and emotional suffering are only warning signs…
Only do the things that can make you happy.
41. Remember. Be different. Be yourself.
You do not need the approval of others in order to be yourself.
42. Love yourself enough to take the actions required for your happiness…
Loving yourself can let you forget about your sad past.
43. I don't have an attitude problem. I just have a personality you can't handle!
Whatever difficulties you have encountered, just keep your feet on the ground.
44. I trust myself to make the best decision for me.
Be positive in every aspect of your life.
45. Forgive others but learn to forgive yourself also.
Why do you think it is much harder to forgive yourself than forgiving others?
46. Love yourself and be proud of everything that you do, even your mistakes.
Always remember that there are no mistakes, but only lessons learned.
47. Be yourself because an original is worth more than a copy.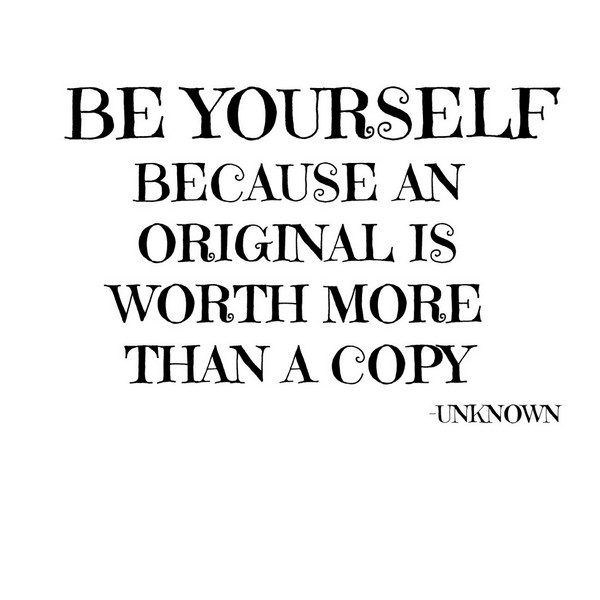 Be proud of yourself.
I love myself quotes are the best love quotes for yourself. You can also send them to your friends and relatives in order to motivate them. You can inspire yourself by reading at least one quote each day. In any crisis that you may encounter, you should try to love yourself.  I'm sure Cheryl Fernandez and Justin Bieber would surely agree to this.
Tina Gray is a freelance journalist, theatre enthusiast and aspiring author. She has a passion for telling stories through various mediums and regularly writes for various online publications. Her short stories will soon be published in her first volume. Currently, she resides in the San Fernando Valley and is studying screenwriting.