WARNING: This article is not safe to be read at work! (NSFW)
Sometimes, love quotes need not be so sweet. They must also be steamy, sexy and… dirty.
Dirty quotes give your relationship a little spice… whether it is already spiced up or requires a little nudge. Relationships, oftentimes, come to a point where nothing new is happening, couples get bored being together, there's no rekindling of emotions and their feelings for each other has become less intense. At these times, dirty quotes can be of help. Take note, dirty quotes can be used whether you are in a relationship, soon to have one or still dreaming of one.
It is not undeniable that sexual tension, especially at the time of starting a relationship, is present to couples and these sexual needs to be always there for a sweeter, more celebrated unions. So, if you feel like you are in need of spice, check out our 37 Dirty Quotes for Her and Him with Images and learn a few punches you can throw at your lover, tonight, perhaps!
Sexy and dirty quotes come in many different forms. There are sexy quotes for her, sexy quotes of him, dirty movie quotes, hot tv show quotes and many others. This list will highlight some o sth best dirty quotes for her and him and they feature stunning images.
37 Dirty Quotes for Her and Him with Images
1. I love the way you fuck me.

This quote is great as it gets straight to the point and tells your partner what you want them to do to you in life.
2. I want to taste me on your fingers.

This quote would appeal to a lot of people as it gets straight to the point and highlights exactly what the person wants from the other person.
3. Fuck me on this floor right now, Mister.

Although some people may see some of these quotes as inappropriate thoughts, they are definitely appropriate thoughts if that what you're in the mood for.
4. I licked it, so it's mine.

This is a perfect funny and sexy quote for when you want to be cheeky with your partner.
5. If you bite my lips or kiss my neck, I promise to rip your fucking clothes off.

If you've got a good partner, then you're definitely going to have good sex with them. This quote emphasises just that.
6. Shut up and kiss me.

A perfect kiss often leads to dirty sex with the right person.
7. Tell me. In your mind, what are we doing in that bed? Are we fucking nice and…

This is one of the greatest sexy sayings for your boyfriend.
8. Your lips are like wine and I want to get drunk.
Making out and using your mouth to entice is a fun way to get things started.
9. Be gentle with me, be sweet and kind, Oh hell!! Who am I kidding? Flip me over.
This is a great quote for when you want dirty sex.
10. Go ahead. Touch it.

This is a great quote because it could refer to anything from boobs to butt.
11. I want to capture you, like this, and freeze it forever.
Keep this image in your thoughts and save it for later.
12. Tell me I'm your slut.

If you have a dirty mind, you'll have to pay the dirty price.
13. Excuse me for being too forward but your lips make me wonder what the rest of…

This is a fun quote that will surely make your partner smile.
14. Now spread your legs and try to tell me all about your day.

Have fun focussing on thinking about work whilst your legs are open.
15. Don't keep calm.Rip my clothes off, spin me around, grab my hair and fuck me…

A bit of dirty dancing is always a great start, much like in the movie.
16. Lets make out, have sex, cuddle and have a deep talk. Then lets have sex again…

Say this to your boyfriend or girlfriend just to see what their reaction would be.
17. It may be between your legs, but it belongs to me. Understand?

This is one of the best dirty talk phrases out there.
18. Kiss my neck, bite me, pull my hair, trace my spine, hold me down, use your…

No amount of money can ever replace good dirty sex like this.
19. Eyes on me, baby. Always on me!

Always listen to your partner and do what you're told.
20. I want you inside me.
Great sex will always be a favourite among everyone.
21. I want to fuck you like you've never been fucked before, to leave you unable to…

It doesn't matter if you're sitting or standing, great sex is always great.
22. I wanna do bad things with you.
This is a great quote for saying to your boyfriend or girlfriend.
23. Spank me. It's the only way I learn.

A little gentle spanking is always the answer.
24. I want you to strap me down, fuck me hard and show me who's in charge.

Whoever said dirty sex was the best sex was absolutely right.
25. Kiss me hard and fuck me harder.

Using your mouth is always a good place to start off.
26. I won't say it twice. Strip down and get on your knees. Right now!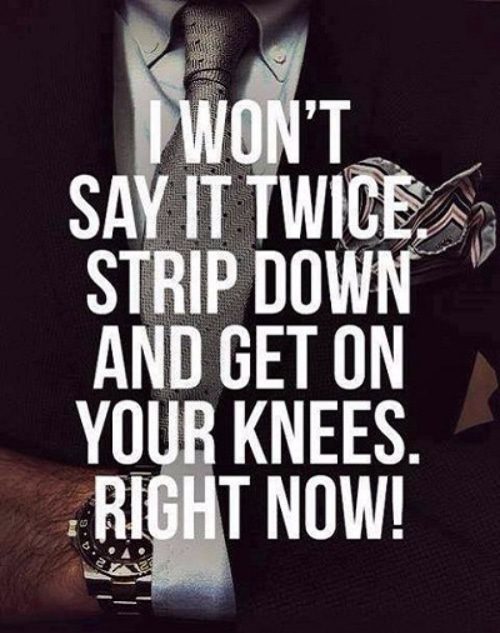 Be submissive and do as you're told.
27. Feel my hand tighten around your throat as my cock slips inside you.

Get straight to the point with this perfectly sexy saying.
28. Push me up against the wall and do dirty things to me.
Get kinky with this perfectly sexy quote.
29. I just want you to be happy. And naked.

This is a great quote for enticing your boyfriend or girlfriend to get naked.
30. Hold me tight and fuck me right.

Get straight to the point with this incredibly dirty quote.
31. It's not that I'm horny all the time. It's just that you're always fucking sexy.
Make your partner smile with this sexy compliment.
32. Spank me. I've been naughty.
A little spanking is always the answer to someone who's been naughty.
33. I swear to you I won't stop until your legs are shaking and the neighbors know…

This is a great dirty talk saying for a couple who's in love.
34. I want you in my bed and between my legs.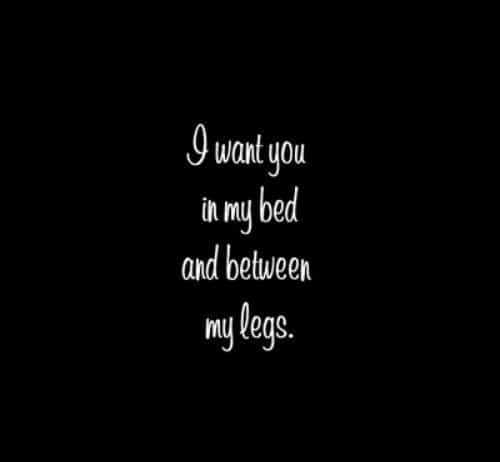 Get straight to the point and let them know exactly what you want from them.
35. I swear to God I won't stop until you're shaking.

Turn them on with this sexy quote that gets right to the point.
36. Kiss the hell out of me. Please.
Everybody loves a good making out session every now and again.
And lastly,
37. Be naked when I get home.
Tell your partner exactly what you want from them when you get home from work.
Well, there you have it. A completed list of 37 dirty quotes for you and your partner to enjoy. We hope that these quotes help spice up your bedroom antics. Try some of them out on your partner today and let us know the outcome in the comments section below this article.
Your Relationship, Plus Dirty Quotes
There are a lot of dirty quotes out there, you can even create your own quotes based on your personal encounters, stories overheard and lessons learned from experienced people. It's actually sweeter that you make dirty jokes out from a personal experience. These things of quotes need to be kept in dark closets and not edible for customer personnel.
Another note to remember is, no matter how close you are to the person you are throwing these quotes are, exercise caution. It might sound sweet and soft for some and to the writers, but the person to whom you're giving is just a simple acquaintance might get offended. That's right. Always be careful, be cautious when declaring these kinds of quotes. It will either bring you to getting under the covers or you alone in covers. Choose wisely!
It is a fact that most guys love dirty talk. However, not too often. Some women prefer to leave the dirty talk to their men. But sometimes your man is just waiting for you to whisper something dirty in his ear. Unfortunately, some women are confused about what to say.  Do you feel awkward and shy about starting dirty talk? There are some tricks that you can do in order to help you get started.
You can talk dirty to your partner in bed. You can start by telling him about the material things that you love about him. Do you cuddle with your partner at night? When cuddling, it's best to do it in the most comfortable bed and sheets. Why not purchase these limited edition Royal Printed Couple Bed Sheets? These sheets can make you feel like a King and Queen. This is the best gift for newlyweds and couples. You can enjoy a good night's sleep since this is made with high-quality materials. Choose your favorite style and color!
How to Talk Dirty
Here are a few tips to really get you going for a pleasure session with your partner:
Take it easy
Go at your own pace. Don't rush it, but don't let it slide either. If you're usually shy, you might want to initiate the dirty talk via texts only. Make sure that you feel comfortable enough before starting to do it face to face. 
Act natural
Don't overdo or overthink it. A good prelude tactic is to keep the tension going and tease your partner before the romantic act itself. Everything you say and do should feel as natural as possible.
Enjoy it
Have fun with your newfound confidence and let everything flow as it should. Feel empowered and relaxed instead of timid. Sex should be fun. Always. Both partners involved should know how to stimulate one another so that everyone can feel as great as one can.
Give in to your partner's desires
You might, at first, find some of your partner's kinks a little weird or even a little gross at times. But, as many have already said before us, you won't know if you like it until you try it. With that said, learn to stop judging and start exploring your partner's desires to get them in the right mood and bring them to their climax with every passing second.
Talk to your partner
Opening up can really take your relationship to the next level and make you both feel more comfortable with one another. Talking dirty this way will give both partners enough time to get accommodated to the other person's personality, quirks, kinks, and so forth. When talking dirty, you don't have (and shouldn't need) to be specific. Something as simple as "I love your body" can get the ball rolling hard.
The Bottom Line
We hope that you have enjoyed reading the Dirty Quotes for Her and Him with Images. You might also be interested in reading the Sexiest Love Quotes with Images of all Time. Feel free to share them with your friends and loved ones on Facebook or any other social media site.