I don't know why crazy quotes can quickly get into one's head than straight and subtle things.  Sometimes ironical comments can invigorate one's reflexes.  Sugar coated words can create more intensity than saying it in a somber way.  It's time to kick off your negative thoughts and wipe off your fears.  Live a motivated life who does not keep things off but holds them tightly.  Below you will find our best collection of crazy quotes.
52 Crazy Quotes about Life with Images
1. Be You Not Them
You should only do the things that your heart wants you to do.
2. Be happy, it drives people crazy.
Crazy quotes are words of wisdom for all those crazy moments.
3. On the way to CRAZY Town!! Who wants to come with me?
You should go on being crazy since craziness feels just like heaven.
4. The ones who are crazy enough to think they can change the world.
Being crazy means living a life that you've dreamed of.
5. The greatness of a nation and its moral progress can be judged by the way its animals are treated.
How do you treat your animals?
6. Sometimes I look at people & think…
Craziness cannot be predicted.
7. Insanity runs in the family… in fact, it practically gallops!
Most often, insanity is hereditary.  You acquired it from your kids.
8. People say I'm crazy if they met the rest of my family they would understand.
Being crazy doesn't necessarily mean that you are wrong.
9. Best friends they know how crazy you are and still choose to be seen with you in public.
One person's craziness can be considered as somebody's reality.
10. All our dreams can come true if we have the courage to pursue them.
Crazy quotes can also be inspiring.
11. If people were influenced by video games, then the majority of facebook users would be farmers now.
Insanity is when you know that what you did is totally idiotic and you still continue to do it.
12. I am not crazy.  I am just upset because my imaginary friend is mad.
Insanity can be recognized as stupidity when it does not make any sense at all.
13. Life is a series of disappointments…
Insanity is when you do the same thing repeatedly yet expecting varying outcomes.
14. Strangers think I'm quiet.  My friends think I'm out-going.
You need some insanity in order to accomplish extraordinary things.
15. Love will hurt.  If it doesn't hurt you are not doing it right.
People can be crazy when they are in love.
16. Be a best friend.  Tell the truth.
All of us are born mad and some choose to remain so.
17. Crazy? Some may never live, but the crazy never die.
Insanity is something that is contagious.
18. Am I crazy, or am I so sane that it just blew your mind?
Each of us is more or less crazy on one point.
19. When I'm single, all I see are couples being happy.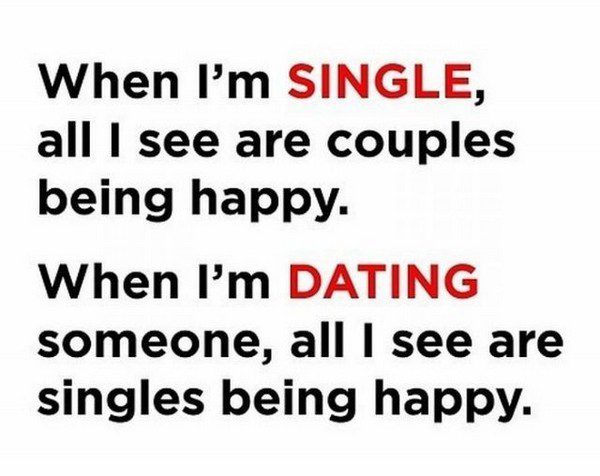 Have you experienced this feeling?
20. If being crazy means living a life as if it matters, then I don't care…
It's better to be crazy just like the rest of the world than to be wise all alone.
21. Finding friends with the same mental disorder. Priceless!
Don't take life so seriously.  After all, nobody gets out alive…
22. One's destination is never a place, but a new way of seeing things.
Crazy quotes let you realize that you are already living a crazy life.
23. A best friend is like a four-leaf clover.
Life can be crazy and filled with lots of surprises.
24. Family, like branches on a tree, we all grow in different directions.
I love my crazy beautiful life.
25. You can't fix stupid but you can watch it in action on Facebook everyday.
It is totally crazy when you are living a life wherein you do not love what you do.
26. The people who are crazy enough to think they can change the world…
A crazy life is full of crazy dreams.
27. Never give up.  Ever.
I would like to think that my life is just like a movie since each day something crazy happens.
28. 
Every morning, when I get up, I check out the list of 100 richest people in the world.
All of my life I've been living a good life.  Now, all I want to be a little crazy.
29. Relax, we're ALL crazy.  It's not a competition!
My life is just like a crazy game and I do not want to lose.
30. The meaning of crazy is NOT talking to yourself…
Live your life by taking chances and being crazy.
31. Enjoy life.  There's plenty of time to be dead.
Crazy quotes can also be funny.
32. Life is fragile, handle with prayer.
During those difficult times, the best thing to do is to pray.
33. I don't necessarily call it "crazy", I call it happiness with benefits."
Happiness is something that we want so badly.
34. Today I will be happier than a bird with a french fry.
May you feel happier today.
35. I love your face ( and the rest of you too).
This crazy quotes can definitely make your loved one smile.
36. Be yourself. Everyone else is taken.
You have to take risks in order to be yourself.
37. What screws us up most in life is the picture in our head of how it is supposed to be.
Sometimes we imagine how our lives should be.
38. Be crazy. Be weird. Don't be afraid of what anybody thinks.
Don't be afraid to encourage others especially when they need it the most.
39. It's crazy because I don't even know when you became so important to me.
Never be afraid to express what you believe.
40. Why fit in when you were born to stand out?
It's very easy to fit in.  All you need to do is to do the things that everyone else is doing.
41. My heart belongs to me.
Nobody can take it from me.
42. What is the first thing you notice when you look at another girl?
This can make your loved one love you more.
43. Lack of activity destroys the good condition of every human being.
It's a good thing to do some exercise.
44. Common sense is like deodorant.  The people who need it most never use it.
Crazy quotes are about morals, manners, and common sense.
45. Life is a crazy ride and nothing is guaranteed.
It is a fact that we do not know what will happen tomorrow.
46. I can't keep calm because I'm crazy for you.
Yes, It's true and you don't get it after all this time.
47. If you've never lost your mind, then you've never followed your heart.
Are you losing your mind now?
48. We are all born crazy. Some of us remain that way.
Crazy quotes are for everyone.
49. Imperfections are beauty, madness is genius and silly is better than boring.
Being silly is much better than being boring.
50. You only live once but if you do it right once is enough.
Life is beautiful!
51. I love this crazy tragic sometimes almost magic awful beautiful life.
Enjoy your life!
52. It's a scientific fact: You should never tell a girl she's crazy.
Sometimes a girl's mind can be too confusing.
Hope you enjoy these crazy quotes.  All of us have our ups and downs.  No matter what goes on with our lives, be thankful that you are still breathing.  There are some people who are thankful for having such a crazy life.