If you are going to ask the secret to a successful relationship, people with happy marriages would typically answer that couples should strengthen their bond by making each other feel special. Yes, the effort should not be coming from the guy alone. Women should also learn to make their partners feel valued and special to ensure a harmonious relationship – with beautiful love quotes for husbands.
So how would you let your husband feel how much you love him? Compliment him. Let him know how much you value and appreciate his efforts. Say how much you want him in your life and things will never be fine if things do not work well. Love quotes for husbands are great mediums, too, to sum up how much you are thankful for his presence! Gifts and special dinners should also not be forgotten. Your husband spends hours working, a "King's Meal" will really be enjoyed.
Write a letter or send him text messages once in a while. Here are some sweet love quotes for husbands.
Sweet Love Quotes for Husbands
1. "We come to love not by finding a perfect person…"
2. "When I first met you, I didn't know you were gonna be this important…"
3. "Real men stay faithful. They don't have time to look for other women…"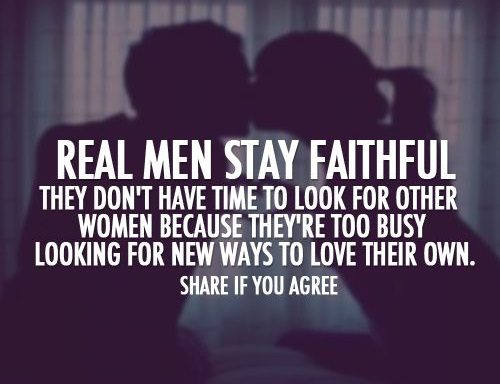 4. "Your love is the doctor to my wounds, friend to my sorrows…"
5. "No relationship is ever perfect & I know I'm far from perfect…"
6. "When we fight, I sometimes feel you as a deep wound in my heart…"
7. "Baby I'm yours and I'll be yours until the stars fall from the sky…"
8. "I love you in the morning and in the afternoon…"
9. "Two souls with but a single thought, two hearts that beat as one…"
10. "Husband and wife relationships are like that of Tom and Jerry…"
11. "Your love is the strength that drives me to o everything…"
12. "Thank you for being you… for sharing your love with me…"
13. "You are the sun in my day and the wind in my sky…"
14. "We have changed over the years, but the sparkle in your eyes…"
15. "You are the source of my joy, the center of my world…"
16. "Yeah, I am selfish because I will never share you…"
17. "When I tell you I love you, I am not saying it out of habit…"
18. "I don't need a perfect one. I just need someone who can make me feel…"
19. "Our love singes with passion and sensation. Our marriage…"
20. "If I had my life to live over again, next time I would find you sooner…"
21. "The only thing better than having you as my husband is our children…"
22. "Every day I spend with you, becomes the new best day…"
23. "Knowing that I have found my soul mate makes my life complete…"
24. "You are my paradise and I would happily get stranded…"
25. "Every love story is beautiful, but ours is my favorite…"
26. "You're not just my friend, you're my love…"
27. "Every single day that I spend being your wife, I realize how lucky…"
28. "Within you I lose myself. Without you I find myself wanting to become…"
29. "Life isn't perfect but every second with you is…"
30. "We laugh together, cry together, fight, make up…"
31. "I trust you, but not because you are my husband…"
32. Love quotes for husband: "You are my inspiration, my strength, my soul mate, my life…"
33. "Sometimes I think my husband is so amazing that I don't know why…"
34. "We may not say it as often as we used to, but I just wanted you to know…"
35. "I love you, not just for who you are but also for how you make me feel…"
36. "What I love most about my home is who I share it with…"
37. "You may hold my hand for a while but you hold my heart forever…"
38. "My husband is a great leader, even if he isn't leading the way…"
39. "I love marriage because, we refine each other, we experience intimacy…"
40. "Forever is a long time. But, I wouldn't mind spending…"
41. "The very first moment I laid my eyes on you, I knew our hearts…"
42. "Ever since the day you came into my life, I know you would be…"
43. "Say 'I love you.' You don't have to be really well educated to be eloquent…"
44. "Be with someone who knows what they have when they have you…"
45. "Each time I open my eyes, I see you… When I close them, I think of you…"
46. "We didn't have just intertwined fates, we are entangled at the care…"
47. Love quotes for husband: "You are the light that wakes me in the morning…"
48. "If my life was a ship, you would be the anchor that holds me in place…"
49. "Every single day that I spend being your wife, I realize how lucky I am…"
50. "The best and the most beautiful accommodation facility…"
51. 'The words I, Me and You ceased to matter when life became about US…"
52. "The key to happiness is letting each situation be what it is instead of…"
Making your Husband Feel Special through Love Quotes
Responsible and lovable husbands should never be neglected. Start acting now as failing to do so will put your relationship at risk. You also have to keep in mind that it should not only be about you. You also need to consider the kids' feelings. It is definitely great to grow to a complete family. Issues that might lead to a broken relationship will hurt not you, but your kids, too.
A happy marriage is something that we should maintain. Send these love quotes for husbands to your partner once in a while, especially when things are getting rough. It should not always be just about you. Your husband has feelings, too, and he surely feels the same way like you do – he also wants to feel loved and appreciated.
Apart from these sweet love quotes for husbands, you might also want to check out our collections of happy and marriage quotes.