It is true, life is not easy and hindrances may block your way, but one way to keep yourself sane and in an appropriate position is through the guidance of God's words through several bible quotes.
When you are feeling down and hopeless because of the situations that are happening in your life, it is okay to cry to let the pains out. You've failed to get that promotion; you found out you are sick; you found out you fail the exam – these mishaps could hurt you, but these should not make you feel worthless because there could be a reason why all these happen. Remember, God will not bring you into a situation you cannot overcome. You are tough, you are blessed – He will never leave you behind. Maybe, there's a plan for you that will bring you peace and clarity. Have hope, hold on to His words.
Here are some bible quotes that could help you surpass the situation you are in.
82 Inspirational Bible Quotes for Guidance
1. Psalm 46:1 "God is our refuge and strength, an ever-present help in trouble."
2. Romans 8:28 "And we know that for those who love God all things work together for good, for those who are called according to His purpose."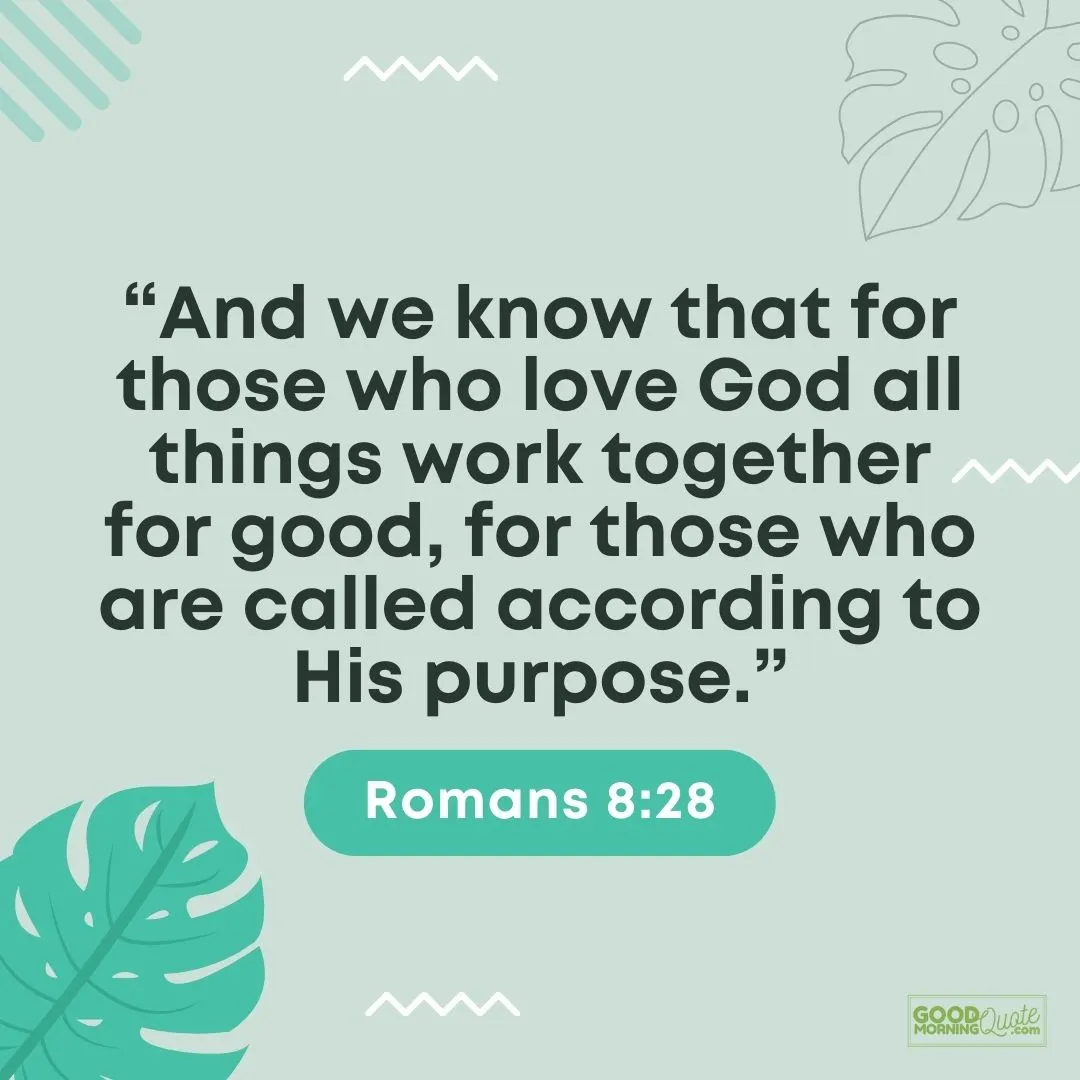 3. Matthew 6:34 "Therefore do not worry about tomorrow, for tomorrow will worry about itself. Each day has enough trouble of its own."
4. Psalm 23:1 "The LORD is my shepherd, I lack nothing."
5. Proverbs 3:5–6 "Trust in the LORD with all your heart, and do not lean on your own understanding. In all your ways acknowledge Him, and He will make straight your paths."
6. Psalm 16:8 "I keep my eyes always on the LORD. With him at my right hand, I will not be shaken."
7. 2 Corinthians 5:7 "For we live by faith, not by sight."
8. Psalm 107:1 "Give thanks to the LORD, for he is good; his love endures forever."
9. John 16:33 "In the world you will have tribulation. But take heart; I have overcome the world."
10. Psalm 34:4 "I sought the Lord, and he answered me; he delivered me from all my fears."
11. 1 Corinthians 16:13 "Be on your guard; stand firm in the faith; be courageous; be strong."
12. Psalm 119:50 "My comfort in my suffering is this: Your promise preserves my life."
13. Philippians 4:13 "I can do all this through him who gives me strength."
14. Psalm 31:24 "Be strong and take heart, all you who hope in the LORD."
15. Romans 15:13 "May the God of hope fill you with all joy and peace as you trust in Him, so that you may overflow with hope by the power of the Holy Spirit."
16. Isaiah 41:10 "So do not fear, for I am with you; do not be dismayed, for I am your God. I will strengthen you and help you; I will uphold you with my righteous right hand."
17. John 16:33 "I have told you these things, so that in me you may have peace. In this world you will have trouble. But take heart! I have overcome the world."
18. Proverbs 17:17 "A friend loves at all times, and a brother is born for a time of adversity."
19. John 15:13 "Greater love has no one than this: to lay down one's life for one's friends."
20. Matthew 11:28 "Come to me, all you who are weary and burdened, and I will give you rest.
21. Psalms 94:18 "When I said, 'My foot is slipping,' your unfailing love, LORD, supported me."
22. Mark 10:27 Jesus looked at them and said, "With man this is impossible, but not with God; all things are possible with God."
23. Isaiah 41:13 "For I, the LORD your God, hold your right hand; it is I who say to you, 'Fear not, I am the one who helps you.'"
24. 1 Peter 5:7 "Cast all your anxiety on him because he cares for you."
25. Isaiah 26:3 You will keep in perfect peace those whose minds are steadfast, because they trust in you.
26. James 1:2 "Consider it pure joy, my brothers and sisters, whenever you face trials of many kinds."
27. Proverbs 18:10 "The name of the LORD is a fortified tower; the righteous run to it and are safe."
28. Psalm 94:19 "When anxiety was great within me, your consolation brought me joy."
29. Philippians 4:6 "Do not be anxious about anything, but in every situation, by prayer and petition, with thanksgiving, present your requests to God."
30. Psalm 34:8 "Taste and see that the Lord is good; blessed is the one who takes refuge in him."
31. "Love Jesus" Couple Bracelet
"You are loved more than you will ever know…"
32. "Be truly glad.There is a wonderful joy ahead…"
33. "What we suffer now is nothing compared to the glory He will reveal to us…"
34. "It is in Christ, we find out who we are…"
35. "I will walk by faith even when I cannot see…"
36. "The bible never once says, "figure it out!""
37. "And the Lord is the spirit…"
38. "But the Lord stood with me…"
39. "The Lord is my strength…"
40. "Speak up for those who cannot speak for themselves…"
41. "He restores my soul…"
42. "I have made you. I will carry you…"
43. "Do not conform to the pattern of this world…"
44. "As for me, I know that my redeemer lives…"
45. "Pray more, worry less…"
46. "Have you prayed about it…"
47. "He only is my rock and my salvation…"
48. "Before I was born, God chose me…"
49. "Love never gives up…"
50. "Love never fails…"
51. "You can make many plans…"
52. "When my heart is overwhelmed, lead me to the rock…"
53. "Don't be afraid. Just believe…"
54. "I am with you and will keep you wherever…"
55. "I am with you always…"
56. "Be still and know that I am God…"
57. "Always put your hope in God…"
58. "He will be our peace…"
59. "He performs wonders that cannot be fathomed…"
60. "We love because He first loved us…"
61. "He is my loving ally and my fortress…"
62. "Have patience, God isn't finished yet…"
63. "Every good and perfect gift comes from above…"
64. "Fear not, for I am with you. I am your God…"
65. "God didn't bring me this far to leave me…"
66. "If God is all you have, you have all you need…"
67. "God can restore what is broken and change it into something amazing…"
68. "For God is pleased with you when you do what you know is right…"
69. "A tiny spark can set a great forest on fire…"
70. "Whenever you feel unloved…"
71. "Faith, it makes things possible…"
72. "Our faith can move mountains…"
73. "Do not worry about tomorrow…"
74. 'Do not be afraid; keep on speaking…"
75. "Be strong and courageous. Do not be afraid…"
76. "Let all that you do be done in LOVE…"
77. "The pain that you've been feeling can't compare to the joy that's coming…"
78. "Cast your cares on the Lord…"
79. "Be strong and courageous. Do not be frightened…"
80. "Be patient, gentle, humble and loving…"
81. "He has made everything beautiful…"
82. "Don't mistake God's patience for His absence…"
Other Important Lessons From The Bible
Love is the most important thing a person can provide. At the end of the day, it doesn't matter what your job is, how much money you make, or any other superficial aspect. What matters most is that you send love to thy neighbor, your friends, and your family. And, most importantly, send love to people in need. Help others out whenever you can.
Be thankful for everything good in your life. You've probably been through hard times, but you need to remember that hard times create strong men, and the Lord knows we truly need strong men these days. Instead of focusing on the negative stuff, look at everything good that you have in your life. For instance, you have a gadget with which you were able to read this article. That's already a lot more than many others can afford.
God is your most valuable relationship. Whenever you find yourself in times of trouble, it's best to say your prayers and reach out for your Bible. Even if you're not exactly the religious type, you'll find that doing so can be quite comforting. Not only that, but the Bible has some truly timeless advice, regardless of how old it is. Take your time and study it in its full context, and you'll soon see the bigger picture. Don't just sift through a couple of paragraphs and let it be. Study it as much as you can, and you'll eventually find an answer for your troubles.
Forego power and seek purpose. You might sometimes forget that power isn't everything. It's far more important to have a purpose in life than to rule over others. Having a purpose will make you feel more fulfilled than anything else. Focus on your goals and work to achieve them. With ethical behavior, God will always be on your side.
FAQ
What's a good quote from the Bible?
"Be patient, gentle, humble, and loving."
"Be strong and courageous. Do not be frightened…"
"Cast your cares on the Lord and He will sustain you"
These are some good short Bible quotes that you would sincerely like. Their simple format can communicate grave and deep meaningful things that would touch you to the core.
What is the most inspiring Bible verse?
I have made you. I WILL CARRY YOU; I WILL SUSTAIN YOU AND I WILL RESCUE YOU" – ISAIAH 46- 48
This is one of the most powerful Bible quotes that there is. It speaks about the strength of our faith and how you should let it guide you.
There are also these powerful quotes for you to check out:
"Before I was born, God chose me and called me by his marvelous grace"
"Pray more, worry less"
What does God say about life?
Psalm 119:50 "My comfort in my suffering is this: Your promise preserves my life."
John 15:13 "Greater love has no one than this: to lay down one's life for one's friends."
If you liked this selection of life quotes you may be interested also in friendship and life quotes that are guaranteed to help you through with your heartfelt message. Relay to your loved ones these quotes that come from the deepest parts of your soul.
Final Thoughts
Let God be your Guidance through these Bible Quotes
God is always with you. You are never forgotten; you are never left behind. He is just probably waiting for that perfect time. Just hold on and keep on praying as soon, everything will be alright. These bible quotes are definitely a great source of strength to continue moving forward, and so, they are the perfect short inspirational quotes about strength. Keep dreaming, keep aspiring. Soon, you will acquire everything that you have been dreaming of. If not, I am sure that God has weaved a perfect story for you.