Homemade birthday card ideas can make this special occasion memorable. Creating birthday cards should not be stressful. If you only have a limited time then you can choose a simple one. However if you have more time then you can consider using various techniques and decorative materials. You should make your cards ahead of time in order to avoid stress.
When designing a birthday card, it is very important to consider the celebrant's favorites. For instance, their hobbies, favorite colors, and others. Include these details when creating your handmade birthday card. We can say that handmade cards are the extension of our hearts. These cards express our love towards the celebrant. A birthday card can bring cheer to anyone. It the best gift for a friend, mother, father, sister, brother, boss or any special person close to your heart. I'm sure they'll love to hear from you on this special day. Here are some of the best homemade birthday cards that you can create for your loved ones. Enjoy!
66 Homemade Birthday Card Ideas and Images
1. Colorful Crystal Stones Birthday Card
2. Watercolor Cupcake Birthday Card
3. Colorful Caterpillar Birthday Card
4. Button Balloons Birthday Card
5. Colorful Gift Birthday Card
6. Exploding Circles Birthday Card
7. Cupcake Buttons Birthday Card
8. Pompom Ice cream Birthday Card
9. Rainbow Cake Birthday Card
10. Gift Box Birthday Card
11. Washi Tape Gift Birthday Card
12. Paper Candles Birthday Card
13. Harry Potter Birthday Card
14. Inside Tunnel Birthday Card
15. Colorful Hearts Birthday Card
16. Mustache Birthday Card for Fathers
17. Red Bow Birthday Card for Fathers
18. Minimal Birthday Card for Fathers
19. Rainbow Color Birthday Card
20. Minimal Arrows Birthday Card
21. Colorful Banderitas Birthday Card
22. Circles Birthday Card
23. Minimal Watercolor Birthday Card
24. Colorful Flowers Birthday Card
25. Basket Bag Birthday Card
26. Washi Tape Candle Birthday Card
27. Festive Birthday Card
28. Flowers on Jar Birthday Card
29. Colorful Design Birthday Card
30. Belated Birthday Card
31. 21st Birthday Card Ideas
Turning 21 also means that you are already an adult.
32. Awesome Birthday Card
This is a cute matchbox birthday ideas for your little boys.
33. Beautiful Birthday Homemade Card Ideas
Choose his/her favorite color when making the balloons.
34.
Best Birthday Card Ideas
A homemade birthday card is a nice gesture for a friend.
35.
Birthday Card For Dad
Your dad will surely appreciate your effort in making this card.
36.
Birthday Card Homemade
Dress up your homemade card with adorable decorations.
37.
Birthday Card Ideas For Brother
Making a handmade birthday card is more sincere than buying it from a store.
38.
Birthday Card Ideas For Father
This is a simple yet elegant birthday card for your dad.
39.
Birthday Card Ideas For Girls
Adding different types of flowers can make your birthday card look nicer.
40.
Birthday Card Ideas For Kids
Parents can teach their kids how to make creative homemade birthday cards.
41.
Birthday Card Ideas With Steps
You can add more colors to the balloons to make it more colorful.
42.
Birthday Homemade Card Ideas
If you are looking for a simple yet cute way of greeting your friends then give them a special homemade birthday card.
43.
Cool Birthday Card
Homemade cards are not only for birthdays but also for other special occasions.
44.
Cool Homemade Birthday Card Ideas For Boys
This is perfect for boys who are fond of playing video games.
45.
Creative Birthday Card For Girls
The best part about making your own homemade birthday card is you can either make it simple or complex.
46. Unique
Birthday Cards
You can make homemade cards when you have spare time and send them when their birthday arrives.
47.
Cute Birthday Card Ideas
Every birthday is a gift.
48.
Cute Birthday Card Ideas For Kids
It is a good idea to teach kids how to make birthday cards while they're still young.
49. Unique
Homemade Birthday Card Ideas For Kids
Creating birthday cards can make your kids busy.
50.
Easy Birthday Card
To get some ideas in making birthday cards, you can go through the things that the celebrant has given to you.
51.
Birthday Card Ideas for Girls
This is a cute birthday card for a cute girl.
52.
Birthday Homemade Card Ideas for a Friend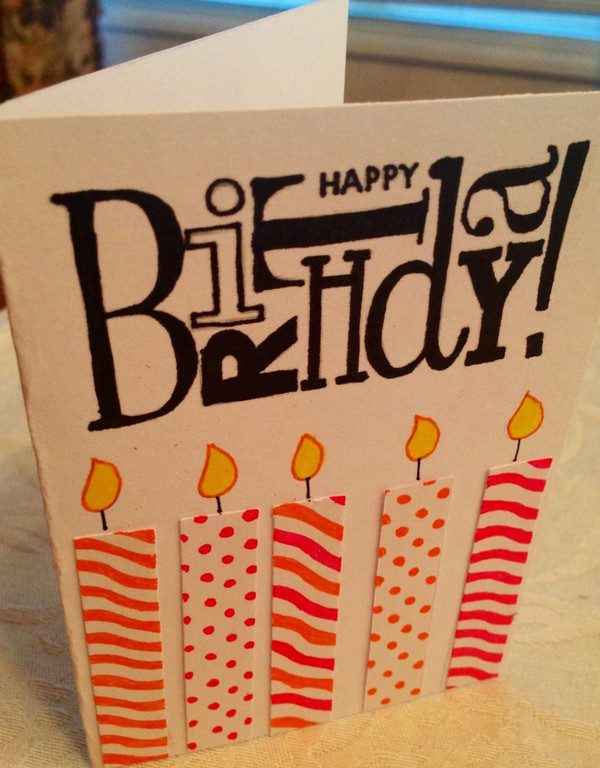 Handmade cards are the perfect way of making people feel special.
53.
Birthday Card For Boys
Choosing homemade cards are ideal when you are on a budget.
54.
Homemade Birthday Card Ideas For Sister
If the celebrant is a sentimental person then he/she will probably keep your card for the rest of his/her live.
55. Colorful Birthday Card
You may find it hard to make homemade cards at he start but later on, you will get used to it.
56.
Homemade Birthday Card Ideas For Boyfriend
Creating homemade cards is a touching way to show your boyfriend that your care for him.
57.
Homemade Birthday Card Ideas For Dad
Birthday cards which are homemade are easy to make and its also fun.
58. Special
Birthday Card For Friends
If you do not have enough money to buy a gift for your friend then just make a special birthday card.
59.
Birthday Card Ideas For Husband
Handmade cards are always considered special.
60.
Homemade Birthday Card Ideas For Kids
Let your child feel that he/she is special by giving him/her a handmade birthday card.
61.
Homemade Birthday Card Ideas For Mom
You can express your special concern and feelings for your mom by giving her a handmade birthday card.
62.
Lovely Birthday Card Ideas
Show your creativity in making your homemade card.
63.
Nice Birthday Card
A handmade card is a memorable and awesome way to express your feelings.
64.
Simple Birthday Card Ideas
This fascinating handmade card is truly awesome and beautiful in its expression.
65.
Simple Birthday Card Ideas For Friends
This handmade card is specially designed for birthday wishing to someone special.
66. Artistic Birthday Card
This fabulous birthday card is decorated with ribbons, little flowers, and others.
Reasons You Should Create a Handmade Birthday Card
It shows that you truly care
Anyone can buy a pre-made birthday card, even if they are low on cash. But a handmade birthday card shows that you truly care about that person. It's a sign that you've made some effort to create something completely original, even if it's a simplistic card. Giving your loved ones handmade birthday cards will prove to them that you went the extra mile to make their special day all that more memorable.
You can show off your own style
Why buy something pre-made when you can show off the artist inside you in a simple yet efficient manner? Go ahead and let your creative juices flow. Make that birthday card as personal as you possibly can. The person receiving the card will always remember who it's from simply because it looks so out of place (in a good way) compared to all of the other cards that they will receive. And this fact also ties in to our previous point, namely that it will make the person realize just how much you care about them.
Even if you're not artistic, it's the thought that counts
People who truly love you don't care that your card didn't turn out the way you intended it. It's the thought that counts. Those who care for you will acknowledge the fact that you care about them as well, hence you've tried to make something personal instead of buying something pre-made. All in all, even if you fail to make something flashy, the simple gesture will surely leave your loved ones with a smile on their face.
The element of surprise
How often do people expect to receive something handcrafted by the person that's giving them the gift? That's right, not a whole lot. So there's another advantage.
Final Thoughts
Which birthday card ideas do you love the most? Birthdays only comes once a year so make the most of it. Make it memorable and unique for your someone special. Your birthday cards should contain warm and heartfelt birthday wishes. Handmade cards are also a great gift for Christmas. Most people celebrate their birthday by having a birthday party or drinks with their best friends!